Martyrs' Day: I will be with you as a worker, Mamata tells Delhi guests
Guests included Sharad Pawar and Supriya Sule of NCP, Chidambaram and Digvijaya Singh of Congress, Ram Gopal Yadav and Jaya Bachchan of Samajwadi Party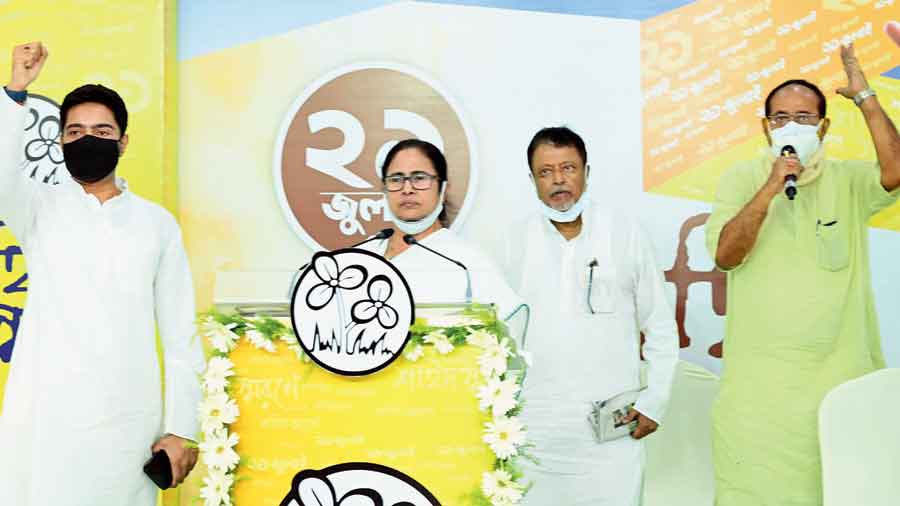 ---
---
Leading lights of nine Opposition parties on Wednesday joined the Trinamul Congress in Delhi to observe the July 21 Martyrs' Day that commemorates the victims of police firing in Calcutta in 1993.
The Opposition leaders included Sharad Pawar and Supriya Sule of the NCP, P. Chidambaram and Digvijaya Singh of the Congress, Ram Gopal Yadav and Jaya Bachchan of the Samajwadi Party,
Tiruchi Siva of the DMK, D. Keshava Rao of the TRS, Sanjay Singh of the AAP, Manoj Jha of the RJD, Priyanka Chaturvedi of the Shiv Sena and Sardar Balwinder Singh Bhunder of the Shiromani Akali Dal.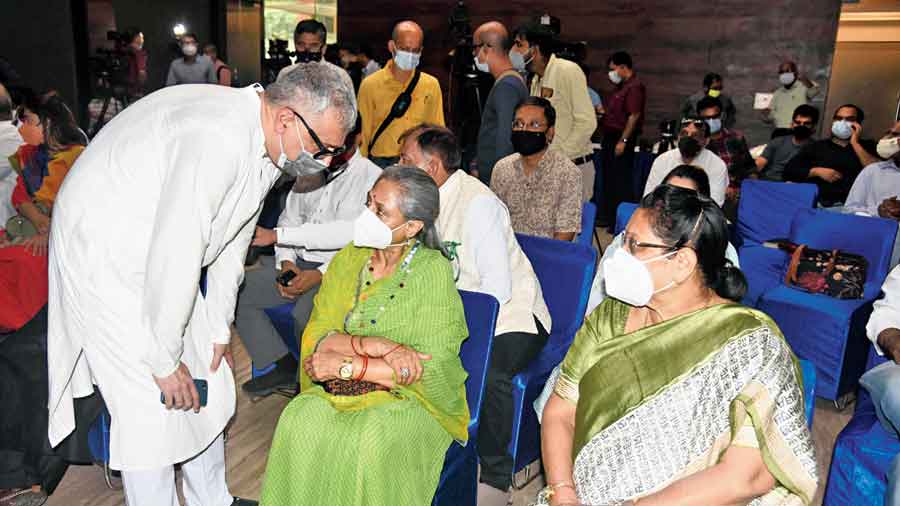 Chief minister Mamata Banerjee's speech from Calcutta was beamed on giant screens beyond Bengal, including in states like Punjab, Tripura, Tamil Nadu, New Delhi, Maharashtra, Madhya Pradesh, Gujarat and Uttar Pradesh.
This is the first time Opposition leaders from other states showed up for what is essentially a Trinamul event. They offered tributes to the martyrs.
Mamata made it a point to refer to several Opposition leaders in her speech and insisted she would be a mere "worker" in the effort to forge an anti-BJP front.
"Ek saath hoke gathbandhan taiyaar karein, aage barein, main aap logon ke saath ek hoke worker ke maafik ek saath larenge (Come together to form a united front. I will be with all of you in this fight as a worker)," the Trinamul leader said.
Referring to the Pegasus controversy, Mamata said: "No, I cannot talk to Chidambaramji because my phone will be tapped. Sometimes, if I wish, I cannot talk to Sharad Pawarji. I cannot talk to, even, Delhi chief minister (Arvind Kejriwal). I cannot talk to Shiv Sena chief minister (Uddhav Thackeray of Maharashtra). I cannot talk to Andhra Pradesh chief minister (Y.S. Jagan Mohan Reddy). I cannot talk to Odisha chief minister (Naveen Patnaik). Why? What Pegasus?"
Mamata is scheduled to visit Delhi soon. Although Mamata makes it a practice to visit Delhi when Parliament is in session, this time she comes with the additional aura of the convincing victory in the Assembly elections.
In Delhi, the speech was shown on a giant screen put up at the Constitution Club. Also in attendance were Trinamul MPs who are in Delhi for the ongoing monsoon session of Parliament.
The party also relaunched its mouthpiece, Jago Bangla, with Mamata's new slogan: "Ebar Shopoth, Cholo Dilli (New Pledge, Chalo Delhi)."
Additional reporting by PTI