Didi invokes Netaji to snipe at BJP
Mamata accused the present Union government of 'taking blood just for politics'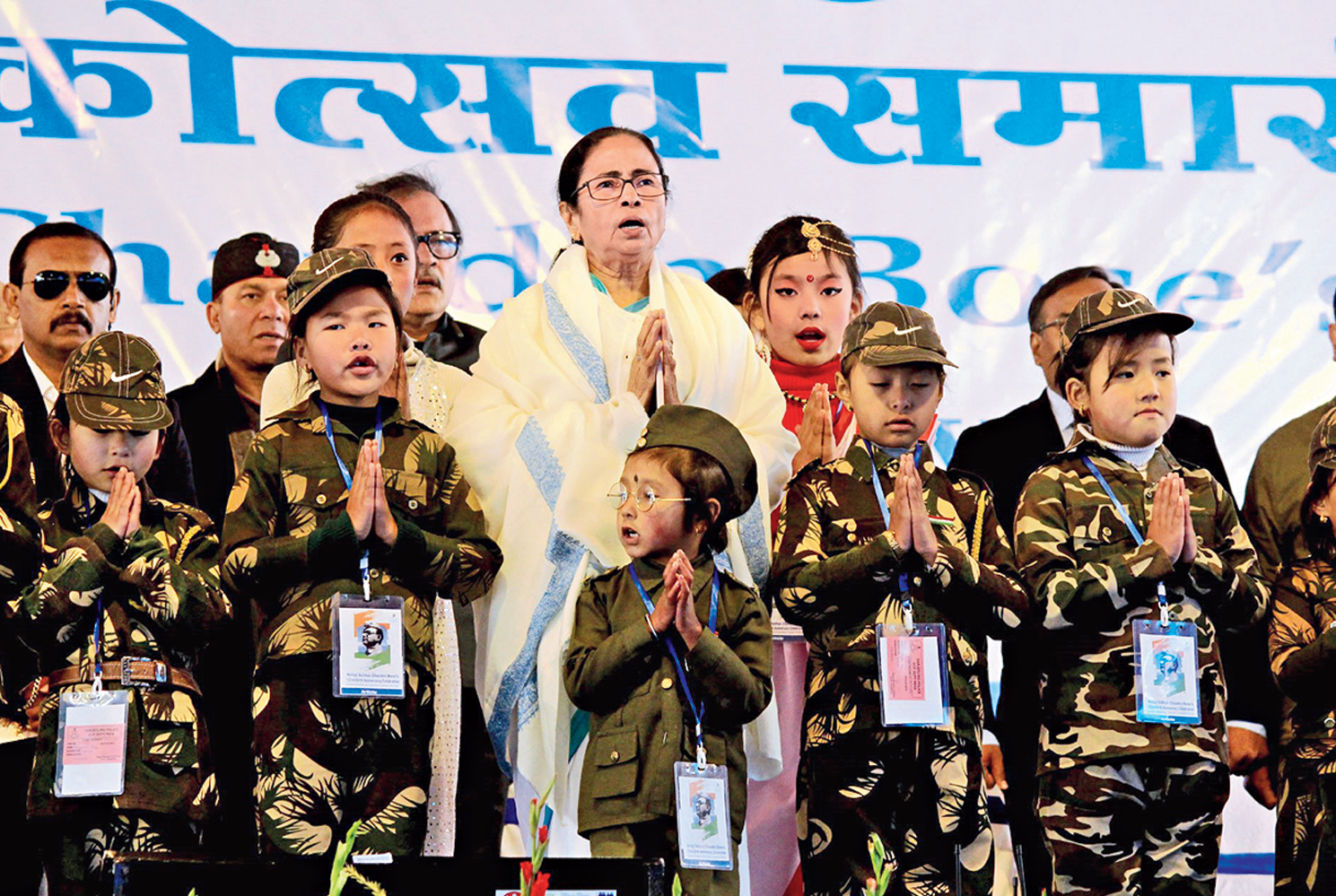 ---
---
Mamata Banerjee delved into history and referred to a 1940 speech by Netaji Subhash Chandra Bose to condemn the alleged divisive politics for "votes" by the BJP and its government at the Centre.
Addressing a crowd at Chowrasta in Darjeeling on the occasion of Netaji's 123rd birth anniversary, the Bengal chief minister said: "I don't know whether there will be a leader of Subhash Chandra Bose's calibre, probably there never will be. But it is necessary for us to remember what he had said for the country."
At a time the country is polarised and many believe the secular fabric of the Constitution is being threatened by the Narendra Modi government, Mamata termed Netaji as a leader who had "a slogan of secularism".
Reminding the crowd of Netaji's 1940 speech, the chief minister said: "I remember one thing. In 1940, in Bengal's Jhargram, he had delivered a speech on May 12, and he spoke the truth. Then, there was an organisation of the BJP, Hindu Mahasabha. What is going on right now in religion, he had said these things then."
At a public meeting in Jhargram on May 12, 1940, Bose had reportedly said: "The Hindu Mahasabha has deployed sannyasis and sannyasins with tridents in their hands to beg for votes. At the very sight of tridents and saffron robes, Hindus bow their heads in reverence. By taking advantage of religion and desecrating it, the Hindu Mahasabha has entered the arena of politics. It is the duty of all Hindus to condemn it. Banish these traitors from national life. Don't listen to them."
Referring to the speech, the chief minister said: "This is for votes and I don't support this, I condemn it."
Netaji is revered not just in Bengal but across the country and many believe Mamata brought out the right reference to drive home the point that secularism was an idea all great Indian leaders believed in.
"We remember this (Netaji's speech) even today because Hindu religion is not for one person. Hindu religion is universal something which Swami Vivekananda has said not once but a number of times," the chief minister said.
She took a pledge that "we will walk on the path shown by Netaji, Gandhiji, Bhanubhakt, Bhagat Singh, Abdul Kalam Azad, Ambedkarji, Birsa Munda, Rabindra Thakur, Nazrul Islam…"
Mamata didn't take the name of Narendra Modi but it was clear her barb was intended at him as she repeatedly spoke on the quality of a leader.
"A leader of a country should be able to lead the country, a leader is one who runs the country peacefully, walks shoulder to shoulder with the people of all religions and castes," said Mamata. She accused the present Union government of "taking blood just for politics", referring to the recent deaths linked to the protests against the Centre's citizenship matrix.
Tharoor on NPR
Congress MP Shashi Tharoor has said Mamata Banerjee raised valid questions regarding a column in the National Population Register in which one has to enter his or her parents' date and place of birth.
"I agree with Mamata Di on this, that when you ask questions that have a certain purpose. This is actually on the instruction sheet for the enumerators, that if they have no satisfactorily answer to the question 'Where were your parents born?' they can write in the margin 'dubious citizenship'. And that will lead to further interrogation of the person," Tharoor said in Calcutta on Thursday.