Mamata Didi vs Modi in Asansol, everything else a footnote
Stories of job losses, lack of new employment opportunities and despair among the youth can be heard across Asansol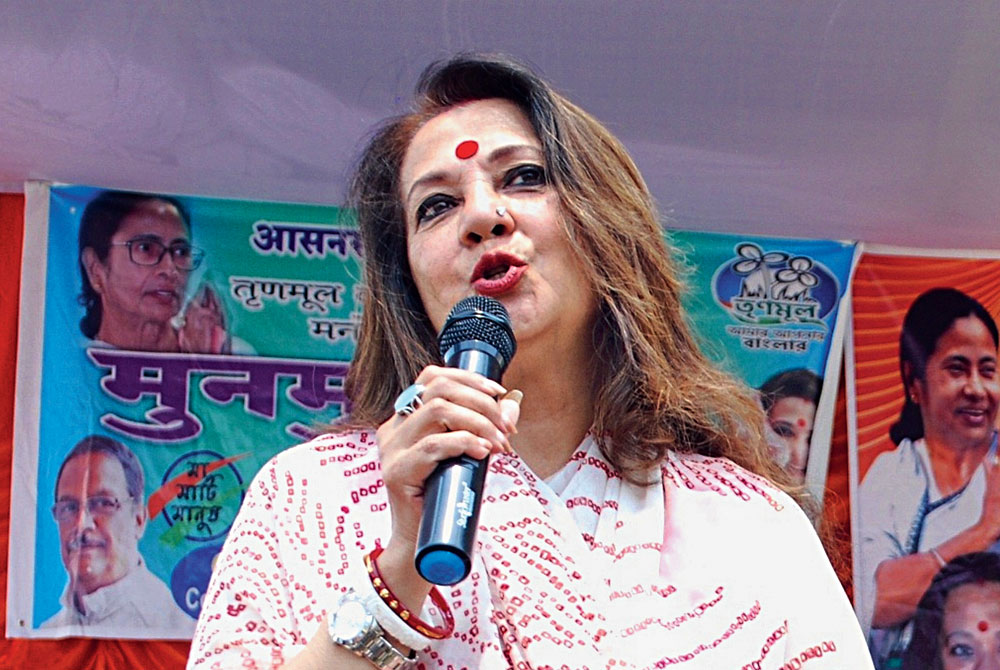 ---
Asansol
|
Published 27.04.19, 02:42 AM
|
---
Bhutnath Mondal was busy cleaning a white bust at a dilapidated jetty on a dried up Damodar as the April sun was setting on a hazy horizon. The man in his mid-sixties completed cleaning, hung a banner — that declares the area a heritage site — on the railing around the bust and settled down on his parked two-wheeler to explain his mission.
"People of Bengal have almost forgotten Prince Dwarakanath Tagore. We can't afford to forget him," said Mondal, a resident of Narayankuri village in Egara gram panchayat in Raniganj block of West Burdwan district.
Dwarakanath, the first Bengali entrepreneur with interest in coal, tea, sugar refining, newspaper and shipping, dreamt of bringing industrial revolution to the country and Mondal's non-descript village was part of the dream way back in 1832, when coal mining started in the area and steam boats ferried coal to Calcutta.
Dwarakanath — the grandfather of Rabindranath Tagore — then set up Carr, Tagore and Company, the first equal partnership Indo-European firm that later on became Bengal Coal Company, resulting in expansion of mining operations in Raniganj, which paved the way for steel-making in the country as British India's first blast furnace came up in Kulti, 35km away.
Business activities brought railways and Raniganj was linked to Howrah and both British and Indian capital was pumped liberally into the mineral-rich Damodar Valley that got the name of Ruhr of India. Ruhr valley in Germany is an industrial hub.
As the sun set on the Damodar, Mondal — a voter in Asansol Lok Sabha constituency — rued the region's transition.
"It was an industrial hub once upon a time. Now, the industries are closing down. People don't have jobs. They either do agriculture or work as petty labourers," said Mondal, who retired as an employee of Eastern Coalfields a few years ago.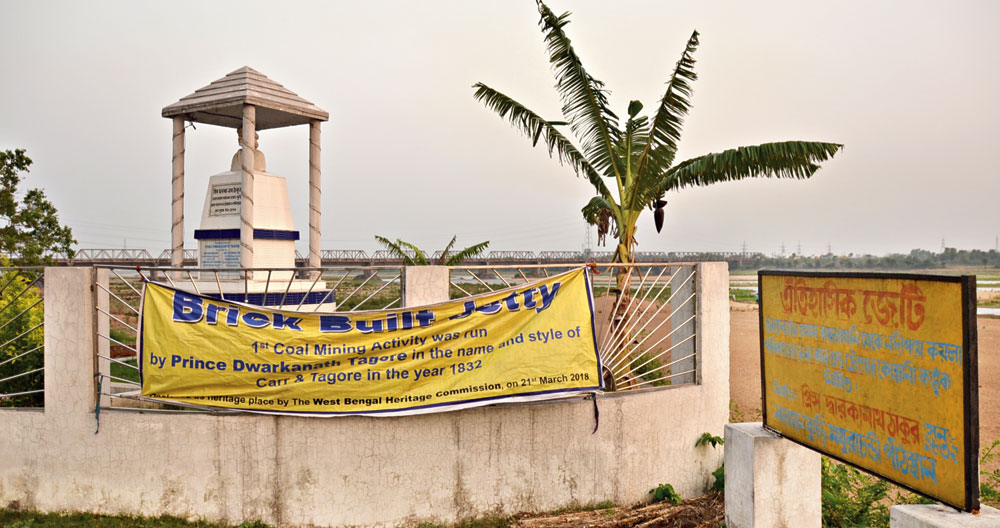 Cycle Corporation of India, Pilkington Glass, British Oxygen, Reckitt & Coleman, Kulti Sponge Pipe Factory, Hindustan Cables and several coal mines — the list of closed industrial units is long across Asansol, which has over 16 lakh voters. The signs of industrial closures — that started with the liberalisation of the Indian economy in the early 1990s — are visible not only in the shift of workers from industry to agriculture in Narayankuri. Around 50km away in Rupnarayanpur, which had the biggest manufacturing unit of Hindustan Cables, closed shops in what used to be a boom town along the Bengal-Jharkhand border also tell the saga of slide in fortunes.
"If a PSU with over 500 employees is in operation, the monthly salary bill would be around Rs 5 crore, which means an annual wage bill of Rs 60 crore. If that unit is closed, it's bound to have an impact on the local economy," a retrenched employee of Hindustan Cables, which downed shutters in January 2017, said.
Such stories of job losses, lack of new employment opportunities and despair among the youth can be heard across Asansol — be it in Burnpur, which has the IISCO steel plant, or in Raniganj, the region's first industrial town.
According to Citu leader Binoy Chakraborty, at least 1.75 lakh people lost jobs in the region in the organised sector in the past 10 to 15 years. "Just imagine the impact of these job losses on indirect employment opportunities," added Chakraborty.
One would expect that if a region that had a tradition of labour struggle has had so many job losses in such a short period of time, there would be large-scale protests. But that hasn't happened and this failure is often referred to as one of the major reasons behind the decline in the CPM's political fortune in what used to be a red bastion.
In a desperate claw-back attempt ahead of the Lok Sabha polls, the CPM nominee from Asansol, Gouranga Chatterjee, is talking about job losses, the industrial decline and the need for a larger movement of the working class.
Though job losses are a reality, a lot of voters in Asansol — that has around 40 per cent Hindi-speaking population and around 30 per cent Muslim voters — are hooked to a different narrative this poll season.
"We have to ensure that the BJP's lotus blooms here. Hindus cannot lie low forever. We have to assert ourselves," said a trader in Raniganj's Burrabazar area. During Ram Navami celebrations in April last year, the area witnessed unprecedented communal strife that had spread in the district, including to Asansol town.
The Raniganj trader admitted that he has metamorphosed from a Trinamul supporter into a BJP activist, as the "nation's pride" is more important for him.
"Most people think that way," he said, referring to the speech of Narendra Modi in Asansol's Polo Ground, where the Prime Minister spoke eloquently about the need for a "mazboot sarkar" (strong government) to ensure "chun chun kar hishab" (all scores are settled) with enemies.
The poll season heat has widened the cracks created last summer.
"We have no option but to support Didi's Trinamul as she thinks about all the communities. We feel safe because of her," said Kaiser Alam, a motor mechanic, as a band of youngsters around him nodded in agreement.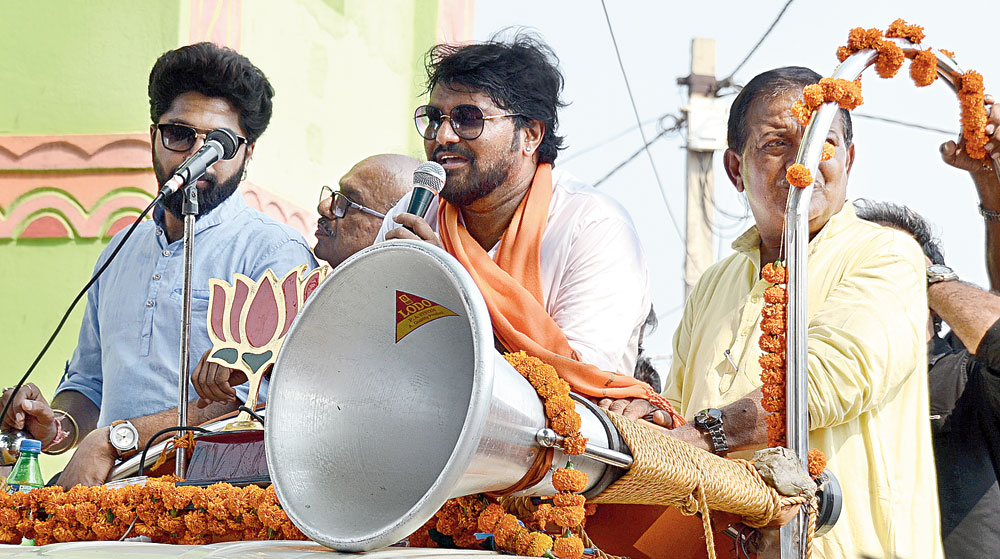 The residents of OK Road in Muslim-dominated Railpaar area, which saw clashes, said they didn't want more communal strife. "We are
poor people. We cannot afford regular tension as our incomes suffer," said Mumtaz Khan, a hawker, before adding that he would vote for Mamata Banerjee because of her ability to take on Modi and his supporters.
Not just jobs, the two main contenders for the Asansol seat — BJP sitting MP Babul Supriyo and Trinamul's Moon Moon Sen — have also become footnotes as the real battle is between Modi and Didi.
Babul has been sweating it out under the sun and distributing a booklet to inform voters about what he has done as an MP, but his trump card is Modi. "Press the number two button and vote for the worker of the country's Number One man," said Babul, who won with a margin of around 70,000 votes in 2014.
The singer's surprise victory was attributed, to a large extent, to Trinamul's internal conflicts. Five summers later, the West Burdwan leaders of the ruling party in Bengal are claiming that they would wrest the seat as they have buried their differences. Every night the top district leaders — Jeetendra Tiwari, Moloy Ghatak, Tapas Banerjee and Ujjwal Chattopadhyay — are sitting at a local hotel to take stock of the situation.
"They are all working very hard because they are a bit frightened, but I am not," said a confident Moon Moon.
Sources in the Trinamul said their candidate was oblivious of the degree of difficulty in the battle for Asansol. "Polarisation along communal lines has made the contest difficult," said a source.
A section of Trinamul leaders thinks Muslims will vote en masse for Moon Moon to prevent the victory of Modi's nominee. The bigger challenge for Trinamul, however, is the polarisation within the party that cost it dear the last time.