Mamata Banerjee urges Narendra Modi to end deluge woes
The Bengal CM wants PM to stop 'uncontrolled' water release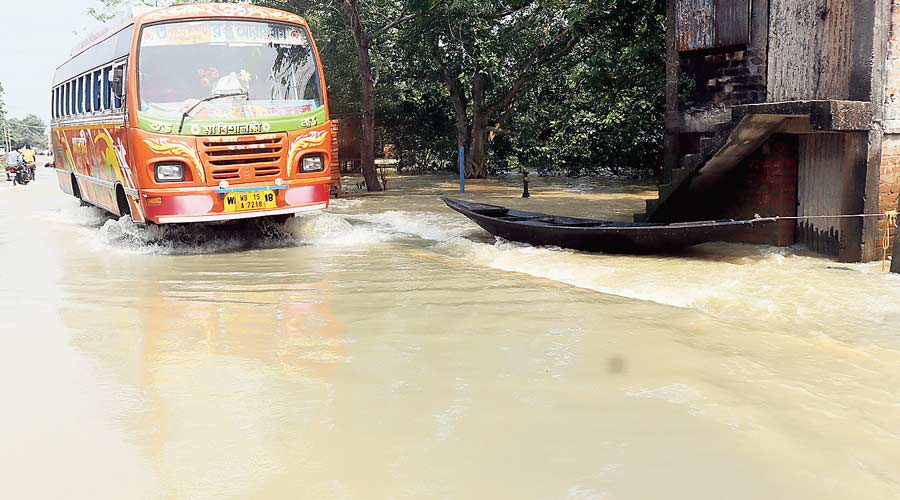 ---
Calcutta
|
Published 07.10.21, 02:58 AM
|
---
Mamata Banerjee has written a letter to Prime Minister Narendra Modi urging his immediate intervention to find out a permanent solution to the problem of regular deluge in Bengal because of "uncontrolled and unplanned" discharge of water from the dams of the Damodar Valley Corporation in Jharkhand.
"The crux of the matter is that, yet again on 30 th September, 2021, there was uncontrolled and unplanned discharge of water from DVC dams at Panchet and Maithan which led to unprecedented deluge in many districts of the state. The quantum of release during 30 th September, 2021 to 2nd Oct. 2021 will bring out the scale and enormity of discharge into Damodar and Ajoy rivers and the resultant devastation and havoc it brought in its wake," the chief minister wrote in her letter dated October 5.
Mamata described in detail how water released by the DVC had led to deluge in large parts of Bengal.
The letter categorically explained the reasons why she was terming the heavy release of water as "uncontrolled and unplanned".
The chief minister said Bengal was forced to bear the brunt of the unplanned water discharge by the DVC and pay for the inefficiency of the DVC management.
Sources at Nabanna said Mamata had written a series of letters in the past pointing out the need to enhance structural ability of the DVC dams by way of desilting and dredging the dams, but no initiative was taken by the Centre so far.
The chief minister urged Modi to intervene and bring together the governments of Bengal and Jharkhand and the DVC to get a permanent solution in this regard.
"I seek your kind immediate intervention so that the concerned ministry of the Government of India is requested to engage with governments of West Bengal and Jharkhand and the authorities of DVC, to help in arriving at a permanent solution to this problem," the chief minister wrote.