CM to Matuas: Have faith in us
Mamata alleged that a 'new' political party had been talking a lot about the welfare of Matuas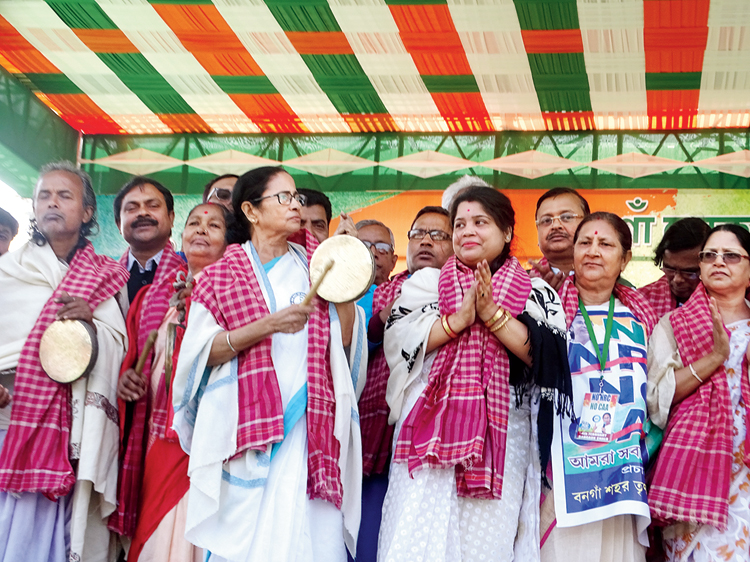 ---
Bongaon
|
Published 04.02.20, 07:30 PM
|
---
Mamata Banerjee on Tuesday urged Matuas to repose faith in her and said the Union government's citizenship thrusts would render them foreigners.
In an attempt to win back the loyalty of the Matuas, a large section of whom seemed to have leaned towards the BJP, the Trinamul Congress chief said it was she who had taken the first concrete steps towards their uplift.
"Have faith in us. Your citizenship is an already settled matter and nobody will be able to rob you of it in my presence," the chief minister said at a public meeting in Bongaon Stadium.
In all seven Assembly segments of the Bongaon Lok Sabha constituency, Matuas form around 45 per cent of the electorate and backed Trinamul for a decade till the general election in 2019.
"Now, you tell me what more you want from me. I will try my best. Some of you sought the deeds for the land in the refugee colonies where you stay. I promise you will get them in due course," Mamata said.
The BJP has been trying hard to utilise the amended citizenship law to woo the Hindu refugee vote bank, which includes Matuas.
The BJP's claim has been that their longstanding demand for citizenship could only be fulfilled through the law.
Reminding Matuas of her long association with the community's deceased matriarch Binapani Devi — Baroma to her followers, Mamata said: "Balu (Trinamul's North 24-Parganas chief Jyotipriya Mullick) used to tell me that Matuas were an ignored lot. At least 20 years ago, I had visited Baroma at Thakur Bari in Thakurnagar on his request. Since that day, I developed a special bond with her. Baroma fell ill on several occasions. Whenever that happened, we, too, took care of her. My ties with Matuas and Thakur Bari are not new, and are not for votes," said the chief minister.
"It was on Baroma's request that I set up the Guruchand College. Now a full-fledged university is all set to come up with a campus in Krishnagar in Guruchand Thakur's name. I have also formed the Matua development board," added Mamata, whose political association with Matuas dates back at least to 2009.
Without naming the BJP, Mamata alleged that a "new" political party had been talking a lot about the welfare of Matuas and other refugees.
"Now they have started showing concern about you and refugees. Where were they till now?" the Trinamul chief asked.
"Their offer of citizenship is fake and misleading. Never fall into their trap. Once you make an appeal for citizenship (under the new provisions), you will automatically become a foreigner and lose everything you have," she said.
"The issue of your citizenship was settled when our government formally recognised your colonies and issued land deeds. Moreover, you have voted and elected governments. There can be no question on your citizenship anyway."