Mamata Banerjee to hill parties: Shun differences for growth
The CM said she was visiting Darjeeling with a message that political parties should work together for the betterment of the place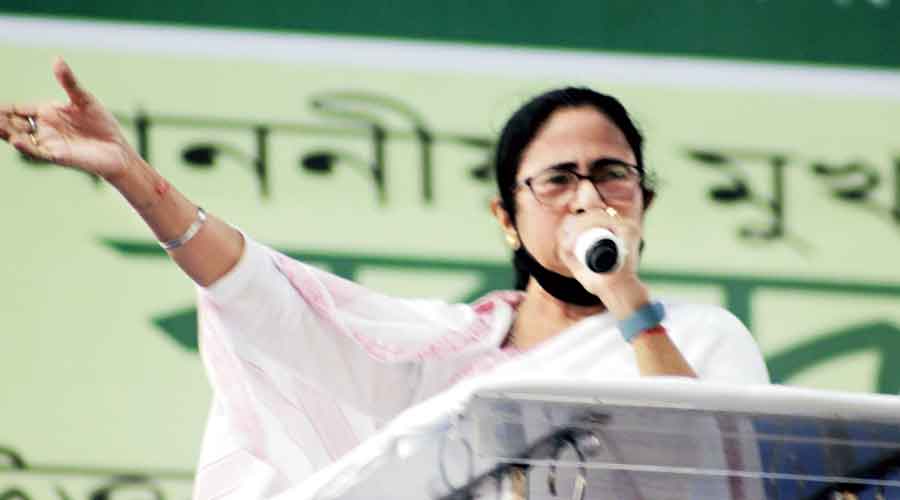 Mamata Banerjee.
File picture
---
Darjeeling
|
Published 30.03.22, 02:53 AM
|
---
Mamata Banerjee on Tuesday urged Darjeeling-based parties to work together for the development of the hills and keep aside political differences for at least 10 years. 
While addressing a government programme at Chowrasta in Darjeeling on Tuesday, the chief minister said: "I request all political parties to make a promise that for the next 10 years, we will not fight but we will only work, will do good, will take up development. You will then see what heights Darjeeling, Kalimpong, Mirik will reach." 
Mamata said she was visiting Darjeeling with a message that political parties should work together for the betterment of the place. Politics in Darjeeling have been acrimonious in the past two decades both among political parties and also in their relations with the state government.
"People come first than you have your political party. We first work for the people and then think of our political party," she said.
Her 22-minute address focused on women empowerment and benefits to tea garden workers.
"When women move ahead, all problems will be solved. I want you to move ahead, take up leadership roles. A country where women are content will move ahead, same with a family. When a woman is happy, there will be happiness all around," Mamata told a largely women audience.
"The West Bengal government provides pensions to 21 lakh widows……In the Swasthya Sathi (health scheme), we have made women the authority as they would know their family members well. We also have welfare schemes for conducting a girl's marriage,' said Mamata.