The Accidental Prime Minister hit Bengal's screens and political stage on Friday with Mamata Banerjee dubbing it a "political jatra" after questioning its timing and purpose as protesters forced some shows of the movie to be stopped.
"I have come to know that some people are performing a political jatra. A film called The Accidental Prime Minister has been released just before elections," the Trinamul chief said while inaugurating a Jatra Utsav in Barasat.
The film is seen as a spoof on the UPA regime led by Manmohan Singh and Sonia Gandhi. The Vijay Gutte-directed biopic, based on a memoir by Sanjaya Baru, has been trashed as a propaganda initiative for the saffron camp. Baru was Singh's media adviser during his stint as Prime Minister. "The Accidental Prime Minister. Maney bujhtey parlam na (Couldn't understand the meaning). Everybody then is an accidental Prime Minister," Mamata said.
She then suggested another film, alluding to Narendra Modi. "I have to say those creating a drama regarding The Accidental Prime Minister should watch out if a film by the name "The Disastrous Prime Minister" is released."
Later, Mamata said people were "scared" to see Modi. "They think of you as Gabbar Singh."
Sources said Mamata, who had pulled out of the UPA II in 2012, believed Singh was much better as Prime Minister. "Her gesture on Friday is significant as it comes ahead of her January 19 rally of anti-BJP parties. More so, as the Congress has decided to ignore the film," said a Trinamul leader.
The movie opened "average" in Calcutta. Before Mamata had questioned its motive, a show of the film was stopped at INOX (Hind) in central Calcutta in the afternoon after alleged Congress workers protested outside the hall and burnt an effigy of Modi. The Congress high command had conveyed to party supporters to ignore the film.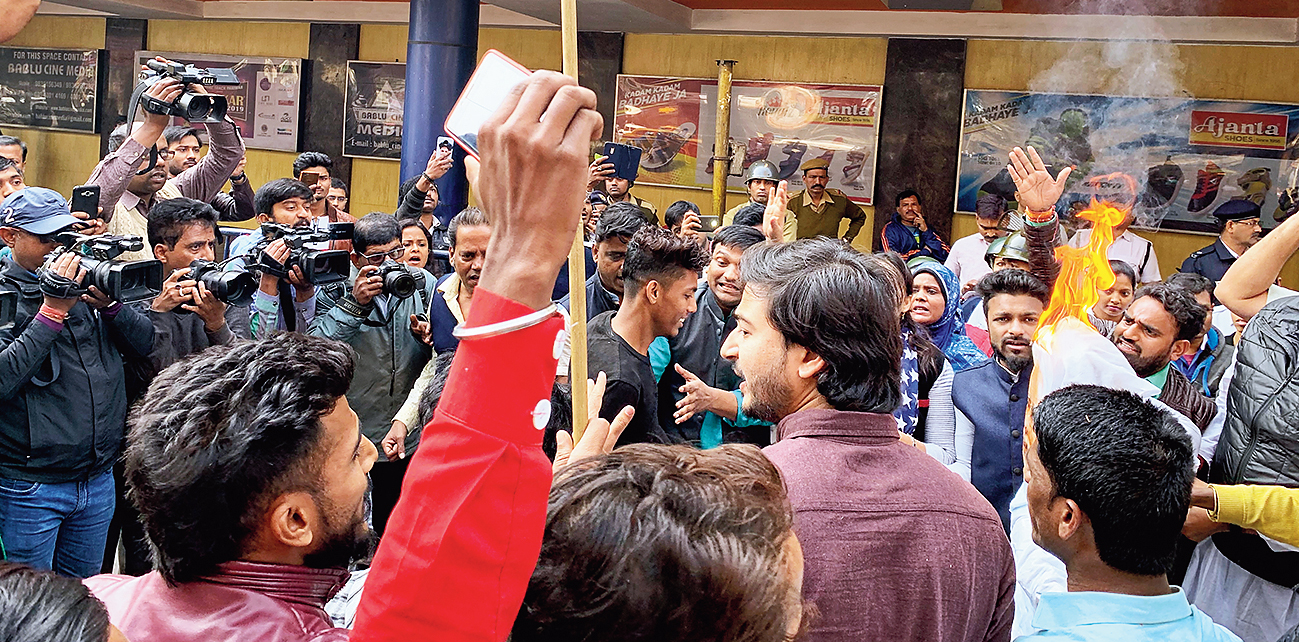 The demonstration in front of INOX (Hind) in Calcutta. Picture by Sanjoy Chatttopadhyaya
Police sources said screenings were also halted at Indira Cinema in Bhowanipore. Later, a group entered INOX at Quest Mall after buying tickets for the 8.20pm show, damaged the screen and fled.
"There was a minor disruption at INOX (Quest). With the help of the police, the situation was brought under control and subsequent shows continued as scheduled," said Amitava Guha Thakurta, regional director (east), INOX Leisure. Protests were also held outside South City Mall, which has INOX theatres.