The Accidental Prime Minister, directed by Vijay Ratnakar Gutte, is not the first, second or even third film made in the last four years that would qualify as either blatantly pro-Narendra Modi or his policies or anti-Congress and therefore beneficial to Modi. Some of the others are Indu Sarkar, Toilet: Ek Prem Katha and Padman. Uri: The Surgical Strike and The Tashkent Files, which are yet to be released, fall in the same category, at least going by the promotions.

"Politicians have always been well aware of the power of cinema. But this kind of iron-fist control over the industry is unprecedented," says documentary filmmaker Rakesh Sharma. Industry veteran Sudhir Mishra has a different take. He says, "At the moment they (filmmakers) are aligning themselves with whom they think are holding the views of the nation, be it patriotic or militaristic. In the old days, if you see the films of Manoj Kumar, there were a lot of songs which directly praised the Congress leaders. There is a pro-establishment tendency in people who think commerce. And if they think that the audience is swinging towards that point of view as well, then why not? I don't think it's more serious than that." The truth possibly lies somewhere in between these two views.
Is it a crime for filmmakers to want to be on the right side of the ruling dispensation? No. Then, is it a crime to make bad cinema? An assault on the senses, yes, but crime, no. To behave as the self-appointed mouthpiece of a certain political dispensation is not a crime either, but to use cinema to peddle the Establishment's messages or biases and thrust the same on cinegoers as nothing but honest cinema is cheating that's far from accidental.
In April 2014, Modi, who was still rallying to become PM, said to an audience in Karnataka: "Brothers, if two scooters meet with an accident, maximum two or three people will die. If two aircraft meet with an accident, 700 to 800 people will die… But with an accidental prime minister, 125 crore people will die and the future of our youth will get immersed in darkness."
"Accidental Prime Minister", however, was not one of Modi's coinages like achchhe din or swachchh Bharat. The BJP leader was merely referring to the title of the book on Manmohan Singh's premiership by Sanjaya Baru, who had been Singh's media advisor and chief spokesperson.
The publication of the book during the 2014 campaign was no more an accident than is the timing of the release of the film — the beginning of election year. The promotional tweet of the film's trailer from the official Twitter account of the BJP recently was not accidental either. And in all likelihood, nor was the casting of Anupam Kher as Singh.
But why such ado about Kher? After all, the director of The Accidental Prime Minister is a man called Gutte. Precisely why. Gutte was practically unheard of until last August, when he was arrested for an alleged GST fraud of Rs 34 crore. It has been reported since that his father, Ratnakar Gutte, is a sugar baron and is facing allegations of a Rs 5,500 crore bank fraud. Bottomline — it is Kher who is quite literally the face of the film.
Kher is a much-professed Modi fan. It is not a new association. In 2004 as boss of the Central Board of Film Certification or CBFC, he betrayed his subliminal loyalty for the then Gujarat chief minister, when he refused to clear Rakesh Sharma's documentary on the Gujarat pogrom, titled Final Solution, till the wind and government both changed. Sharma confirms this.
In time, when Kher launched a chapter of his acting institute Actor Prepares, he chose Ahmedabad — after Mumbai, London and Chandigarh — and got Modi to inaugurate the institute. He has unabashedly used Twitter to shower compliments on the Prime Minister — called him "rockstar" when he released his fitness challenge video. His wife, actor Kirron Kher, is a BJP MP from Chandigarh. And in a television interview not long ago Kher said: "I am better off being called a chamcha of Narendra Modi than a balti of somebody else."
While the jury on Gutte's film is still out — it releases on January 11 — it is common knowledge how Madhur Bhandarkar's film Indu Sarkar fared.
The film was released in July 2017. There is scarce a review that calls it above average even though some have applauded a portrayal here and there, and others congratulated Bhandarkar on the smart title, which gives the impression that it is a biopic on Indira Gandhi. Indu Sarkar is actually the name of the protagonist, though the Emergency is indeed the backdrop.
Bhandarkar, like Kher, is a first-row Modi supporter. You would have seen them two tweeting at each other. In April 2017, Bhandarkar tweeted: "Welcome move for restricting the use of #RedBeacon by @narendramodi govt (sic)". The PM acknowledged the compliment. In 2016, when Karan Johar's Ae Dil Hai Mushkil erupted into controversy after Right-wingers objected to a cameo by Pakistani actor Fawad Khan, director Anurag Kashyap tweeted to the PM: "Sir you haven't yet said sorry for your trip to meet the Pakistani PM. It was dec 25th. Same time KJo was shooting ADHM? Why? (sic)" That instant, Bhandarkar fiercely leapt to the PM's defence.
In Indu Sarkar, we have a film that sits awkwardly on audience sensibility and Bhandarkar's resume like Neil Nitin Mukesh's prosthetic forehead — he plays Sanjay Gandhi. And not all the sparkle in producer and diamond merchant Bharat Shah's kitty could rescue it. (Shah had been arrested in 2001 for alleged links with mafiosi Chhota Shakeel.)
But being on the right side of the PM helps. Bhandarkar did not have to worry about procedural issues like getting a no-objection certificate from concerned parties, which films about real incidents and situations require. Then CBFC chief Pahlaj Nihalani explained on his behalf: "Indu Sarkar does not name anyone... You are only presuming the film is about the people you mention because of the physical resemblance… I am glad someone has made a film on the Emergency."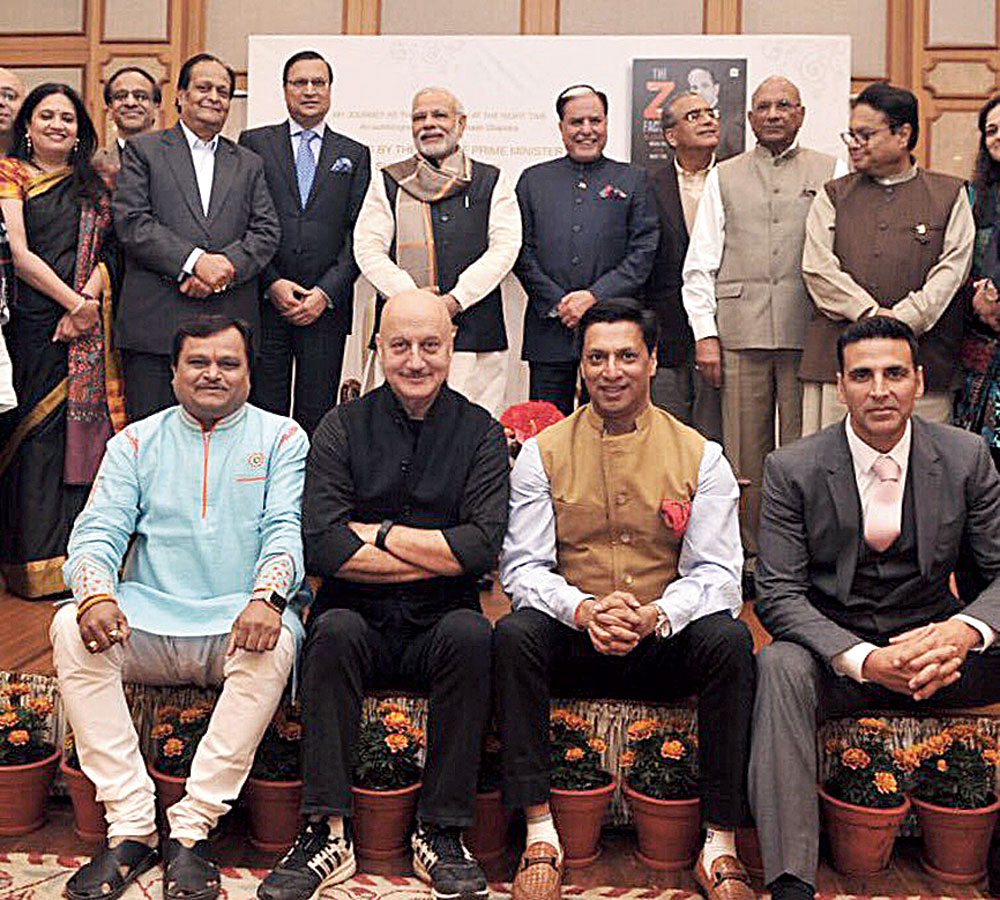 CRONY CAST: Modi strikes a Hum Aapke Hain Kaun-like pose with a few of his cinema favourites Image: Twitter
In August of 2017, Toilet: Ek Prem Katha was released. A film set in Uttar Pradesh, about a new bride and her horror upon discovering that her new home has no toilet, and the couple's experiences thereafter. This film is indeed a love story — actor Akshay Kumar's and Narendra Modi's. Check this. The wooing: on May 9, 2017, Kumar tweeted: "Met PM and got the opportunity to tell him about my upcoming Toilet-Ek Prem Katha. His smile at just the title made my day!" In June, Kumar tweeted the trailer and tagged the PM. He wrote: "Here is my humble contribution towards a Swachh Bharat." Once again the PM was quick to appreciate: "Good effort to further the message of cleanliness. 125 crore Indians have to continue working together to create a Swachh Bharat."
After the wooing, the wedding. Toilet released in Independence Day week. It reportedly grossed Rs 311.5 crore worldwide. It was made tax-free in UP, the first film to be made so in the GST regime.
The honeymoon continues. After Toilet, came Padman, based on a short story by Twinkle Khanna inspired by Arunachalam Muruganantham, a social activist from Tamil Nadu, who introduced low-cost sanitary pads.
Toilet was directed by a Shree Narayan Singh, but it was produced by a gaggle of people and companies, among which were two Bhatias (Kumar's off-screen name is Rajiv Hari Om Bhatia) and Plan C Studios, a collaborative venture of Anil Ambani's Reliance Entertainment. For Padman, there was R. Balki in the director's chair, and the Missus in the producer's.
Pads and cleanliness have a connection, but to link it with the Swachh Bharat campaign would be a bit much. Except that Kumar was already the ambassador of Swachh Bharat in UP and Uttarakhand. And there was the Toilet legacy.
Post July 2017, after the implementation of GST, certain groups raised the demand for waiver of GST on sanitary pads. The new superhero, Padman, swivelled in to espouse the cause. In February 2018 the film was released. In July, when the government decided to scrap the 12 per cent tax on feminine hygiene products, Kumar collected the kudos. He tweeted in Academy Award style: "One of those days when a news brings tears of joy as a cause close to ur heart gets fulfilled (sic)." The film had already earned Rs 80-plus crore.
Uri was announced by producer Ronnie Screwvala in 2017. The film, directed by debutant Aditya Dhar, is being touted as the "brave story" of Indian soldiers who were martyred in the 2016 Uri attacks. Not much is known about Dhar, but here is a tweet by Screwvala which might or might not give us a sense of the tone. In 2014, when the PM visited armymen in Siachen on Diwali, he tweeted: "@narendramodi gets it politically, socially & emotionally right again… humble/inspiring gesture (sic)." On second thoughts, we are most definitely looking at a paean to a 56-inch chest, more hype to an over-hyped surgical strike.
Vivek Agnihotri, of "urban naxal" fame, is working on The Tashkent Files, which explores the death of Indian Prime Minister Lal Bahadur Shastri. Not one to be pleasant even in his own promotional messages, Agnihotri tweeted last year: "Do you know that 'someone' didn't want 'Jai Jawan Jai Kisan' written on Shashtri Ji's samadhi. Sad." And then, just in case no one got it, he tweeted again, "Do you know that Indira Gandhi didn't want 'Jai Jawan Jai Kisaan' inscribed on Lal Bahadur Shashtri's samadhi?"
There was some talk not too long ago about Amrit Nahata's son Rakesh planning a remake of Kissaa Kursee Kaa, a film on the excesses of Indira Gandhi's rule.
It's not conspiracy but it is not accidental either, and it is certainly not very good cinema. But should that matter when between these fawning filmmakers and Modi there is a Bond, prem's Bond.
Let's not go with Ian Fleming at all. Let's go with finance minister Arun Jaitley's spin on the Father of Bond instead. During the Rafale deal debate in Lok Sabha last week, Jaitley said: "James Bond had said: 'If it is once, it is a happenstance.' It can happen. 'If it is twice, it is a coincidence; and if it is thrice, it is a conspiracy'." (He got the quote wrong, but you know that.) Going by that logic, anything more than thrice would be an overkill.