Mamata requests 'friendly state' to desilt dams to prevent flooding
The remark came after the Birbhum administration decided to reconstruct Sundarpur that got almost washed away by waters released by a barrage in Jharkhand's Shikatia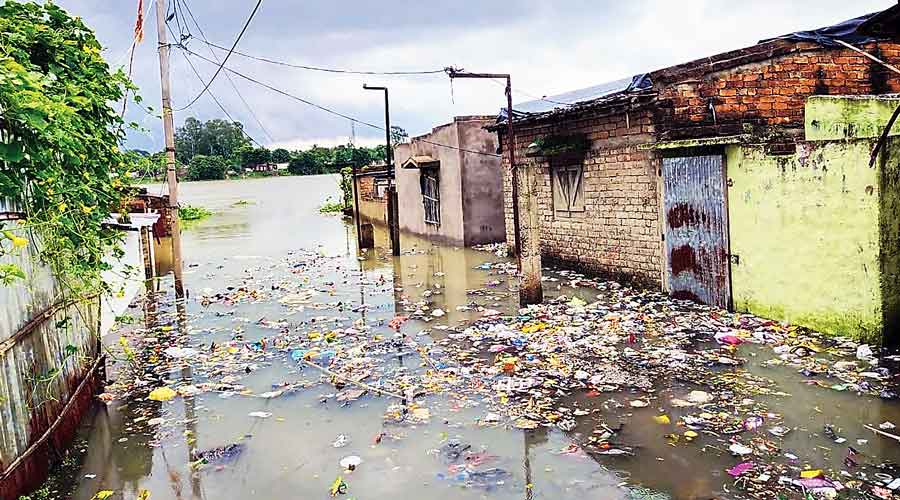 ---
Bolpur(Birbhum)
|
Published 03.10.21, 02:27 AM
|
---
Chief minister Mamata Banerjee on Saturday said she would request the "friendly" Jharkhand government to desilt dams in the neighbouring state to prevent flooding in several Bengal districts that annually bear the brunt of water released by power utility DVC during monsoon.
Mamata made this remark shortly after the Birbhum administration decided to reconstruct village Sundarpur in Nanoor that got almost washed away by waters released by a dam in Jharkhand's Shikatia.
"Jharkhand is our neighbouring and friendly state. We will request the Jharkhand government if they kindly renovate (desilt) their dams. We will request the Jharkhand government that they can do joint planning with us. We will also request them (the Jharkhand government) to talk to the DVC," said Mamata after visiting flood-hit Arambagh in Hooghly on Saturday afternoon.
She explained how "uninformed" release of water from Shikatia dam in Jharkhand flooded areas of Birbhum and East Burdwan on the banks of river Ajay.
"Apart from DVC, 80,000 cusec water was released on September 30 and 1,20,000 cusec water was released the next day from Shikatia dam in Jharkhand. The water from the dam flooded Ajay that overflowed its banks and flooded eight districts, including East Burdwan and Birbhum," said Mamata.
The Birbhum district administration on Saturday held meetings to plan how to get back normalcy at Sundarpur, including livelihoods of around 160 families of the farming village.
Sundarpur village is Birbhum's worst affected where almost all 160 houses, including concrete and mud buildings, have been completely washed away and at least 300 acres of farmland covered with silt and sand.
"The devastation of Sundarpur is unimaginable. We need to do everything to reconstruct not only the houses but to reconstruct the village. The government will help reconstruct homes and dredge sand and silt from fields as cultivation is the main profession of villagers. We have already held meetings and will allot funds to help them," said Bidhan Ray, the Birbhum district magistrate.
"For the first time I witnessed such devastation. Concrete houses have been washed away, including our two-storey home," said Bharat Majhi, 45, the deputy chief of Nanoor panchayat samity and resident of this village.
Sources said around 3am on Friday morning a stretch of 150 metres of an embankment was suddenly swept away by floodwater.
Government officials said though they were yet to receive the final survey reports about the quantum of loss to property, farmland and livestock, they decided to reconstruct the village after repairing the embankment.
The release of over 2,00,000 cusec of water from Shikatia dam into river Ajay submerged several pockets of East Burdwan and Birbhum. The situation worsened earlier this week when the Ajay overflowed its banks and breached embankments at several places.