Didi reaches out to tribals at mass marriage
Since the Lok Sabha polls, Trinamul has been trying to strengthen its base among the tribal community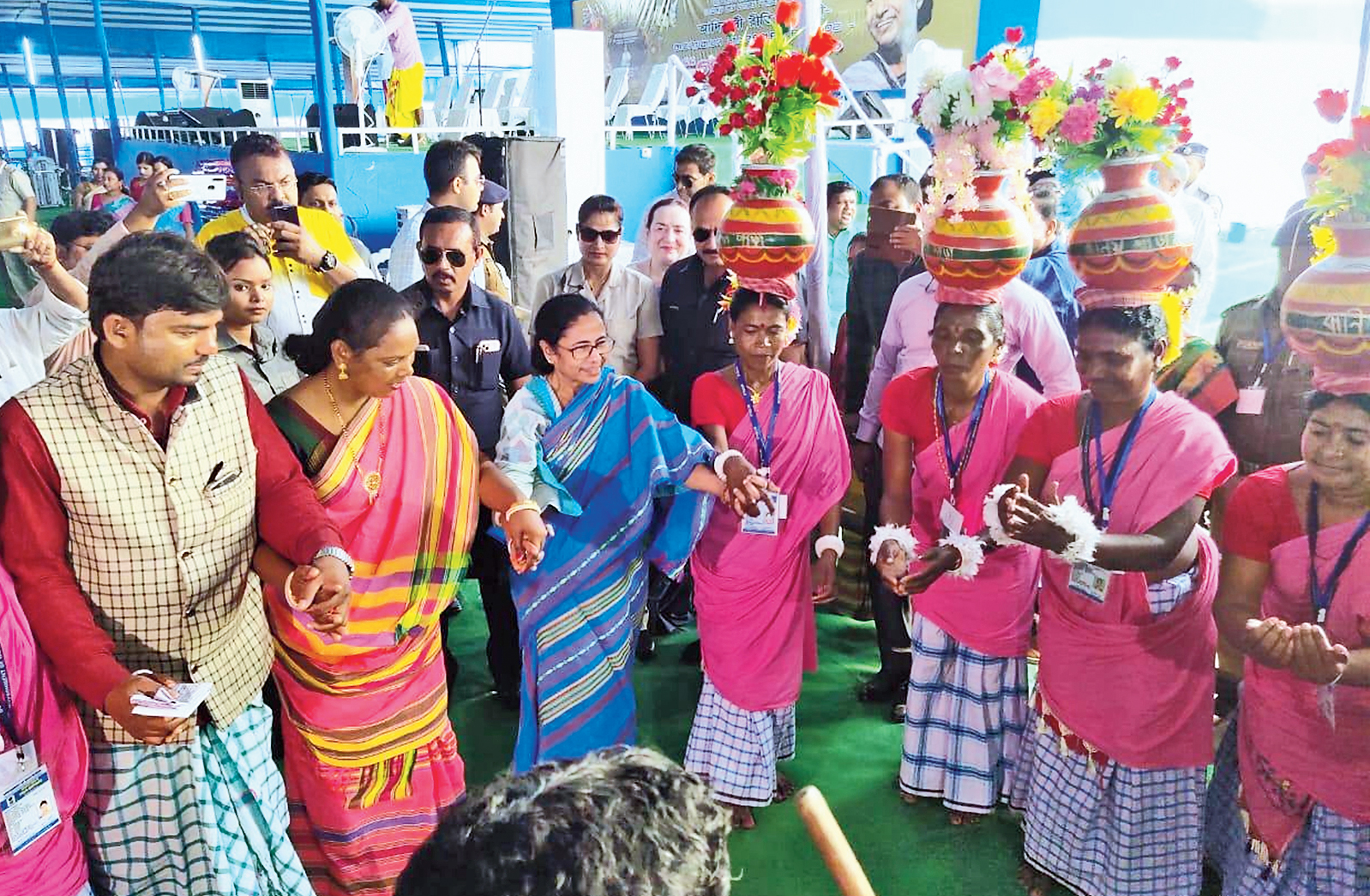 ---
|
Malda
|
Published 05.03.20, 09:20 PM
---
Chief minister Mamata Banerjee attended a mass marriage ceremony of tribal couples that Malda police organised on Thursday as part of its community development programme, and announced that more such programmes would be initiated in the other districts.
Trinamul sources pointed to similar initiatives undertaken by the Rashtriya Swayamsevak Sangh (RSS) and the Vishwa Hindu Parishad (VHP) in some tribal pockets of Bengal.
In the Lok Sabha elections in 2019, the BJP is believed to have got the support of a considerable portion of the tribal population in north Bengal and also in some parts of south Bengal. This support had helped the party to win seven of the eight seats in north Bengal and tribal-dominated seats in south Bengal such as Jhargram, Purulia and Midnapore.
Since then the Trinamul leadership has been trying to strengthen its base among the tribal community and Mamata's presence at Thursday's event was part of that initiative.
The chief minister arrived at the venue around noon and was welcomed by prominent members of the tribal community.
"We have convened this mass marriage and have stood with the tribal population. Soon, we will organise a similar event in north Bengal and this time, it will be in the tea belt. I will be there. Also, in other districts where tribal people live, such ceremonies will be hosted," Mamata said.
Addressing the crowd, the chief minister assured the tribals that their land was safe in Bengal. "We have enacted a law so that no one can snatch land from tribals. You have absolute rights over your land. No one can take it from you by paying any amount. Our government has always worked for the conservation of the language and culture of the tribals and will continue to do so," she added.
Mamata joined a group of tribal women in a dance.
Around 300 couples hailing from Gazole, Habibpur, Bamangola, Old Malda, Chanchal II and Harischandrapur II blocks of the district tied the knot at the event.
The chief minister gifted saris to some of the brides. Each couple was given kitchen utensils and each bride will receive a one-time assistance of Rs 25,000 under the Rupashree scheme of the state government, the chief minister said.
Mamata's move has taken the Sangh parivar by surprise.
BJP national secretary Rahul Sinha said: "It is evident that the tribal population has rejected Mamata Banerjee and her party…. Had local leaders of her party not looted the poor tribal men and women of their rights and properties, she wouldn't have had to put up this show."