Mamata on a spree of project launches in tea belt
Number of projects inaugurated in tea gardens was among the highest for tea region in recent times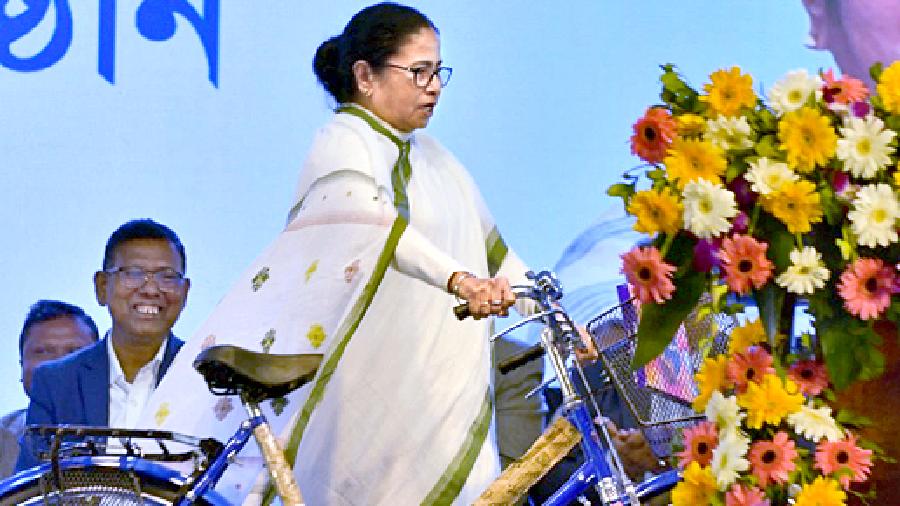 Mamata Banerjee near Hasimara on Friday
Picture by Anirban Choudhury
---
Siliguri/Alipurduar
|
Published 20.01.23, 03:27 AM
|
---
Mamata Banerjee on Thursday inaugurated a slew of projects in the tea garden belt of north Bengal in an apparent attempt to connect with the region which voted for the BJP in previous elections.
"Today, I distributed several public welfare services among my tea garden workers in Alipurduar, and their smiling faces filled my heart with immense joy," said the chief minister.
The number of projects inaugurated in the tea gardens was among the highest for the tea region in recent times.
Among the inaugurated projects included 1,100 houses for the workers under the Cha Sundari project, a youth hostel, an open stadium, number of roads and culverts, drinking water and solid waste management projects and crèches.
"Our tea garden workers have a difficult life, and those who are parents face enormous hardship in their daily lives because they must work while keeping their children with them. To address their issue, we have constructed a number of crèches where they can leave their children in a safe and comfortable environment while they go to work," said Mamata.
The tea gardens in north Bengal employ around 3 lakh workers and nearly 70 percent of the workforce is women, who are largely engaged in plucking. The constructions of crèches are expected to go a long way in connecting with the women in rural areas.
The projects — announced by Mamata on Thursday — were evenly spread out in the two tea growing districts of Jalpaiguri and Alipurduar, both districts where the Trinamul is organisationally weaker than the BJP. 
In the 2021 Assembly polls, the BJP won all the five seats in Alipurduar while in Jalpaiguri, the saffron party bagged 4 out of seven seats. In neighbouring Cooch Behar, the BJP won seven out of the nine seats. 
Ahead of this year's Panchayat polls and the Lok Sabha polls, the Trinamul is trying to effect a turnaround using the development narrative in the region. 
The chief minister on Thursday stressed that every single person should have "access to the basic amenities for a sustainable life" and promised to further improve health infrastructure in the gardens. In the past, there have been widespread complaints that many of the tea gardens are not fulfilling their statutory healthcare and housing obligations.  
"We will build more health centres, increase the number of ambulances, and deploy more doctors and nurses to improve the health infrastructure," said Mamata.
The state government targeted all sections living in the tea garden including the students who were provided scholarships under the Medhashree scheme.
"Even though the TMC's trade union is relatively weak in the tea region, the sustained effort by the state government in the tea belt could overcome the trade union's organisational weakness," said an observer.
The chief minister also inaugurated a number of tourism projects including the introduction of four shikaras and inauguration of an eco park at Gajoldoba, near Siliguri.