Mamata meets Amartya Sen, hands over land records; steps up Nobel Laureate's security
Stop this humiliation, Didi tells BJP; Sen thankful, adds that these matters aren't his priority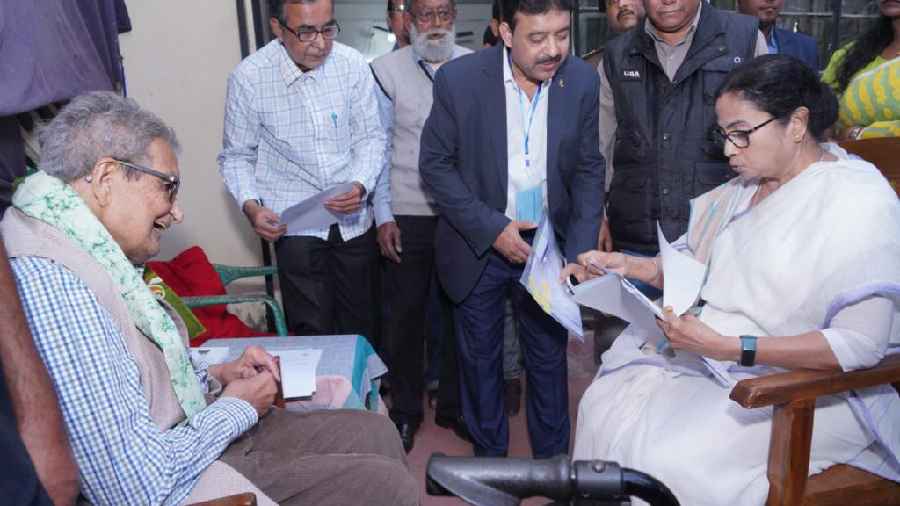 Bengal chief minister Mamata Banerjee at Amartya Sen's residence in Santiniketan on Monday.
Courtesy: Trinamul Congress
---
Calcutta
|
Published 30.01.23, 09:19 PM
|
---
Records available with the Bengal land and land revenue department show that contrary to the claims of Visva Bharati authorities, Professor Amartya Sen is the rightful leasehold owner of 1.38 acres of land over which Pratichi, the Nobel laureate's ancestral property in Surul, Santiniketan, currently stands.
Chief minister Mamata Banerjee made a dramatic entry into Pratichi to make that counter-claim and personally hand over land records of the property available with the state government to Sen while making it the first order of her business in Bolpur where she landed on Monday afternoon. Banerjee also instructed Manoj Malviya, Director General of Police, Bengal to provide Z+ category security to Sen and set up a temporary police camp before his Santiniketan residence to mitigate perceived threat perceptions.
Sen, though thankful of Banerjee's efforts to bring matters to light, however said that taking on Visva Bharati over this issue was the least of his priorities.
Doubtless, the development added a whole new dimension to the ongoing debate over the central university's claim that Sen was in possession of a plot which was in excess of his legal entitlement of 1.25 acres and puts the ball back in the court of Visva Bharati vice chancellor Bidyut Chakraborty.
Visva Bharati authorities sent the noted economist at least two letters last week reminding him that he needed to return 13 decimals of land back to the university at the earliest and hinted at legal action upon his failure to do so.
Calling the university's claim as "false" and "made with an intention to humiliate the Nobel laureate", Banerjee handed over both Land Records (LR) of 1984 and Revisional Settlement (RS) records of 1956 in support of Sen's landholding in Santiniketan.
"Both these records that I have dredged out from state archives show that the government had leased 1.38 acres to Ashutosh Sen, Amartya Sen's father, in 1943 which is clearly in conformity with what Sen has maintained," Banerjee said.  
"I maintained silence on this issue for so long because I was waiting for the documents from the government's archives. I wanted to speak the truth only on the basis of government records. You can say that my respectful offering of these papers to Prof Sen is a counter to the humiliation he has been subjected to of late. These documents should be enough to stop the BJP from trying to humiliate him any further," she told reporters at Pratichi.
"I would ask the Visva Bharati authorities to run the institution properly instead of issuing threats, show cause and suspension notices to students at the drop of a hat. They are ruining Tagore's vision of education and are holding saffronisation parades inside the campus in its place," Banerjee alleged, stopping short of naming VC Chakraborty.
Sen, however, maintained that he did not want to drag the issue and blow it out of proportion any further than what it already has.
"I won't send these papers to either Visva Bharati or to any other place. If the land rightfully belongs to me, I don't need to stand on a table and deliver a speech on that. But I am happy that Mamata Banerjee took the trouble to find out where the truth really lies," he said.
"There are things in this world for which I believe in screaming at the top of my voice… things like hunger, illiteracy and inadequate health care facilities. I have always been vocal about them. However, my land ownership is not such an issue. If someone decides to ignore his job of academics and decides to focus on driving me away from my land, I don't think that warrants me delivering an ideological speech. I hope that what I think is the truth will ultimately prevail and that could bring me joy. But there's no reason why I should consider this to be as big an issue as education, health or corruption," the welfare economist added.
Asked about his enhanced security, Sen said: "I have no idea what that enhanced security means. I feel I am secure enough. There must be something good in this, but I do not know what that is."
On the issue of Chakraborty's claim that he technically never won the Nobel, Sen said, "I don't mind if people think I haven't won the Nobel prize. Someone could be happy for winning the Nobel prize. But whether someone would be sad for not winning it depends on how much importance he attaches to it. I cannot say that I am terribly bothered about whether or not I have won the prize."
No comments were received from Visva Bharati authorities till the time of filing of this report.