Mamata government appoints Ombudspersons for rural job scheme
The move comes in the wake of Centre making it mandatory to have independent individuals to probe complaints from common man on execution of MGNREGA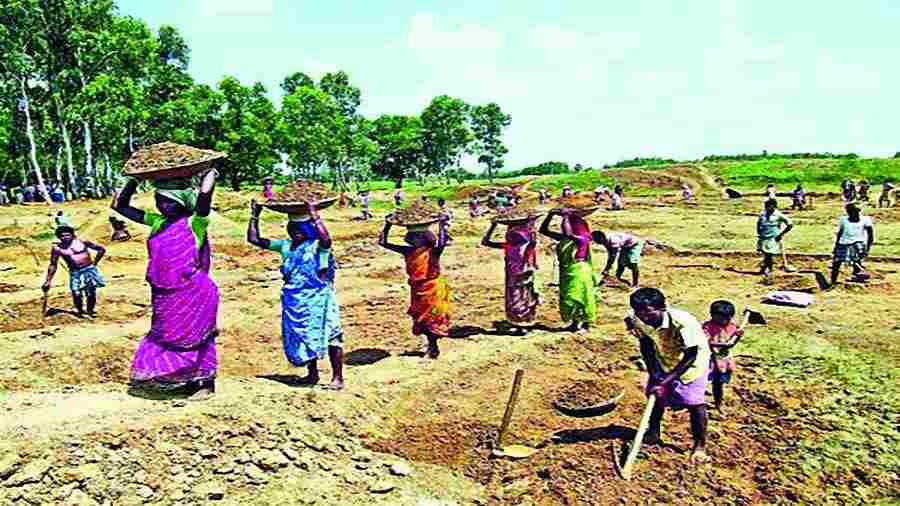 Representational image
File Picture
---
Calcutta
|
Published 07.09.22, 01:41 AM
|
---
The Mamata Banerjee government has appointed ombudspersons under the MGNREGA in all 23 districts in a bid to ensure transparency in the implementation of the 100-day rural job scheme.
A section of officials at Nabanna said Bengal had taken the move as the Centre had made it clear that states which would not appoint ombudspersons in at least 80 per cent districts would not get funds under the 100-day job scheme.
Appointment of ombudspersons is required under the guidelines of the MGNREGA, but Bengal hadn't deputed such independent people to receive and probe complaints from common people about the execution of the job scheme.
Sources said the appointment of the ombudspersons was the first major step to bring about transparency in the 100-day job scheme. "It hints that the state government is desperately trying to ensure transparency in the execution of the rural job scheme after the Centre suspended the release of funds under the MGNREGA," said a bureaucrat.
A committee, headed by the chief secretary and which has a representative of the Centre, appoints ombudspersons.
Ombudspersons can give directives to district authorities based on the probe into complaints lodged by common people. In the annual report, the ombudspersons will evaluate the performance of district officials.
"As these ombudspersons are selected from fields like academics or law, they are usually free from political affiliations. So, they generally pass an independent view on the ground reality. The Centre is also laying stress on appointing ombudspersons under the MGNREGA," said a source.
Till now, villagers didn't find anybody with whom they could lodge complaints about the scheme's implementation. And panchayat functionaries are mostly accused of paying no heed to the complaints.
A senior official said the state was already facing trouble since the Centre had stopped releasing funds under the scheme alleging irregularities in the spending. "Now, the state does not want any further trouble and that is why ombudspersons were appointed in a hurry."
The move, sources said, can help the state convince the Centre that it has taken enough steps to ensure proper utilisation of funds under the 100-day job scheme.
A Trinamul Congress leader said the posting of the ombudspersons would help the ruling party recover its lost image. "Now, elected rural body members will be under pressure as the ombudspersons can take independent decisions. They can also take action in case any irregularity is found. So, if the panchayat functionaries act in a restrained manner, the image of the government will not be tarnished," said the Trinamul leader.