Mamata Banerjee dances for unity message
The CM was at the inauguration of Bangla Sangeet Mela and Biswa Bangla Sanskriti Utsav organised by the state government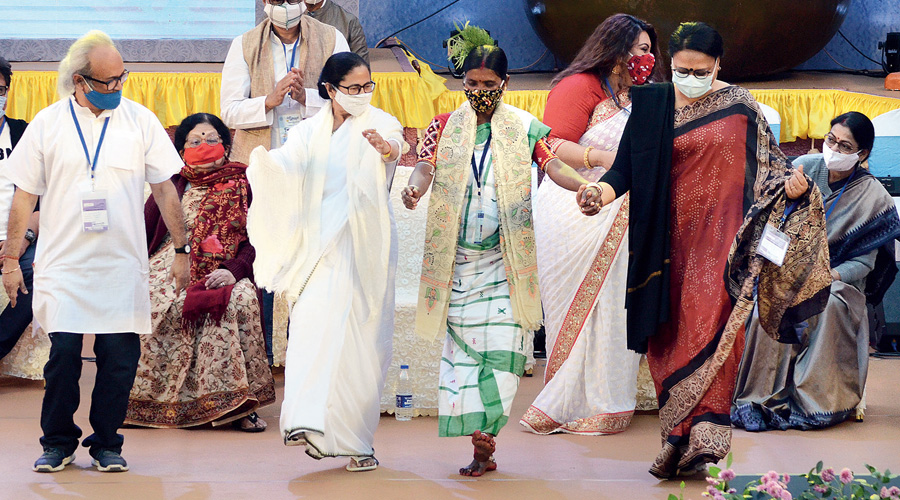 ---
Calcutta
|
Published 24.12.20, 01:54 AM
|
---
Mamata Banerjee was seen shaking a leg for the first time in recent memory as she danced on stage along with tribal musician Basanti Hembram, a recipient of the state government's Sangeet Samman, at an event on Wednesday evening.
If the Santhali welcome dance was not enough for the chief minister to drive home the message that the "holy soil" of Bengal would remain unscathed in divisive politics, she said the state would never be turned into Gujarat.
In over four decades of her public life, Mamata has often been seen picking up some instrument or vocalising in contribution to live musical performances. Sometimes, she has even been seen swaying to the music.
But at the event organised by the state government at the Uttirna auditorium in Alipore, Calcutta, she broke into a jig – a traditional Santhali welcome dance called Dong — with Hembram and several other artistes at the inauguration of the Bangla Sangeet Mela and the Biswa Bangla Sanskriti Utsav, 2020. Hembram was handed the Sangeet Samman at the event.
"From this dais, we tried giving the message to every section of the people that we are for all. Music does not divide, but only unites… Hindus, Muslims, Sikhs, Christians, Buddhists, Jains. Our surnames might be different, our appearances might be different, our complexions might be different — just like the countless musical instruments — but we are all part of one big family, across the world. The family of humanity," Mamata said in her address.
"Do not ever, please, let anybody divide that family. Fight the attempts boldly. We will fight this boldly," she added. The chief minister did not take names, but it was apparent that the target of her attack was the BJP and its allegedly divisive agenda.
In a jibe at the aggressively repeated assertions by the likes of BJP state chief Dilip Ghosh that Bengal would be turned into another Gujarat if his party came to power here, Mamata said she would never allow that to happen.
She said the Jai Hind slogan by Netaji Subhas Chandra Bose, the Vande Mataram slogan and song by Bankim Chandra Chatterjee and the Jana Gana Mana song by Rabindranath Tagore were all contributed to India by Bengal.
"Bengal's excellence and merit is universally acclaimed and world-class…. This is the holy soil that we must respect day and night…. We will protect it with our lives," said Mamata.
"Nobody can come close to matching Bengal and will never be able to…. No matter how much they try and malign Bengal. I honestly believe that there will be a day again soon when the whole world will salute Bengal," she added. "We will never allow Bengal be turned into Gujarat."
A senior Trinamul Congress MP said the speech was yet another addition to her attempts to portray the BJP as the marauding bohiragawto (outsider), trying to destroy Bengal and all that it stood for.
He said in continuation of that wider exercise, the party decided to involve at least 3,000 people connected with the culture of Bengal, including Baul singers, Kirtan singers and other artistes of tribal culture, in the march she would undertake in Bolpur on December 29.
In her counter-rally after a similar programme there by Union home minister Amit Shah — which drew at least 40,000 people and alarmed her party — Trinamul would ensure a turnout of over 2.5 lakh.
Trinamul leaders said the core theme of the rally would be Bengal's culture.
"Shah tried to pander to Bengal's culture and had lunch at a Baul singer's home…. Our chief minister has already provided a monthly stipend to all artistes connected with folk and tribal culture," said Abhijit Sinha, senior Trinamul leader in Birbhum.
In Birbhum, there are around 12,000 artistes who get the monthly stipend of Rs 1,000 each from the state government.
Birbhum district Trinamul president Anubrata Mondal had distributed 4,000 traditional drums and 8,000 traditional percussion instruments to 4,000 teams of Kirtan singers in 2018. All of them have been invited.