Mamata Banerjee calls for for hilsa awareness in Bengal
CM hinted that random netting and scooping of fingerlings or juvenile fish was a stumbling block that her government was yet to stop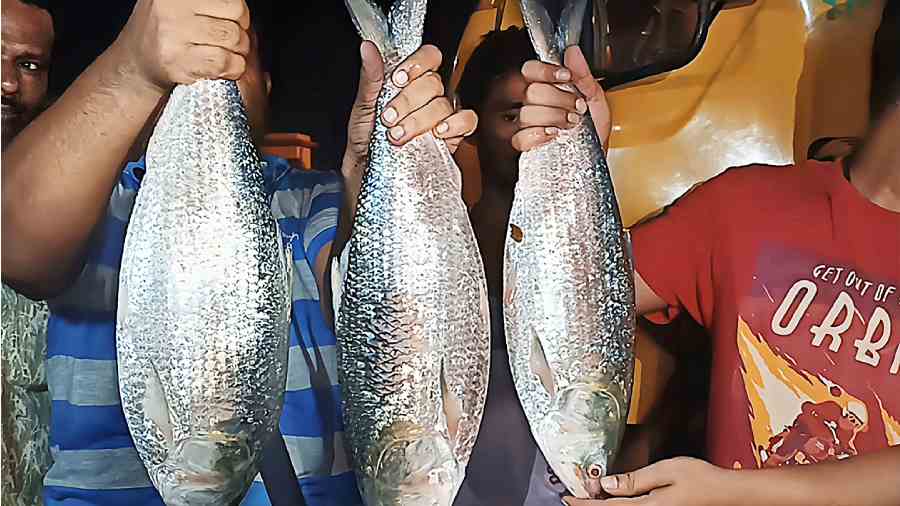 Hilsa from Bangladesh at the Petrapole land port in September this year.
Picture by Chanchal Pal
---
Kolkata
|
Published 25.11.22, 05:06 AM
|
---
Mamata Banerjee appealed for awareness to save Bengal's hilsa from extinction and stressed the need to be "self-reliant" in its production, without relying only on Bangladesh.
The chief minister, however, hinted that random netting and scooping of fingerlings or juvenile hilsa was a stumbling block that her government was yet to stop.
The admission of the state government's failure comes in the backdrop of Bangladesh managing to stop the practice of netting juvenile hilsa and thus multiplying production to a massive 60,000 tonnes last year.
Speaking in the Assembly on Thursday,  Mamata said mere legislation isn't enough to stop netting hilsa fingerlings.
"Netting juvenile hilsa can't be stopped only by framing laws. People have to be made aware," she said.  
Every year, people in Bengal eagerly wait for the arrival of Bangladeshi hilsa to meet the shortfall in production in Bengal.
The Bangladesh government, despite a ban on the export of hilsa, makes an exception for Bengal as a goodwill gesture. This year, 2,450 tonnes of hilsa from Bangladesh entered Bengal markets through Petrapole land port on September 5.
Mamata said her government has undertaken research projects in Diamond Harbour and the state would soon become self-dependent in production of hilsa.
But, she knows her government is struggling to stop the netting of juvenile hilsa, the biggest impediment to Bengal's dream of self-reliance in hilsa. Though there is an annual ban on fishing in pre-monsoon months to help the fish breed, the effort gets defeated by fishermen netting juvenile hilsa without letting the fish grow to their full size.
Satinath Patra, secretary of Sundarban Samudrik Matsyajibi Shramik Union, said the state government should be more stringent in imposing the ban on netting, supplying, transporting, marketing and selling of juvenile hilsa. 
"Bangladesh managed to implement these measures. Bengal's slackness is the reason for low hilsa production," said a fish trader in Diamond Harbour. 
"The chief minister's dream of becoming self-reliant in hilsa is possible only if we can save fingerlings. Atleast three years of planning is needed to reach where Bangladesh is. We need awareness among all stakeholders and back it with strong legal measures," Patra said.
Assistant director of fisheries (marine) South 24-Parganas Piyal Sardar said: "We try our best to ensure that juvenile hilsa is not caught. Insufficient manpower is a hurdle."