Mamata Banerjee asks for inquiry into breaches on embankments repaired after Cyclone Amphan
The chief minister also asked the finance department to set up a task force which would look after every tendering process for repairing damaged dykes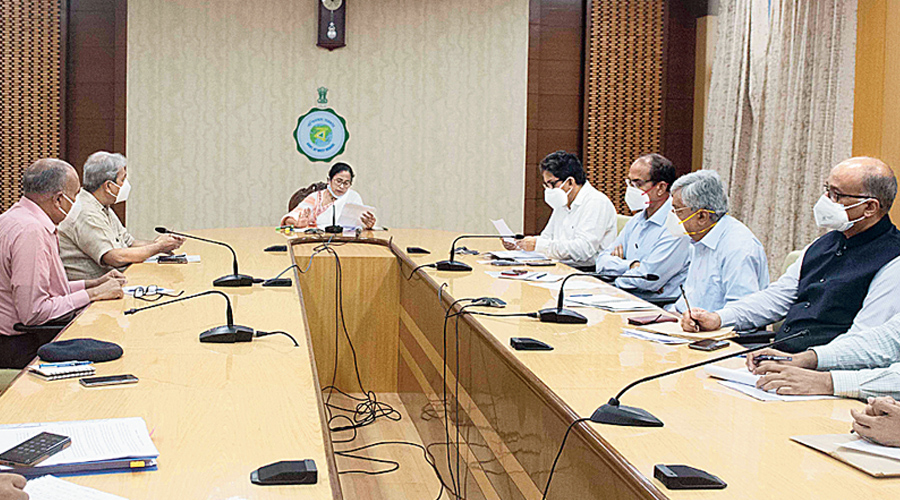 Mamata Banerjee attends a meeting with senior government officials at Nabanna on Thursday to review post-Yaas relief operations.
Telegraph picture
---
Calcutta
|
Published 28.05.21, 01:56 AM
|
---
Mamata Banerjee on Thursday asked the finance department to conduct an inquiry into breaches on the stretches of embankments repaired after Cyclone Amphan last year.
"There were breaches on the embankments of Bidyadhari. The same happened in Digha. These were repaired last year... The finance department should conduct an inquiry (on how stretches were breached when they were repaired after Amphan)," said the chief minister during a review meeting with officials at Nabanna on Thursday.
Mamata asked for a detailed list of embankments repaired after Amphan and how many of those stretches were breached or damaged during Yaas. "Does the money go to the water itself? I have to look into this," she said.
Sources in the government said that last year during Amphan 150-odd km of river embankments were either breached or damaged. This year, more than 150km of embankments were breached.
"It is yet to be seen how many stretches were breached this time after last year's repairs... It appears that some newly repaired embankments were also damaged in the unprecedented storm surge," said an irrigation official.
The chief minister also asked the finance department to set up a task force to look after every tendering process for repairing damaged embankments. "Don't release any funds before the task force clears the tenders," she said.
She expressed her displeasure with environment and forest departments, which apparently claimed they had planted 5 crore mangrove trees in the Sunderbans.
Sources in the government said the chief minister raised some valid questions as it was found in the past that some of the river embankments needed repairs almost every year.
"This raises questions on whether contractors work properly and officials check the quality of work before clearing bills. The chief minister made it clear that she would take it up seriously," said an official.
Trinamul insiders pointed out Mamata wanted to know if work was properly carried out in the irrigation department in the past 10 years as the department was headed in the years by Rajib Banerjee and Suvendu Adhikari, who joined the BJP ahead of the polls.
"The duo had run the department for almost 10 years. Now, we have to see whether work was carried out properly in the past 10 years. River embankments are something that has a direct link with people's lives," said a minister.