Malda: Farmhand's son in WBCS top 30
Parents never let me worry about poverty, says Keshab Das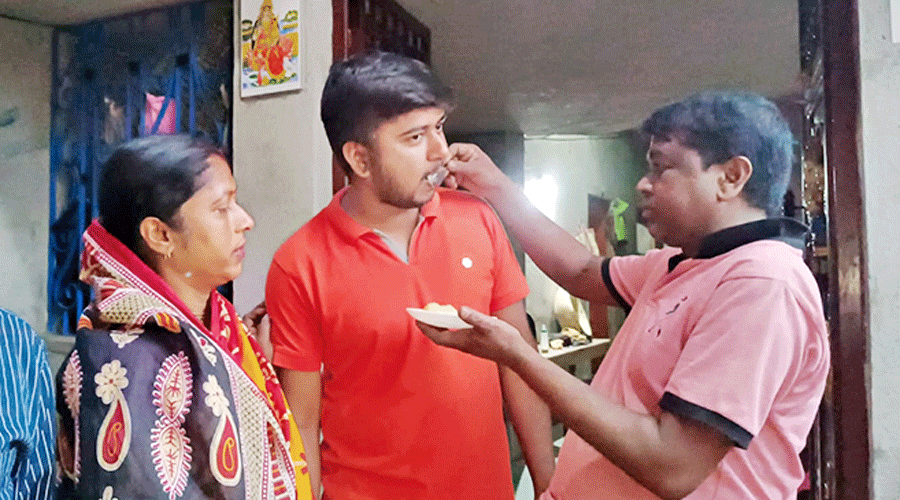 Keshab Das, who came 27th in the WBCS exam, with his parents at his village home in Malda.
Soumya De Sarkar
---
Malda
|
Published 08.02.23, 03:37 AM
|
---
A 28-year-old from Malda whose father is a migrant worker-turned-farmhand is among the top 30 successes of the state civil services exam, the results of which came out last week.
Keshab Das of Hardamnagar, a village in Harishchandrapur-II block of Malda, ranked 27th in the final merit list of successful candidates of the West Bengal Civil Service (Executive) examination 2020, conducted by the West Bengal Public Service Commission.
An overwhelmed Keshab said: "I owe my success to my parents. I could not have cleared the exam had they not supported me with everything they had."
Jnanaban, his father, worked in Delhi, Maharashtra and other states for years to fend for his family.
During the Covid-19 induced lockdown, he was forced to head home. Jnanaban, who is in his late 50s now, now works as a daily-rated worker in other people's farms. Shakuntala, Keshab's mother, is a homemaker.
A bright student, Keshab, who passed his higher secondary exam in 2013, had decided on the nearby Samsi College. 
"But my father insisted I study at Malda College, around 70km from home. He wanted to ensure I focus on my studies and not worry about my family's poverty," said Keshab, who initially planned to be a schoolteacher.
He shifted to Malda town where he gave tuition to help out his parents. After completing graduation, he took admission to Gour Banga University for an MA course in Sanskrit and scored 77 per cent.
The result whetted his appetite to sit for competitive exams. "My target was to crack the state civil service. As I prepared for it, my parents did everything possible for me. My mother sold whatever little jewellery she had and my father took loans from private lenders to ensure I did not face problems in my studies," Keshab said.
Keshab is now a celebrity. Residents of Hardamnagar and other villages are flocking to his humble home to congratulate the would-be civil servant.
"My first priority is to ease my parents' financial pressure, but I also plan to sit for the national-level civil service exams," smiled an unstoppable Keshab.