Makaibari tea from Darjeeling will soon become an ingredient of a gin-based alcoholic beverage at a cocktail bar in New Delhi.
Named "Sidecar X Makaibari — A Summer Solstice", the cocktail is scheduled to be launched on July 12. The tea was made from the leaves plucked on June 21, the day that marked summer solstice.
The cocktail which was developed over four months, is a perfect blend of world class collaboration and local romance.
The beverage marks an effort to diversify Darjeeling Tea which has failed to make inroads into the domestic market and whose exports are falling.
Makaibari tea was presented by Indian Prime Minister Narendra Modi to Queen Elizabeth II in 2015. A year earlier, the garden's Silver Tips Imperial had fetched a whopping Rs 1.12 lakh a kilogram.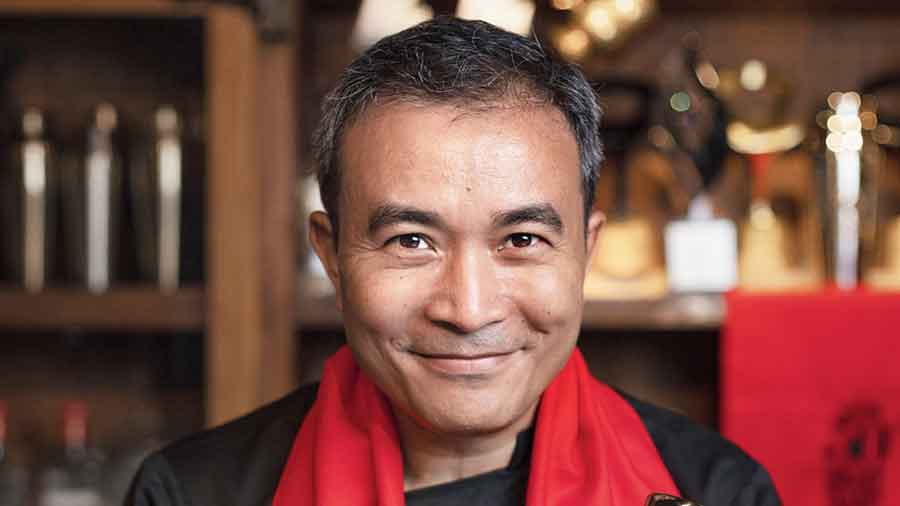 Yangdup Lama Telegraph picture
The garden's brew has been served to the participants in and the staff of the 2008 Beijing Olympics and the 2014 FIFA World Cup in Brazil, thus stamping its brand across the globe.
For the cocktail, Makaibari collaborated with Sidecar, a Delhi based artisanal cocktail bar, which is jointly owned by Kurseong man Yangdup Lama and Minakshi Singh.
Sidecar and Lama are internationally known, too.
Sidecar has been recognised by various industry platforms as one among the world's 100 best cocktail bars. Lama is a famous bartender and an author.
Lama was also appointed American Whiskey Ambassador to India by the Distilled Spirits Council of the United States and India Attaché by Tales of the Cocktails (New Orleans). He is also a beverage trainer for top hotels chains in India like Taj Luxury, ITC, The Oberoi and Park Hotels.
"This romantic idea started when Rudra Chatterjee (managing director) of Luxmi Tea met me in Delhi in February this year," Lama said over the phone from Delhi.
After four months of intense planning, Sidecar has come up with six exquisite signature cocktails, in a first such collaboration between a tea garden and a bar in India. The other five cocktails are Measure of Substance, Agony of the Leaves, Himalayan Tea Tiki, Summer Solstice Hi Ball, Darjeeling Mail.
The cocktail to be launched first is a blend of 60ml of "Makaibari Summer Solstice infused gin" with 20ml of Rhododendron Blanc Vermouth, along with lemon peels oils and edible flowers served in a Chinese tea cup.
The cocktail is likely to be priced over Rs 575.
The cocktail will be made of a tea plucked from Kodobari (millet field) village — Makaibari consists of seven villages — on June 21.
"A batch of 100 packets weighing 200 grams each has been dispatched from the garden and we will launch our product once the consignment reaches us. We will also provide the cocktail recipe to our customers," said Lama.
For Lama, it is his way of "giving back" to his place. Lama was born at Gayabari, a neighbouring area of Makaibari, and though he moved over to Delhi, he is still "connected to his roots".
"I have tried to romanticise my place in the product."
Darjeeling Tea's annual production came down from 8.5 million kgs of made tea in 2019-2020 to 6.5 million kgs in 2020-21, while exports were down from 4.2 to 3.1 million kgs of made tea.
Many planters say they have not been able to push Darjeeling Tea in the domestic market at the desired rate. Efforts to diversify the product through "speciality tea" have also been made by some gardens like Gopaldhara estate (owned by S.K. Saria) in Mirik.
Makaibari was set up by Girish Chandra Banerjee, who belonged to a zamindar family at Borai, about 100 km from Calcutta, in 1859 and currently employs around 600 people on 573 hectares.