Majerhat bridge width cut for Metro
The move will prevent further compromise of the width of the platform of the proposed Majerhat station of the Joka-Esplanade Metro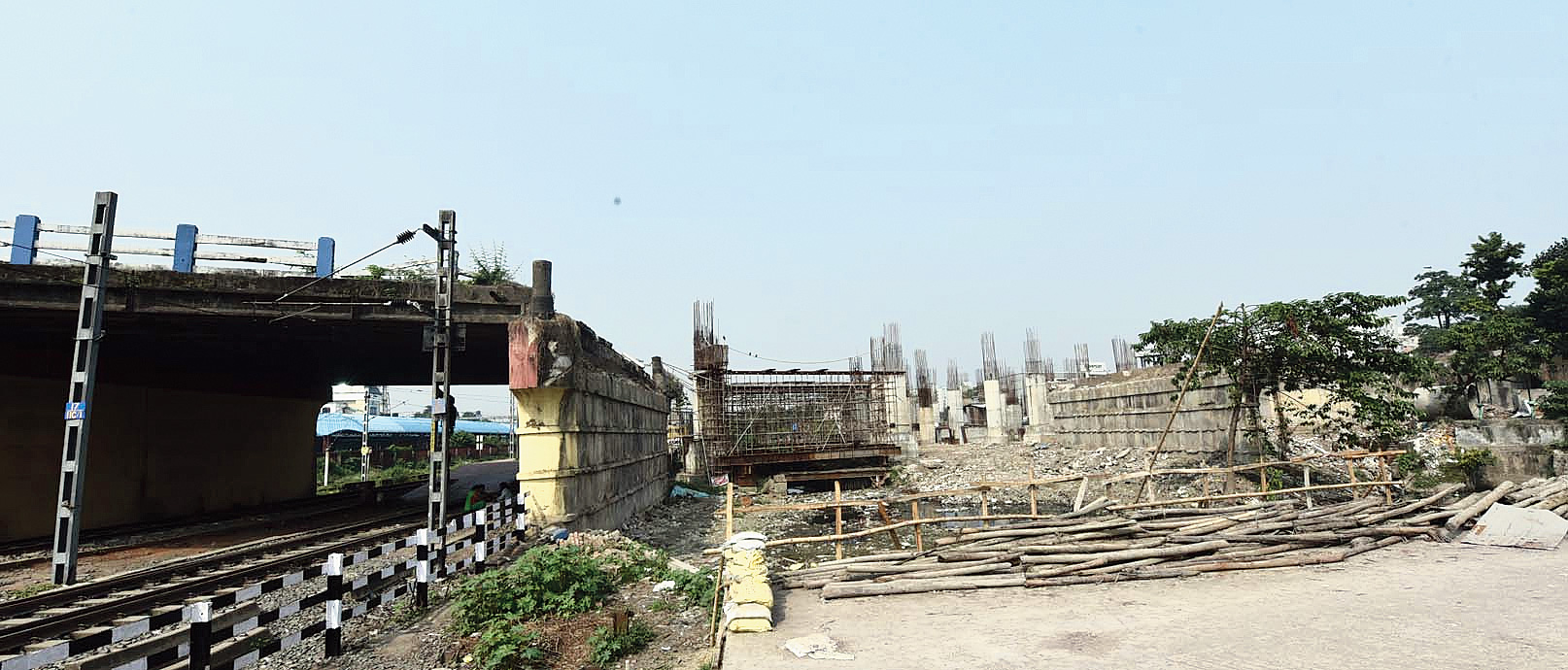 A portion of the Majerhat bridge above the railway tracks
Telegraph picture
---
Calcutta
|
Published 01.12.18, 08:40 PM
|
---
The Bengal government and the railways on Saturday reached a consensus on reducing the width of the proposed Majerhat bridge by 1.5m.
The move will prevent further compromise of the width of the platform of the proposed Majerhat station of the Joka-Esplanade Metro.
"The state government and the railways have agreed on a 17m-wide bridge instead of the earlier planned 18.5m bridge," a government official said.
"In the new plan, there will be no footpath on the proposed Metro station side of the bridge. Earlier a 1.5m footpath had been planned."
Rail Vikas Nigam Ltd (RVNL), the implementing agency for the Joka-Esplanade Metro, has agreed to reduce the width of the platform by 1.5m making it a 3m-wide structure, the official said.
Earlier, Metro had reported the railways' objections to the state government's plan of a 18.5m bridge saying it would force the agency to reduce the platform's width.
The PWD had asked RVNL to construct the Majerhat station in a way that the building did not protrude from the pillar towards the Majerhat bridge. There was barely a 9m gap between the Metro construction site and the collapsed bridge.
The Haryana-based agency that has bagged the contract will submit a new design by next week for it to be vetted by the PWD and another independent agency before seeking the railways' approval.
"It is expected that the work would start by the end of January. The bridge will be a cable-stayed structure, where cables hold the deck by connecting it directly to one or more towers," another official said.
"The agency has agreed to mobilise manpower and technology to complete the project by September 2019, the original deadline," the official said.
The state government has also agreed to the proposal put forward by the railways that the existing portion of the collapsed bridge over the railway tracks will be demolished by the railways.
"The railways wanted to demolish the existing portion over the tracks as there are structures like signals and track switching system. The state government has agreed to pay Rs 10 crore to the railways for the job, half of which has already been given," a Nabanna official said.