Lull in Siliguri's Christmas market
Many potential buyers could not reach Siliguri because of the disruptions in train movement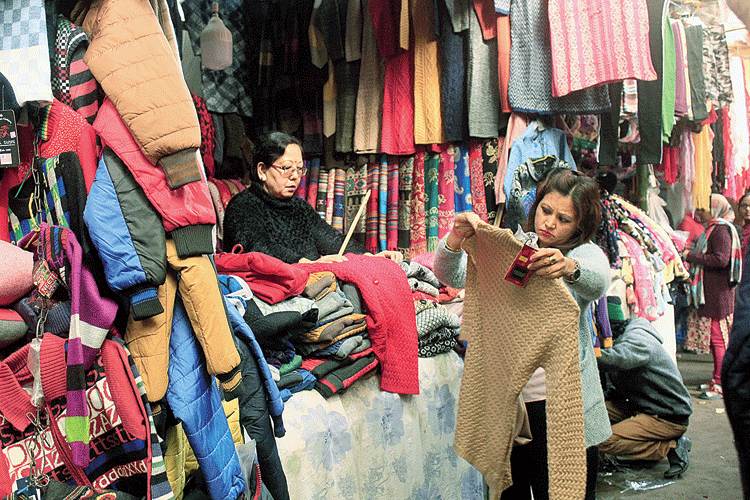 ---
|
Siliguri
|
Published 21.12.19, 08:57 PM
---
The protests and violence over the Citizenship (Amendment) Act in north Bengal and the Northeast, which have caused disruptions in road and rail movements, has dampened the Christmas mood at markets in Siliguri.
The wholesale and retail traders in the city, who sell ornamental items ranging from Santa Clause caps to decorative pine trees and bells, are grappling with a lull in demand although only four days are left before the Christmas and New Year festivities begin.
"Retailers from the northeastern states place orders with us for these items ahead of Christmas and New Year. Many of us deliver the goods to them at their establishments," said Ranjit Ghosh, a trader based in Bidhan Market, the largest market in Siliguri.
"We also have common people among our customers. They get the items packed by us and take them home in buses and trains. But this time, only a few have visited our shops. There has been a drop of around 50 per cent in the business this year," Ghosh added.
Many potential buyers, he said, could not reach Siliguri because of the disruptions in train movement.
"Also, ever since the protests started in Assam, bus services have been affected," Ghosh said, adding that buyers from Assam, Manipur, Meghalaya and Arunachal Pradesh come to Siliguri to buy Christmas goodies.
Apart from buyers from the Northeast, retailers and individual buyers also flock to Siliguri from the Darjeeling hills and Kalimpong and from the neighbouring state of Sikkim.
"Thousands of them come to Bidhan Market to buy these items. But the CAA and the protests (over the amended law) seem to have put off people. Only a few buyers are coming to our shops. We had stocked large amounts of decorative items, but the slump in the market has left us worried," said Prahlad Dutta, another trader.
For some others, the disruption in train movement between Calcutta and north Bengal has affected their trade in another way. Trains
had stopped plying after stations were vandalised by protesters in different parts of the state.
"We had placed orders with our suppliers in Calcutta to send us artificial pine trees. But those items did not reach us as there were no trains. Many of my local buyers had to return empty-handed from our shops. I had some old stocks from last year but the customers wanted new ones," said Balaram Das, a wholesale trader.