Love for love stories
The king of romance wooed the city with tales of his writing, his new love - publishing and the 10th anniversary of his first novel.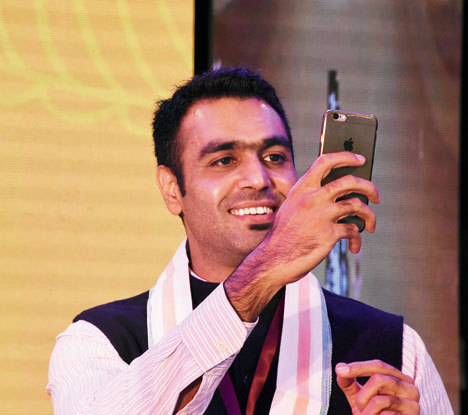 ---
Published 13.02.18, 12:00 AM
|
---
Central Park: The king of romance wooed the city with tales of his writing, his new love - publishing and the 10th anniversary of his first novel.
Ravinder Singh took to writing after a personal tragedy. Written after the untimely death of his girlfriend only five days before their engagement, I Too Had a Love Story became a bestseller.
"I chose to write the book to deal with the trauma... For three months every evening I would cry myself to sleep. One day I thought, it will be evening soon and I will again be afraid... there should be an end to this," said the author at the Kolkata Literature Fest, in association with The Telegraph.
The book was Singh's way of "waging war against God" and "keep her alive in the pages of the book".
The session titled Creating the Love Genre: How romance became the new stuff of bestsellers saw Singh in conversation with Shruti Upadhaya.
Singh's latest book, This Love that Feels Right, dealt with the idea of finding love outside marriage with no judgement. He admitted he was scared of being vilified for writing it but decided to go ahead anyway.
"On Friday nights at parties, on Monday mornings at coffee vending machines, this is what people talk about, but always in a hush-hush manner. The author in me observed how rampant this was and always wanted to write about this," he said.
Singh said he deliberately left the story open-ended since he did not want his characters to be harshly judged by readers who may have disliked their decisions. "I am in favour of addressing the idea that a couple can be so open-minded and accepting with each other as to confess to their extra-marital love," he said.
"I am okay with the readers' need for a happy ending, since for me books and movies are a form of escapism in which we all crave optimism," Singh added.
The author's advice to young writers: create layers in writing by describing emotions and atmosphere, such as the body language of the character and the sounds of the situation, instead of packing in facts.
He also suggested that budding writers get their writings reviewed by a neutral audience who will give them a truthful opinion.
Suspicious of anyone who tells him his book is perfect, Singh's response is: " Arrey, kucch to improve karney layak hoga (There must be something that could be improved)!"
Asked about his vision for the next 10 years, the writer quipped, "This is an out- of-syllabus question that I'm not prepared to answer." I Too Had a Love Story happened 10 years ago, and he had not planned it either.