Long queues for 'fitness' papers
Those coming back from other states are being asked to produce 'fitness certificates' for entry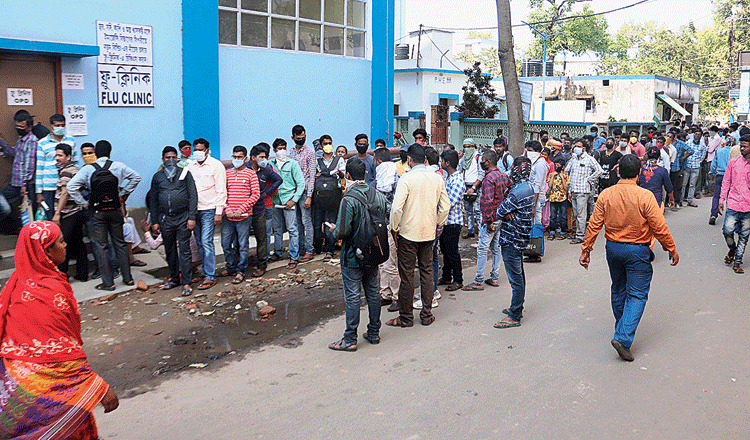 The queue at the Burdwan Medical College and Hospital for 'fitness' certificates on Monday.
(Munshi Muklesur Rahman)
---
Burdwan
|
Published 23.03.20, 08:31 PM
|
---
Hundreds of homeward-bound people — ranging from engineers to labourers — were seen queuing up at the Burdwan Medical College and Hospital on Monday to get "fitness certificates" from doctors to enter their villages.
With the coronavirus scare shooting through the roof, there are reports from different parts of Bengal that those coming back from other states are being asked to produce "fitness certificates" for entry.
Several doctors this correspondent spoke to said people without any symptom of Covid-19 were turning up at hospitals for documents that declare them fit. The doctors warned that such long queues would result in the spread of Covid-19.
"It has become very tough for us to manage such a huge crowd for a check-up at the hospital's fever clinic. People are queuing up from the night in front of the hospital. The gathering could be a risk at this time. We are requesting people with no Covid-19 symptoms to stay at home quarantine," said Amitabha Saha, deputy superintendent of the Burdwan Medical college and Hospital.
Similar queues were witnessed at hospitals in Birbhum and Hooghly also.
Officials said the hospitals were not providing anyone with "fitness certificate" but would give a piece of paper with findings like body temperature.
"Today (Monday), at least 2,000 people came to the fever clinic and the queue was 1.5km long. It is a waste of time for medical staff and people with proper symptoms would be denied treatment to," said a doctor at the Burdwan medical college.
An engineer who had gone to Pune to bring his family back to his home in Burdwan town on Sunday afternoon was asked by members of a local club to be admitted to the hospital or bring "fitness certificates".
"I told them several times that I was checked at the airport and asked to be at home. But they didn't listen," said the engineer.
He had to stand in the queue along with his seven-year-old daughter and wife and they were finally checked by doctors around 5pm.
There have also been instances of demands for such certificates from people returning from Calcutta or other districts in the state also.