Lone woman in the classroom
Read more below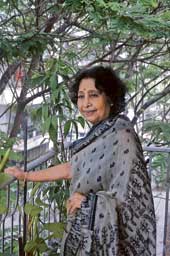 ---
Published 09.03.08, 12:00 AM
|
---
Ila Ghose in her south Calcutta flat. Picture by Bishwarup Dutta
She was a backbencher in college, a bridge enthusiast and is now a television addict. She is also the first woman engineer in West Bengal. She studied mechanical engineering. At 75-plus ("let my real age remain a mystery", she says mischievously), Ila (Majumdar) Ghose is still ready to keep pace with time.
In 1947, the then education minister, Nikunja Behari Maity, opened the doors of Bengal Engineering College, Shibpur (now Bengal Engineering and Science University), for women. Two got through the entrance exam. But one dropped out in the second year.
Ghose stuck on and graduated in 1951 to set an example. Not many women dreamt of being an engineer then.
"Those were the days when few women opted for a career and the handful who did stuck to medicine. I got through the medical entrance too, but engineering was what I wanted to study," says Ghose, seated in the done-up drawing room of her Lake Place flat, off Southern Avenue.
Born to a family of six sisters and two brothers, Ghose was encouraged by her father Jatindra Kumar Majumdar, a deputy magistrate in undivided Bengal. "My school days were spent all over the state. I came to Calcutta in 1945 and sat for my matriculation two years ahead of the right age. I was always a good student in school. So it was a shock when I got mere second division marks," she laughs. Brushing aside the initial disappointment, Ghose took admission in Asutosh College for her ISC. "I got a first division then."
Studying in Bengal Engineering College turned out to be a memorable experience. "There was only one other woman in the entire batch. The boys were shocked, but we soon became good friends. We would chat and crack jokes with them and cheer them on at cricket matches. Never did we feel uncomfortable," Ghose says.
The principal and faculty were very protective about her, especially after she became the only female student in the college. "They were sometimes too protective. The principal did not allow me to take up civil engineering as that involved extensive field study. So I took up mechanical engineering."
Ghose did her postgraduate training from Glasgow-based company Barr and Stroud. "The principal would not hear of me doing an apprenticeship in India. He felt I would be very uncomfortable in a workshop full of boys. I was initially worried whether my father would be able to shoulder the financial burden. But he agreed," she says.
Back in India after her training, Ghose was not finished with setting examples. She took up a job in the ordnance factory in Dehra Dun, where she lived alone in the staff quarters. "My parents were so worried that they forced me to take a servant along." A six-month stint later, she took up a lecturer's post in Delhi Polytechnic.
Marriage brought her back to Calcutta, first as a lecturer at the Institute of Jute Technology, and then as the principal of Women's Polytechnic on Gariahat Road. "I was approached to set up the college. We started off by offering only courses in architecture and electronics, which we felt were women-friendly. The response was overwhelming," she said.
So successful was her stint in Calcutta, that the United Nations chose her to set up a polytechnic college in Dhaka. Ghose says her appointment came through with much difficulty. The West Bengal government did not want to release her and she too was initially reluctant to leave her home and two sons behind. But finally the love of a challenge prompted her to take up the one-and-a-half year contract. "Again I stuck to only courses in architecture and electronics and the project was a success," she said.
It was in Dhaka that she rescued a Hindu widow — who had lost her family to communal strife — and brought her back to Calcutta. Since then Kokila Saha, old and bent now, lives with the Ghose family.
It has been some years since Ghose has retired. So how does she spend the time now? "I take part in various bridge tournaments. Cards, the Internet and television keep me always occupied," she says, smiling contently.