Lok Sabha elections 2019: Voters who want end to riots
On a July evening 3 years ago, violence rocked Basirhat and the tremors were felt 20km away in Deganga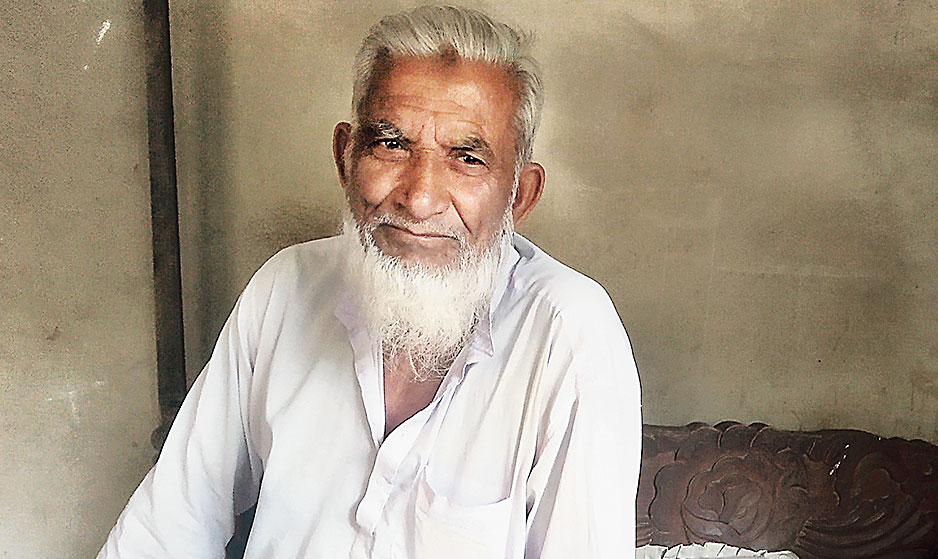 Idris Ali at his home in Deganga's Paschim Changdyanga village.
Picture by Kinsuk Basu
---
Deganga
|
Published 18.05.19, 07:57 PM
|
---
A road winding through green fields, trees swaying in the mid-afternoon breeze, women carrying home buckets filled from deep tube-wells, ducklings floating in ponds — Paschim Changdyanga in Deganga, nearly 46km from Calcutta, could have been any other village in the Barasat Lok Sabha constituency, which votes on Sunday.
Except that the veneer of serenity hides deep scars. Few tell it better than 72-year-old Sheikh Idris Ali.
The still sturdy six-footer remembers running down this road on a July evening three years ago when violence rocked Basirhat and the tremors were felt 20km away in Deganga, a small block in Barasat subdivision with a nearly 70 per cent minority population.
As mobs attacked police vehicles and torched shops and houses in Basirhat, Idris had run home to his wife, Anwara Bibi.
To many like Idris, that evening had brought back memories of the 2010 riots in Deganga. Two communities had clashed over the construction of a boundary wall on a plot that one group said was a cemetery and the other claimed as a site of worship. The army was called in and assemblies were banned as violence escalated.
"We are tired of all this. Families we had known for decades and lived side by side with suddenly seemed unfamiliar. A pall of suspicion hung over our village," Idris said, sitting on his bed at his modest home.
Anwara sat on the floor, embroidering a sari. A goat watched close by. Children emerged from behind a flimsy curtain to catch a glimpse of the visitor and disappeared again.
"How long will we live divided like this?" Idris said. "God knows how long we will live, but we don't want riots any more."
Deganga, a two-hour drive from the Bangladesh border, had till a decade ago known little of communal tension. The Muslim boys played football enthusiastically with their Hindu friends from Purba Changdangya.
"Id and Durga Puja had always been festivals for all," Anwara said.
Over the last few years, with members of the Rapid Action Force stomping the muddy paths and police jeeps flitting in and out with every clash, the biggest casualty has been the trust between the communities, the villagers said.
"Riots affect everyone, but it affects the Muslims more because of their socio-economic condition," a political scientist said.
Against this backdrop, Trinamul's pledge to keep rioters at bay appears to be the biggest plus for party candidate Kakoli Ghosh Dastidar in this constituency of 15 lakh voters, with 30 per cent from the minority community.
Spread across the Assembly segments of Deganga, Habra, Ashoknagar, Barasat, Madhyamgram, Rajarhat and Bidhannagar, the Barasat parliamentary constituency remains a mix of the rural and the urban.
If muddy roads, cattle smuggling and arsenic-contaminated water mark one side of the divide, swank malls, wide streets and high-rises distinguish the other, located closer to Calcutta.
The BJP had made deep inroads into Barasat, a Forward Bloc stronghold for decades, during the last election when magician P.C. Sorcar won a little over 23 per cent of the vote. Trinamul bagged around 42 per cent.
Since 2014, "cross-border infiltration" and "Ram" have entered the local discourse and clashes between communities have become a real threat.
In keeping with the prevailing mood, the BJP has fielded Mrinal Kanti Debnath, a physician who traces his roots to Habra, an Assembly seat hugging the Bangladesh border — and only a part of it fenced.
"Infiltrators including the Jamaat remain a threat here. I have been talking about it," Debnath said. "I know exactly which segments will give me a lead."
Ghosh Dastidar knows her strength lies in people like Idris, who want an end to riots and the issues that cause mistrust.