Light of harmony at immersion
Minority community members hold lanterns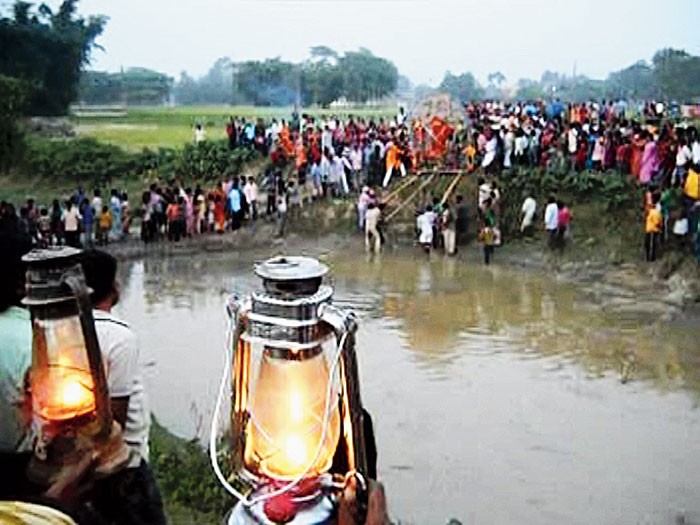 ---
|
Malda
|
Published 10.10.19, 08:23 PM
---
A 350-year-old tradition brings Hindus and Muslims together at a Durga puja in Malda's Chanchol every year, particularly on Dashami when the idols is taken to a pond for immersion.
On Dashami, Muslims line up with lanterns, lighting up the Devi's way as the idols are taken out of the temple. They walk in the immersion procession, holding the lanterns high and stand on the other side of the bank, offering "light to the Devi at the time of departure to her heavenly abode".
The "Rajbarir Puja" in Paharpur was initiated 350 years ago with the patronage of the then royals of Chanchol, recall old-timers. At this puja, the goddess has only four hands and the idol is worshipped as "Ma Chandi".
Although the puja is now organised by residents and the customs and traditions are followed strictly, there is one notable exception.
After four days of puja, the idol is immersed at Mora Mahananda, an old stream of the Mahananda that has turned into a pond and is located barely 200 metres from the temple. It is done after sunset.
This is when Muslims come forward. With the idol heading towards the pond, they light up lanterns to show light to the Devi.
"Over a hundred Muslim families live at Bidyanandapur village, a locality close to Mora Mahananda. They have been living there for centuries. As we have learnt from our forefathers, the village was hit by an epidemic around 350 years ago," said Anamitra Majumdar, a schoolteacher in Chanchol.
"A Muslim woman had told other villagers that Goddess Chandi had asked her to show light during the immersion and said this can cure them from the epidemic. The tradition has started since then. Even today, the Muslims believe that by showing light to the Devi, they can be free from diseases," said Anamitra.
Ayesha Bibi, one of those who held the lanterns at the immersion this time, underscored her deep belief in the goddess.
"We belong to a different faith. But the strong belief instilled into us since childhood is that Goddess Chandi protects us as much as Hindus," said Ayesha.