Life crumbles in Metro faultline zone
Durga Pituri Lane: The epicentre of serial cracks in buildings off BB Ganguly Street in Bowbazar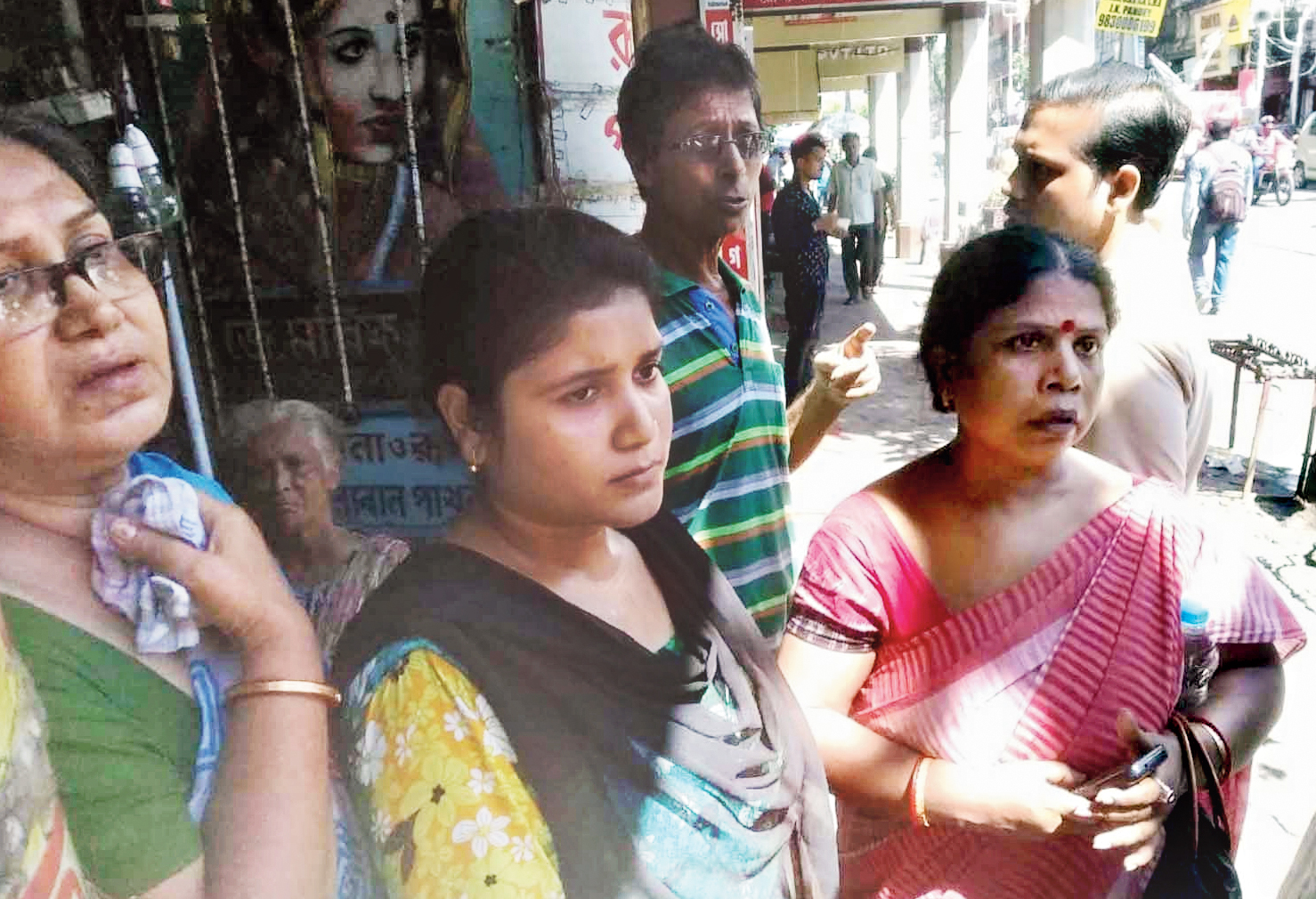 ---
|
Bowbazar
|
Published 02.09.19, 09:26 PM
---
At 61, Susmita Roy needs hourly medicines for her diabetes, blood pressure and other ailments, including nerve disorder.
The names of a few medicines she remembers faintly, as for the rest she has no clue. It's all written on a prescription that lies in an almirah at her house on Durga Pituri Lane, the epicentre of serial cracks in buildings off BB Ganguly Street in Bowbazar.
Susmita is among several who have been spending restless nights at hotels since Saturday night when Kolkata Metro Rail Corporation Ltd (KMRCL) engineers and police asked them to move out of their homes, which have either tilted or developed cracks.
All of them want to return, just once, to pick up valuables, including documents and doctors' prescriptions. But the government would not risk their lives.
"I don't remember the names of all the medicines and the police are not allowing me to get the prescription," Susmita said holding on to Debasree, her daughter.
"Just try placing yourself in our shoes. How does it feel to leave your house behind and staying in a hotel? I can't even offer flowers and water to my deities."
It was quite late at night on Saturday when Debasree held her mother's arms and left their house while the police and other officials kept rushing through an emergency evacuation in Bowbazar.
An employee of a private firm in Salt Lake, Debasree has not been able to attend her office on Monday because she doesn't have any change of clothes. At a hotel near Sraddhananda Park, where Debasree has been put up with her mother, along with several others from the small lane that houses old buildings, the food tastes bland.
"Shob kicchu chherey eshey bhalo laagey bolun? (Does it feel nice leaving behind everything?)," Debasree asked. "We don't feel like eating the food that is served. My mother has sugar-free black tea. They served tea with milk this morning. We didn't even protest."
Unlike most who have been spending most of the day in the vicinity of their homes, far away from the comforts of the hotels, Sonali Sil has decided against getting near her house.
A three-storeyed building on 13A Durga Pituri Lane is the worst hit among several houses and Sonali doesn't want to take a second look at the heap of rubble that lies stacked behind the façade of the house.
"The chief minister has told us to draw up a list of items that have been left behind and that's the only hope," Sonali said.
"The house belongs to the great grandfather of my husband, Jayanta, and there is nothing left of the structure except the exterior. If only the engineers had told us on Saturday evening that the cracks were the tell-tale signs…."
Gone under the rubble is the only hope of Krishnapada Pal. A goldsmith from Barrackpore, Krishnapada had set up a shop at one corner of the courtyard of the Sils a year back. "I had requested Jayanta babu to give me a patch of space. I am told it's all gone now," he said.