Life comes first: police brass to cops on night raids
Police personnel have been advised to click photographs of the offending vehicle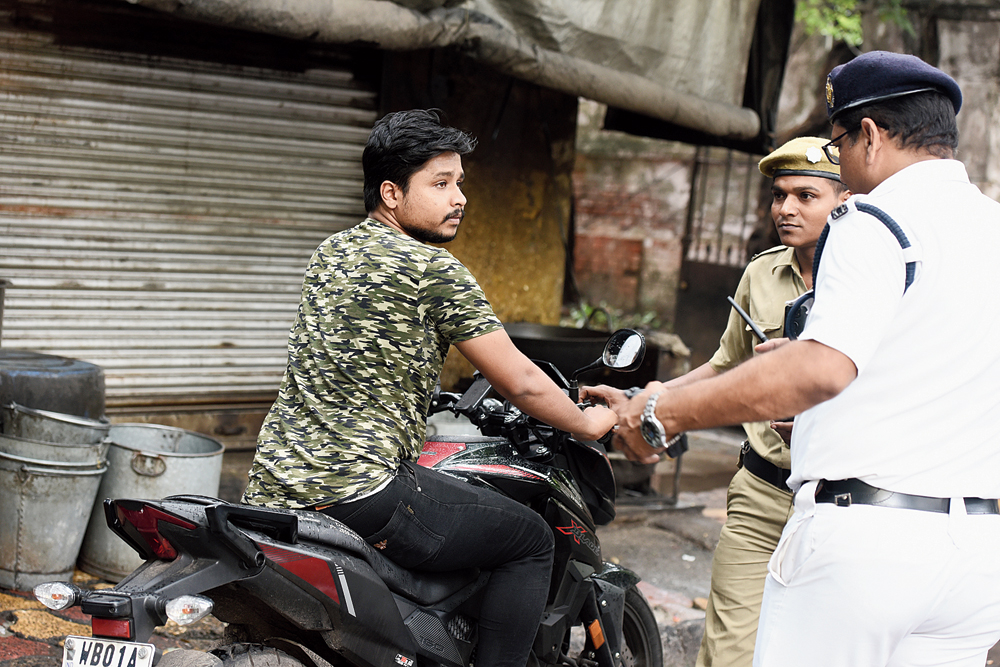 A traffic policeman and a homeguard intercept a biker without a helmet at the crossing of Syed Amir Ali Avenue and Mayfair Road on Tuesday afternoon. The cops fined the biker.
Picture by Pradip Sanyal
---
Calcutta
|
Published 02.07.19, 10:43 PM
|
---
The Calcutta police top brass on Tuesday issued an advisory for cops engaged in night raids with specific instructions not to chase any vehicle putting their lives at risk.
Police personnel have instead been advised to click photographs of the offending vehicle.
The advisory has been circulated among 80 police stations and 25 traffic guards for immediate implementation.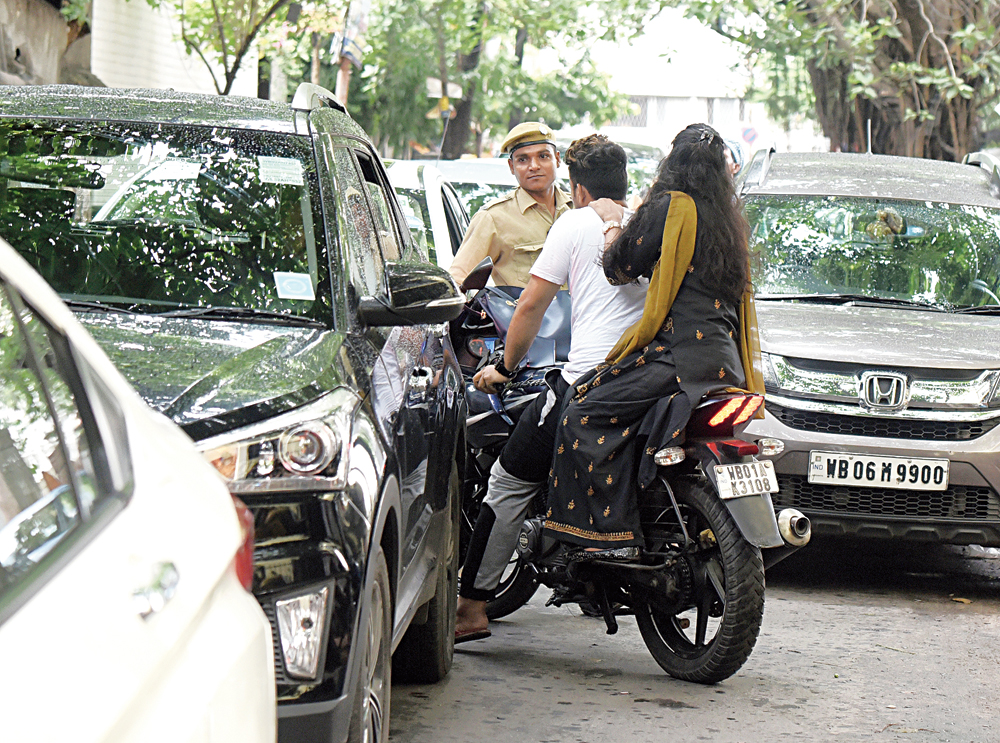 The move came a day after a traffic constable who tried to stop a helmetless motorcyclist after he hit a pedestrian was dragged by the two-wheeler for about 100 metres near Quest mall on Monday night.
"The most important instruction is not to chase moving vehicles by risking their lives," said a senior officer in the traffic department.
By chasing a moving vehicle, the officer concerned does not just risk his own life but could also hurt the rider or a pedestrian who could come in the way.
If a motorcycle is chased, chances are it may run over a pedestrian or hit a wall with fatal consequences, an officer said.
Cops have been asked to carry big torches to read the registration number of the offending vehicle.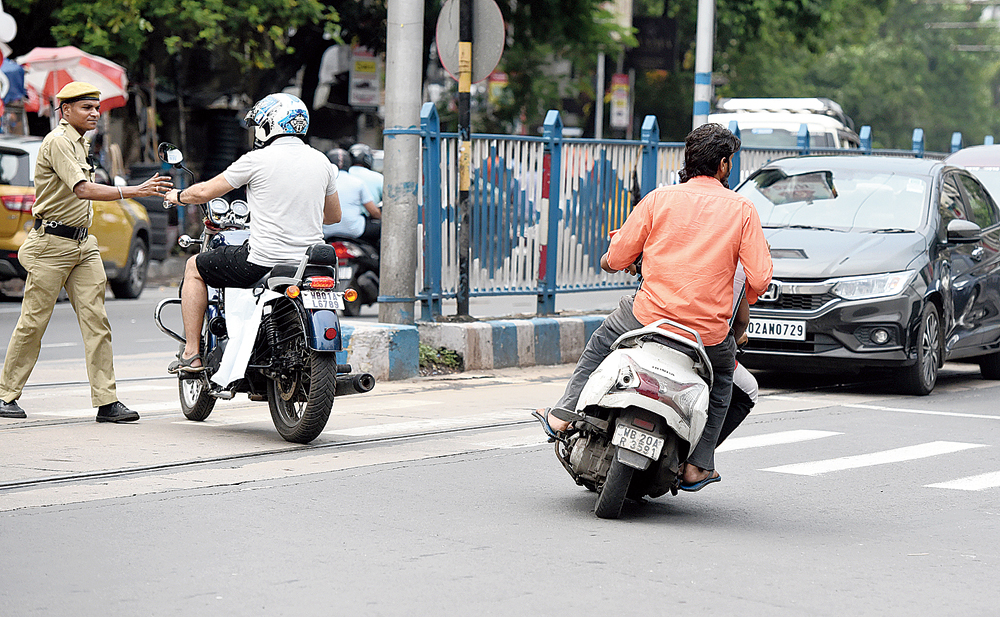 Senior officers said if a motorcyclist is caught without a helmet or with more than one pillion rider, but is found to be travelling with family, it is not advisable to detain them for long. "In such cases, the best option is a citation case," the officer said.
In case of prosecution through citation, a challan is sent to the registered address of the offending vehicle against which the owner has to pay a fine.
The advisory also mentioned that if police officers on duty were found driving without uniform and helmet, they would be prosecuted too. However, if a cop on duty was found driving in uniform but without helmet, he may be let off with a warning, sources said.
Suspicious vehicles with "police" written on them would be checked and verified.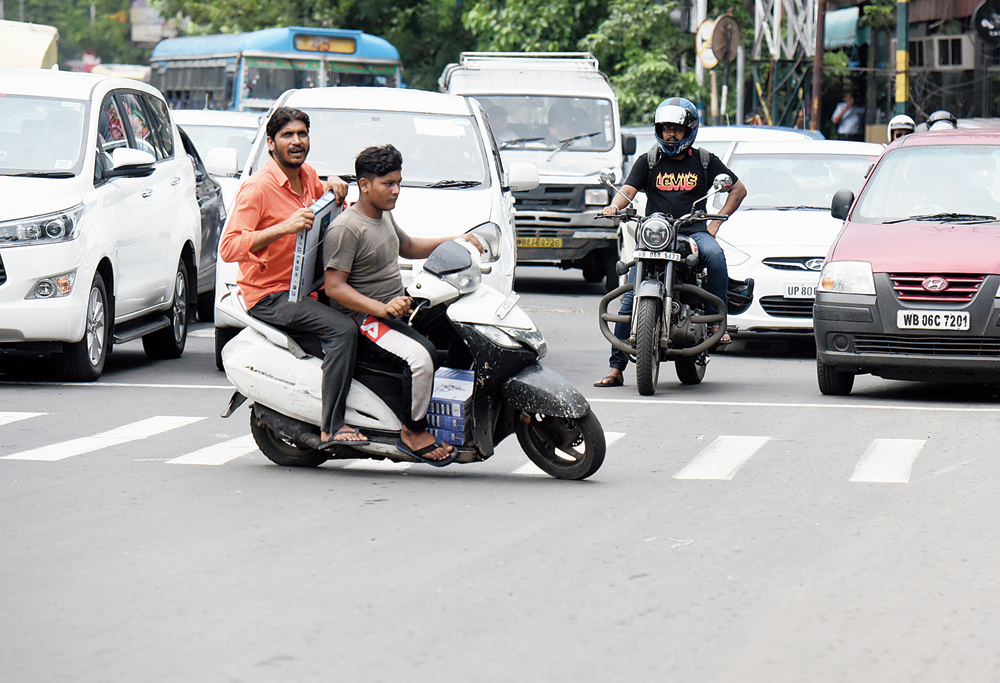 Police commissioner Anuj Sharma held a meeting with senior officers of the traffic department on Tuesday and told them that night raids would continue. "There would be larger raids where deputy commissioners, assistant commissioners will also be present. The idea is to send a strong signal to errant motorists," said an officer.
After Monday night's incident, the police conducted drives against helmetless two-wheeler riders in several parts of the city during the day. Many motorcycle riders were prosecuted for not wearing helmets.
The night raids began after model Ushoshi Sengupta was allegedly heckled by a gang of helmetless bikers at the Exide crossing while she was returning home late at night last month.
The police have already prosecuted a record number of errant motorists — over 10,000 — in a little more than 10 days.