Leopard in Jalpaiguri room, family manages to escape
It had sneaked into the hutment of a resident of a hamlet in Kranti block of Jalpaiguri district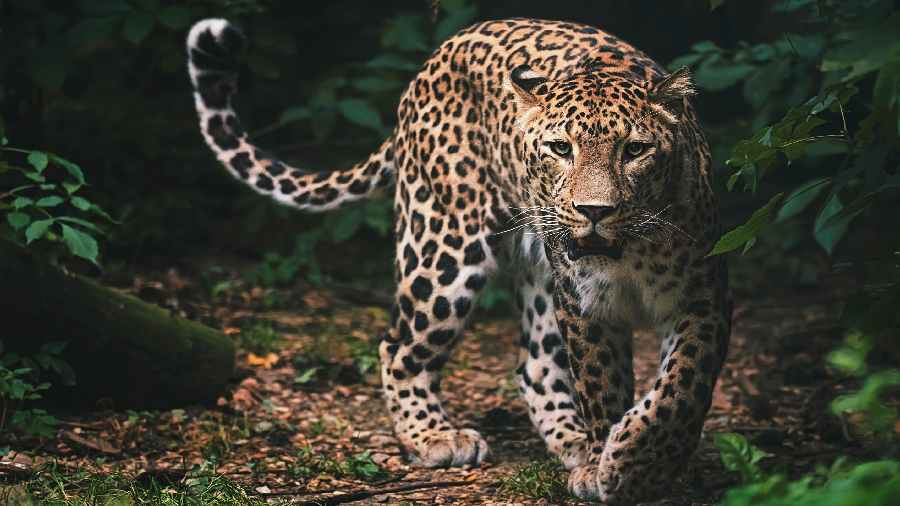 The foresters brought in nets and other equipment to ensure that the animal did not escape the room.
Shutterstock
---
Jalpaiguri
|
Published 04.04.22, 07:31 AM
|
---
A leopard sneaked into the hutment of a resident of a hamlet in Kranti block of Jalpaiguri district on Saturday night.
Daily wage earner Amal Roy and his family members somehow managed to escape from the leopard in their room and locked the animal in. Foresters reached the spot and managed to dart the animal after some three hours, in the small hours of Sunday.
Amal, a resident of Uttar Khalpara of Kranti, lives with his wife Sunity and their daughter.
Around 9.30pm on Saturday, Sunity was sitting on bed with their daughter while Amal was herding their cow and goat into a corner of the room — a usual practice every night as the family does not have a separate space for the animals.
Amal said that suddenly a leopard jumped into the room, prompting them to scream in terror.
"The leopard didn't attack us but pounced on the goat. We took the opportunity and ran out of the room. My wife started calling the neighbours who rushed to the spot. The leopard probably got puzzled and took shelter under our cot. We immediately locked the room's door from outside," Amal said.
As the news spread, policemen from the Kranti police outpost reached the spot, as did two teams from Lataguri forest range and Malbazar wildlife squad.
Foresters took stock of the situation and confirmed that it was an adult male leopard that had entered the hutment in search of prey.
They asked residents to maintain a distance and started scouting the area to find a convenient place from where they could use a dart gun to tranquillise the animal. The leopard, meanwhile, started jumping in the room, trying to find an exit.
The foresters brought in nets and other equipment to ensure that the animal did not escape the room. It took around three hours for them to finally tranquillise the animal.
As it turned unconscious, they unlocked the room, cast a net on the animal and placed it on a vehicle.
"It has been kept at the nature interpretation centre in Lataguri. As the animal was trying to get out of the room, it suffered some injuries. We will keep it under observation for some time and then release it into the wild," said Dipen Subba, the range officer of Malbazar wildlife squad.
Panchanan Roy, the sabhapati of Kranti panchayat samiti, said they would ask residents to keep their cattle separately in a shed from now on for their safety.