Left march for 'anti-TMC sentiment'
Citizens' rally condemning the Friday post-mdnight police crackdown on protesting TET aspirants taken out in the city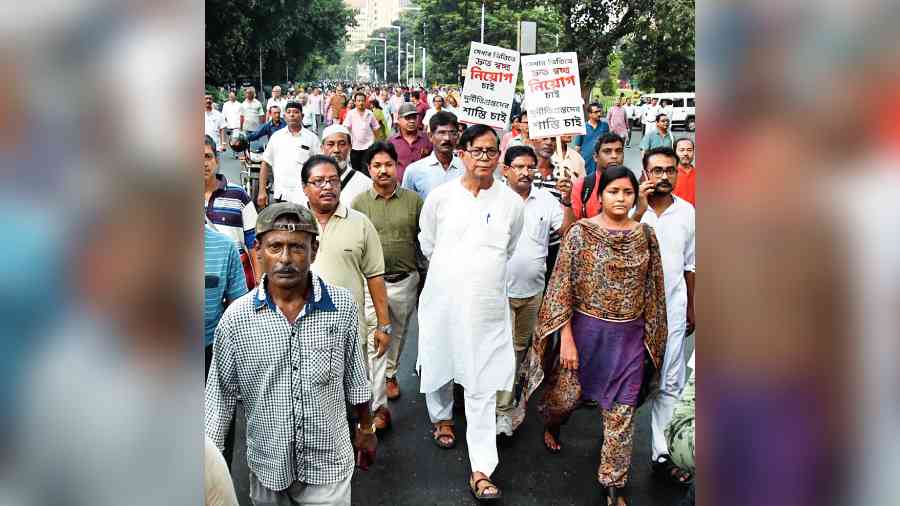 The citizens' march in Calcutta on Saturday
---
Calcutta
|
Published 23.10.22, 12:52 AM
|
---
A citizens' rally condemning the Friday post-mdnight police crackdown on protesting TET aspirants was taken out in Calcutta on Saturday by members of the civil society aligned to the Left.
The well-attended rally seems to be a part of the CPM's strategy to mobilise civil society against the Trinamul-led state government on alleged corruption in teacher recruitment in schools.
While Left intellectuals, including former vice-chancellor Pabitra Sarkar, actors Badsha Maitra, Debdut Ghosh, and Sreelekha Mitra, musician Debojyoti Mishra, poet Mandakranta Sen and filmmaker Anik Dutta, led the rally from Victoria House near Esplanade, CPM state secretary Md Salim, Left veterans Biman Bose and Swapan Banerjee, Congress leader Abdul Mannan, DYFI leaders Minakshi Mukherji, Kalatan Dasgupta, and Dhrubojyoti Saha, and leaders of other Left Front partners walked at the tail of the march that ended at the Academy of Fine Arts.
"Remember the role played by civil society during the Singur and Nandigram agitations in 2007? They helped create an anti-Left opinion. If the growing disillusionment with the Mamata government is fuelled by strong opinion makers, it will help us politically," a CPM source said.
Murmurs of discontent among intellectuals are growing. Filmmaker Aparna Sen, actor Koushik Sen and author Shirshendu Mukhopadhyay have sounded critical of the government's role in resolving the crisis and attitude towards job-seekers.
Aparna Sen and Koushik Sen on Friday criticised the government for cracking down on a democratic movement by TET protesters.
"They (protesters) are our children... Eviction by police will not help. There has to be some dialogue with protesters…. A senior minister should get involved and resolve the issue," Mukhopadhyay told a TV channel on Saturday.
CPM state committee member, Samik Lahiri, said many people from different walks of life even those who are "opposed to CPM's ideologies" joined Saturday's rally. He insisted the party had little to do with the rally, crediting it to members of civil society.
To broaden the base of the protest, the citizens' march consciously kept obvious "political images" like flags away from the rally.
BJP protest
The BJP deployed its teachers' cell to hit the streets on the issue in Calcutta on Saturday. Agitators were detained by the police and both the BJP and the Left said protests would intensify over the next few days.