'Late' cry against police, PCB
A section of the police officers said it was not always possible to rush to a spot after receiving a complaint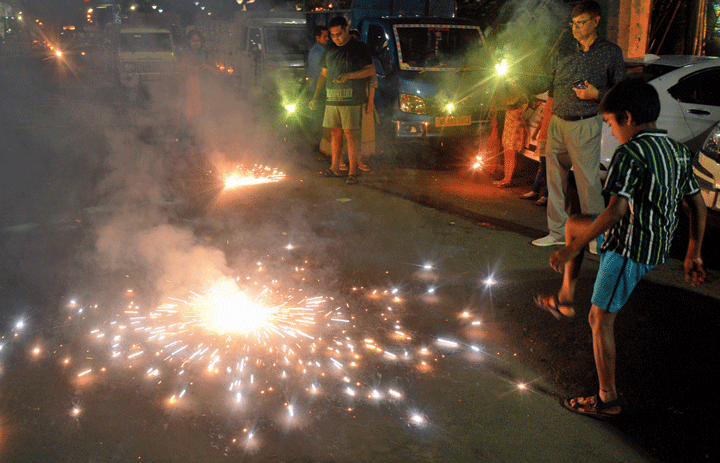 ---
|
Calcutta
|
Published 29.10.19, 08:46 PM
---
Calcuttans were often prompt in reporting noise violations in their neighbourhoods but the response from police or the pollution control board was often slow.
The allegations have emerged from across the city over the past three days. Loudspeakers blared till late into the night and crackers went off in frequent intervals.
"Dekhchhi (we are looking into it)," was the standard response of many police stations. Some sent teams to seize banned firecrackers too late, while a few did nothing.
A resident of Alipore said it took her multiple calls to Lalbazar and Alipore police station on Monday to get cops moving against a roadside programme that had a woman dancing to loud music and men throwing money at her around midnight.
Residents of Shyampukur said they had reported continuous bursting of banned firecrackers in their locality and wondered why the police were deaf to the deafening noise that had kept the entire neighbourhood awake.
When cops finally reached the locality, no banned crackers could be found.
A resident of Kasba had complained to the state pollution control board (PCB) about blaring microphones but no help arrived.
Police commissioner Anuj Sharma had on Sunday asked in the official WhatsApp group of Calcutta police why crackers were still bursting after 10pm. He also said he had received complaints, which he would take up with the officers in charge of the respective police stations.
The top cop's posts in the WhatsApp group suggest that at least some police stations had not done enough to carry out Sharma's order to enforce rules.
The Supreme Court had last year ordered that permissible firecrackers could be burst only between 8pm and 10pm. In Bengal, permissible crackers are those that produce 90 decibels of noise at five metres from the source.
Outdoor events where disc jockeys perform and music is played at a high volume are also banned.
Calcutta police arrested 400 people on Monday for bursting banned crackers and around another 375 for gambling and disorderly conduct. Despite the arrests, residents of places across the city complained that noise rules were hardly followed.
"We have not been able to sleep for three nights. Almost everyone in the building has complained to the police but there has been no action," said a resident of a high-rise building on Burdwan Road, in the heart of Alipore.
She said a woman was dancing on a stage in an open-air programme close to midnight and people were throwing money at her.
"It was obscene and unsafe for a woman to dance in the middle of a road with people throwing money at her. We first called up the Lalbazar control room. They gave us the number of Alipore police station. The officer at the police station who answered the call said: 'dekchhi'. We waited in vain for several minutes for some action before calling up the control room again. The programme had ended by the time cops finally arrived around midnight," she said.
One resident shared a video of the woman dancing, which she said she had recorded at 11.20pm from her apartment in a high-rise.
An officer at Alipore police station said they received a call from the control room close to 10.30pm, following which they took "prompt action" to stop the programme. "The event did not continue after we intervened," the officer said.
Complaints emerged from residents of Shyampukur in the north and Kasba in the south as well.
Acting on two such complaints from residents of Raja Nabakrishna Street in Sovabazar, the state pollution control board lodged two complaints with Shyampukur police station.
Officers of the police station said they received two verbal complaints from the board. "They complained that banned firecrackers were being burst. We rushed to the spot but found nothing. We have reported the matter to the board," an officer said.
Residents said the noise was unbearable and the police should not have waited for residents to lodge complaints to intervene. "It couldn't be that officers at the police station or on patrol did not hear the sound. Why did they not act proactively?" wondered a resident.
A resident of Kasba said he had called up the control room of the pollution control board at 10.40pm, saying loud music was being played in his neighbourhood.
"They said they would forward my complaint to the police. But there was no action. The programme ran its course," the resident said.
A section of the police officers said it was not always possible to rush to a spot after receiving a complaint.
"There could be a lot of reasons. Sometimes there are so many complaints that by the time we reach a spot, the revellers had dispersed. There could also be instances where the complaint is against a politician or some other influential person," an officer said.