Ladies power safety message
Read more below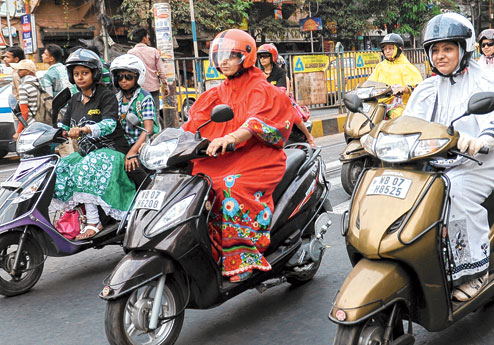 ---
Published 24.03.14, 12:00 AM
|
---
I feel empowered when I ride. With sense of empowerment comes sense of responsibility. I never violate traffic rules Anjana Dafadar, (extreme left) at the Responsible Riders rally on Saturday
More and more women in Calcutta should take to riding. We can lead by example by following road safety rules Nausheen Alam, riding to make a difference
A lot of girls ride two-wheelers. I tell them to follow the road rules so that they do not hand over an excuse to anybody to take this liberty away from them Rashida Hanif, leading the way
Mothers are daughters' best teachers. Along with other things, I want to teach my daughter about road safety too.... when she grows up and drives a bike or car, she will face no problem
Rituparna Das, taking the Responsible Riders pledge Pictures by Sanjoy Chattopadhyaya
■ Anjana Dafadar spends almost the entire day ferrying her six-year-old son to and from school, tuition, swimming lessons and painting workshop.
■ Rashida Hanif is a 44-year-old homemaker who is never out without a burqa.
■ Nausheen Alam, a college student, wants to be a teacher.
The three Calcutta women from different backgrounds have two things in common: they depend on their two-wheelers for daily commute and are committed to safe driving.
They were among 25 women who took part in the eighth and final edition of Responsible Riders, an initiative by Calcutta police and Calcutta Walks in association with The Telegraph and Friends FM.
The overwhelming number of the woman participants during the campaign surprised the organisers.
They matched men on Hayabusas and Harleys rev for rev and turn for turn during the 15km rally from the Police Training School ground to Lalbazar via Chetla and Park Circus.
Rahsida Hanif is a 44-year-old homemaker who uses her two-wheeler to run errands and travel to the mosque in Topsia. "However late I may be, I never leave home without my helmet," said Rashida of CIT Road, checking the headgear at the police school on Saturday afternoon.
Anjana Dafadar, a homemaker from Behala, learnt about the rally at the church she visits. She spread the news to fellow women who drive two-wheelers and decided to take the Responsible Riders message across to every citizen.
"I do not know how many of them participated, but I feel that I did my duty," said Dafadar, who was on the police school ground with her six-year-old son and her Scooty Streak.
There were 61 riders in the final edition. More than 400 bikers have taken the pledge of road safety in the eight editions of the campaign.
"These people are our messengers. Now they will go around and share their experiences and whatever little they could learn about road safety, imagine how many lives they would touch," said city police chief Surajit Kar Purkayastha after flagging off the rally.