Ladies of the Land
All about Bengal's women farmers and how they are learning to roar in collectives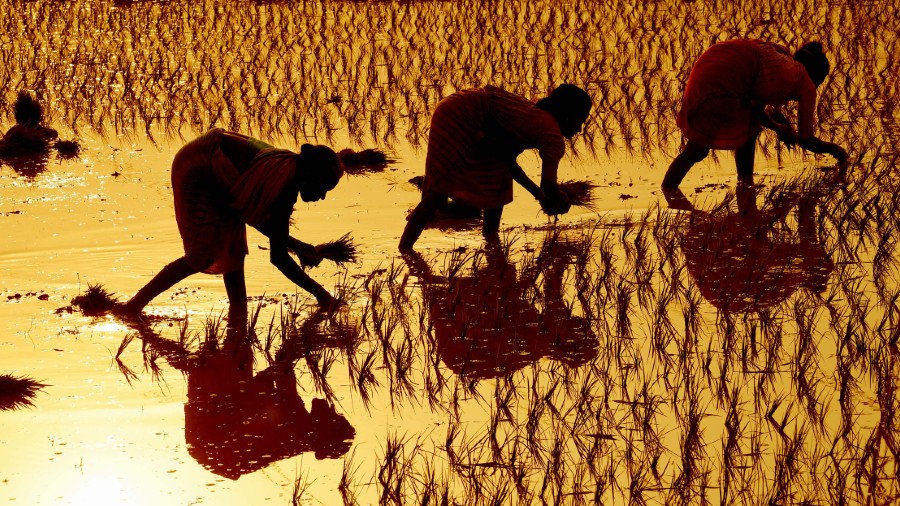 The SHG movement is aimed more at empowering women economically within the traditional societal structure
Tapas Banerjee
---
Published 24.01.21, 12:40 AM
|
---
The languages we speak in, the very words we use, betray our seminal beliefs. In Bengali, for instance, there is a goalini for every goala (milkman), a methrani for every methar (scavenger), a naptini for every napit (barber), but no mahila sainik for every sainik (soldier) and no chashini for a chasha (farmer). The Hindi word kisan has no feminine form. The Gujarati word for farmer is khedut; but khedutani is not used as much.
Between the fashioning of this vocabulary and now, whole contexts have changed. And that is why, when the Chief Justice of India appealed to "women" alongside children and senior citizens at Delhi's farmers' protests to return home, his statement elicited howls of protest. After all, the protesting women are at Singhu in their capacity as farmers as well. Indeed, a large percentage of Indian's agricultural labour force constitutes women, no matter the gendered land ownership pattern.
In Bengal, there is a new trend among women farmers. But first, farmlands here as compared to the rest of the country are small. This has to do with the aggressive land reform measures including ceilings on the upper limit of landholding implemented by the Left Front government. The average landholding size declined from 1.20 hectares in 1970-71 to 0.92 hectares in 1985-86, according to the agriculture census. There are no large farms except for tea plantations. Says Koushik Brahmachari of Bidhan Chandra Krishi Viswavidyalaya, "The number of marginal farmers is large here and in places like Bolpur and the Sunderbans, the landholdings are on a homestead scale."
Saleha Khatun of Hariharpara in Murshidabad married Sahabuddin in 2012. She was barely 16 at the time. Her husband too was young and had not completed his studies. Saleha's father-in-law owned a one-and-a-half bigha agricultural plot and Sahabuddin helped his father till the land. What they grew on the plot was barely enough to feed the family. There was nothing left to sell.
Small holdings typically yield marginal farmers next to nothing and they are ultimately forced to sell their holdings to large landholders and turn into farmhands. But that did not happen to Saleha's family. 
Soumyajit Das, who is the special secretary of the Comprehensive Area Development Corporation of the panchayat department, says, "Unlike states such as Uttar Pradesh and Maharashtra, where commercial agriculture is practised in large landholdings, in Bengal, we have fragmented landholdings that are used for backyard cultivation of vegetables, oilseeds, floriculture, fruits. Women are engaged in these."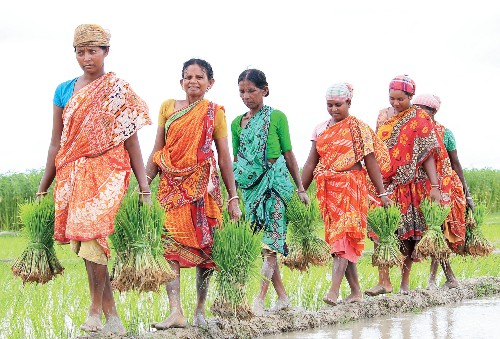 Saleha's mother-in-law, Sabira Bibi, was part of the Hariharpara Nilakar Mahila Samabay, a co-operative of self-help groups (SHGs) set up in 2000. Now, there are 8,65,000-odd registered SHGs in the state. About 30-40 per cent of these are involved in agriculture, says Partha Mandal, who is the deputy general manager of the National Bank for Agriculture and Rural Development or Nabard. The Hariharpara co-operative has 4,000 shareholders, 400 SHGs, and a corpus of 15 bighas where shareholders grow coriander, cumin, onions and sundry varieties which they sell at a profit.
The way it works is this — the smallest SHG comprises 10 women. Each of them contributes anything between Rs 10 and Rs 200 per month and a corpus fund is formed. This money is used by members of SHGs to cultivate vegetables or raise poultry individually or collectively. Whatever profit the group makes, members divide among themselves equally. When a group does well, it is granted credit linkage to banks by Nabard. This means they become eligible for loans. Typically, if a loan amount of Rs 1,25,000 is given to a 10-member group, each member gets Rs 12,500. They then engage in group agricultural activity on leased land.
Like her mother-in-law, Saleha too has joined the co-operative. She explains, "About 75 per cent of the profit is distributed among the women who work and 25 per cent is split among the shareholders who give out loans or engage in other group activities." The SHGs also offer other support. When Saleha wanted to complete her master's and BEd, the group gave her an education loan at 2 per cent interest.
In 2019, the Hariharpara co-operative cultivated 15 bighas of land and made a profit of Rs 29,000. The following year, it took out a year-long lease of 18 bighas of land in Samserganj, also in Murshidabad, from local farmers. Samserganj is at least 100 kilometres away from Hariharpara, but Saleha and many of her neighbours work the fields there. Saleha explains, "We women water the plants, sow seeds, cut paddy. Men plough the field with tractors." The co-operative cultivates onions, garlic, ginger, vegetables, turmeric, coriander seeds, cumin seeds. It has also purchased its own grinding machine and packaging machine. It seems, apart from the Comprehensive Area Development Corporation, who is their biggest customer, they have other loyal customers.
Manju Bala of Uttaran Bahumukhi Sangha Primary Co-operative Society Limited from Duttapulia in Ranaghat block of Nadia district has a different story to tell. It was the floods of 2000 that sowed the seeds of community cohesiveness among residents here. Says Manju, "About 8-10 families lived together till the waters receded. It was then that we formed a self-help group — the Seema Mahila Samity."
The women collected Rs 20 from every member. Says Manju, "In addition, we took a loan of Rs 5,000." With that money, group members started their own businesses. She adds, "Some of us bought ducks and reared them to sell their eggs, some started a whole poultry farm, while a few of us started growing vegetables, and others, flowering plants."
Vegetables and flower nurseries turned out to be profitable businesses.
In the meantime, Manju's children grew up and she, too, found the time to pass the board exams. She says, "You can't become a trainer or keep accounts in an SHG if you haven't passed the boards." Next, she formed her own cluster in 2007 — the Uttaran Bahumukhi.
No matter what the Sabiras, Salehas and Manjus' contribution to the Indian agriculture scene, agricultural holdings continue to be in the name of the men of the household. The SHG movement is aimed more at empowering women economically within the traditional societal structure.
Manish Anand of Delhi's The Energy and Resources Institute has co-authored a paper on enhancing the role of women in agriculture and allied activities and providing them institutional support. He says, "Women provide critical support to the health of farmlands... Being unpaid in nature, these efforts of women are dampened as they are not recognised as primary producers. They continue to face constraints in accessing land, credit, technology, agricultural inputs, services and market opportunities."
Anand draws attention to women's groups in Kerala, Andhra Pradesh, Tamil Nadu that have managed to work around these. He says, "Federated structures of women's co-operatives have been largely successful in Kerala."
One day, for sure, this change afoot in Bengal will cover all of the state, it will spread across the rest of India too. The accepted vocabulary will be updated; and ways of seeing will change too — even from high places.