Kenyan athletes came up trumps in their running battle with the chill and the terrain at the Amway Darjeeling Police Marathon on Saturday.
The feats of Noah Kemei, 30, and Christine Kambua Muyana, 27, gold medallists in the male and female categories respectively, proved Kenyans are used to winning marathons despite all odds.
"This is my first marathon in India and it is really cold out here. I have participated in many countries…. the Netherlands, France, Italy, Germany…. but this is difficult because of the hilly terrain," Kemei said after his victory at the event organised in association with The Telegraph.
The temperature was around 5 degrees Celsius when the event started around 8.30am.
The 21km half-marathon was flagged off from Sukhiapokhri by Jinson Johnson, gold medallist in the 1,500-metre category at 2018 Asian Games, along with Manoj Verma, IG, Darjeeling and Akhilesh Chaturvedi, SP, Darjeeling.
The biggest marathon in town, with total prize money of more than Rs 7 lakh, drew 3500-odd participants.
"The atmosphere was great, though I had problems with the cold and the terrain. During the last uphill stretch, I thought of my training in the hilly areas of Kenya and this helped me push forward," said Muyana who, like compatriot Kemei, took home Rs 1.5 lakh.
The top three finishers among women were neck and neck till Ghoom, 10km from the finishing line, before the Kenyan darted ahead. "The competitors were strong," said Muyana.
The pack of three, included Kanchhi Maya Koju, an Olympian who had represented Nepal in the 1,500-metre 2004 Athens Olympics, securing 19th position. Koju was the defending champion in the women's category.
"I was down with typhoid a month back but I decided to participate thinking of last year's results. After a stretch, I realised I would be come third and concentrated on securing the position," Koju said.
If Kenyans dazzled in the open category, Kalimpong came out with flying colours among local participants, with the runners from the district occupying the top three spots.
There was much support for the event. Hundreds lined up along the route to cheer the runners, a scene that struck Johnson.
"One must always pursue one's talent. Some are good in art, some in singing and other fields. Everyone has a talent and family support is important. I believe people in the hills can be good athletes. Even we go to hilly areas for training once a year," said Johnson.
If Johnson stressed on family support, Nisha Sherpa from Sukhiapokhri set an example: she was there at the starting line to cheer for her 11 year-old son Rikden.
The run was not only about winning. It was enlivened by dollops of glitz, fun and music with Swastima Khadka, a popular actress from Nepal, adding the glamour quotient.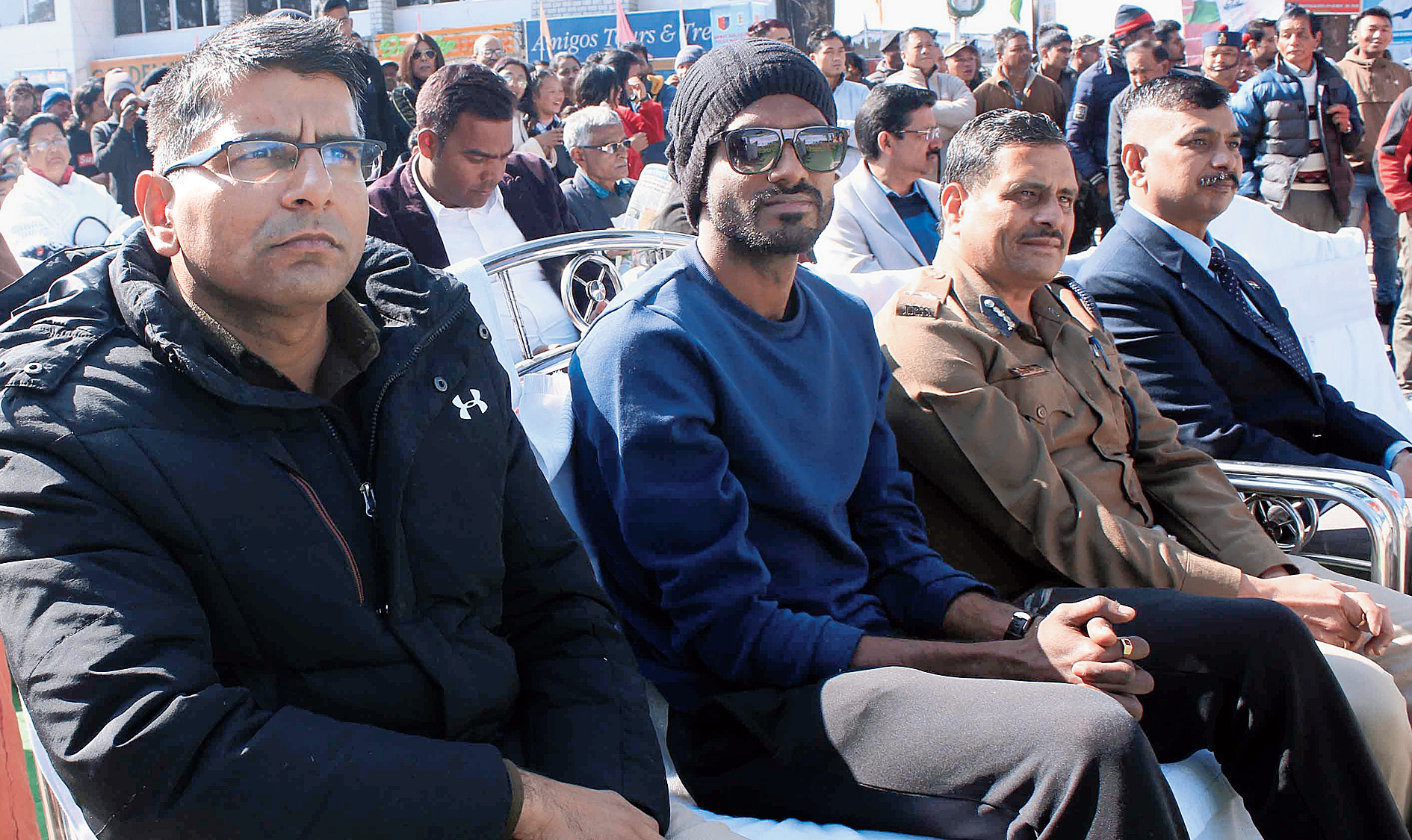 (From left) Darjeeling SP Akhilesh Chaturvedi, runner Jinson Johnson and Darjeeling IG Manoj Verma at the marathon. Passang Yolmo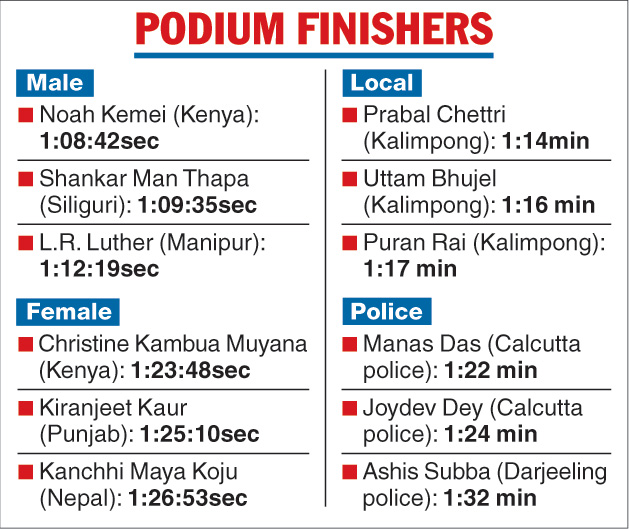 The Telegraph