KPP(U) supporters rally to reassert their demand for separate state
We do not want any autonomous council like in Assam or a Union territory: Nikhil Roy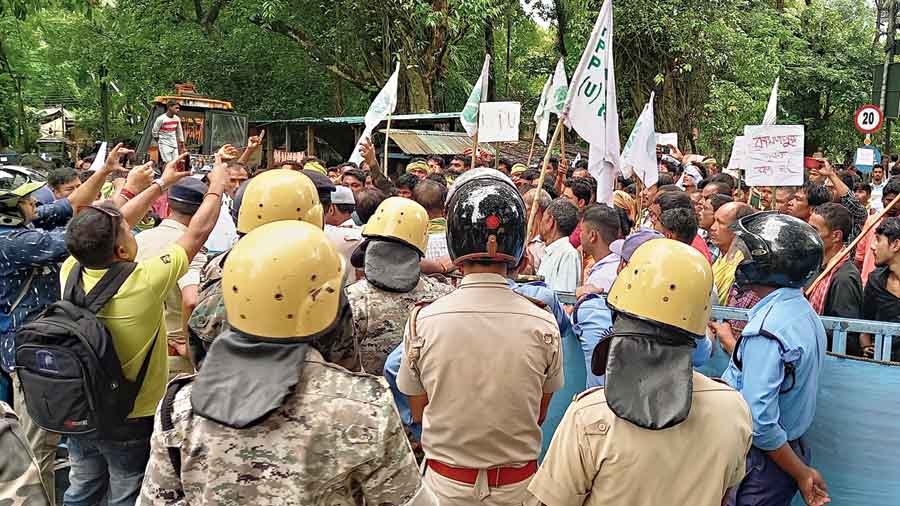 Police stop the supporters of the Kamtapur Peoples' Party (United) at Collectorate Avenue in Jalpaiguri on Wednesday.
Picture by Biplab Basak
---
Jalpaiguri/Cooch Behar
|
Published 15.09.22, 03:11 AM
|
---
Hundreds of supporters of the Kamtapur Peoples' Party (United) took out a rally in Jalpaiguri on Wednesday to reassert their demand for a separate Kamtapur state.
A delegation of the party also submitted memorandums addressed to Prime Minister Narendra Modi and Union home minister Amit Shah at the divisional commissioner's office.
"We do not want any autonomous council like in Assam or a Union territory. Our specific demand is a separate state that will comprise all the districts of north Bengal," said Nikhil Roy, the KPP(U) president.
Roy was also critical of Ananta Maharaj, who heads a faction of the Greater Cooch Behar Peoples' Association (GCPA).
In recent weeks, Ananta has repeatedly said that north Bengal will be a Union
territory.
"We don't believe his words. He earlier made similar comments but nothing  happened. Let us make it clear that we will wait till November this year and if no initiative is taken by the Centre and the state, our party will launch an intensive movement from December," added Roy.
On Wednesday morning, KPP(U) supporters from different districts of north Bengal assembled near the Jalpaiguri palace and took out the rally to the divisional commissioner's office on Collectorate Avenue.
As they reached near the SP's office, policemen who had put barricades, stopped the rally. Supporters raised slogans on their demand. After some time, a five-member delegation was allowed to visit the divisional commissioner's office where they submitted the memorandums.
Ananta, who had been to the district magistrate's office in Cooch Behar on Wednesday, reiterated his claim of the region becoming a Union territory.
"Soon, our region will be declared as a Union territory. I have been assured by the highest levels of the central government. I do not want to comment on the state's stand but want to reassert that the demand would be met," the GCPA leader said.
On the purpose of his visit, Ananta said he requested the DM to focus on the conservation of the palace and prominent temples built by the then royals of Cooch Behar.
275 fresh Covid cases in Bengal
Bengal on Wednesday reported 275 Covid-19 infections, 208 recoveries and one death.
The state has at present 1,951 active patients — 1,872 in home isolation and 79 at hospitals.
According to a state government bulletin, the recovery rate was 98.89 per cent and mortality rate 1.02 per cent on Wednesday. On a day 8,068 samples were tested, the positivity rate was 3.41 per cent.
The state has so far recorded 21,09,952 Covid cases and 20,86,516 recoveries.
Our Correspondent