Jumbo awareness drive in Jhargram Durga Puja pandal
Several senior forest officials said the theme of the puja was significant for Jungle Mahal, where human-animal conflict is a major challenge for many in the villages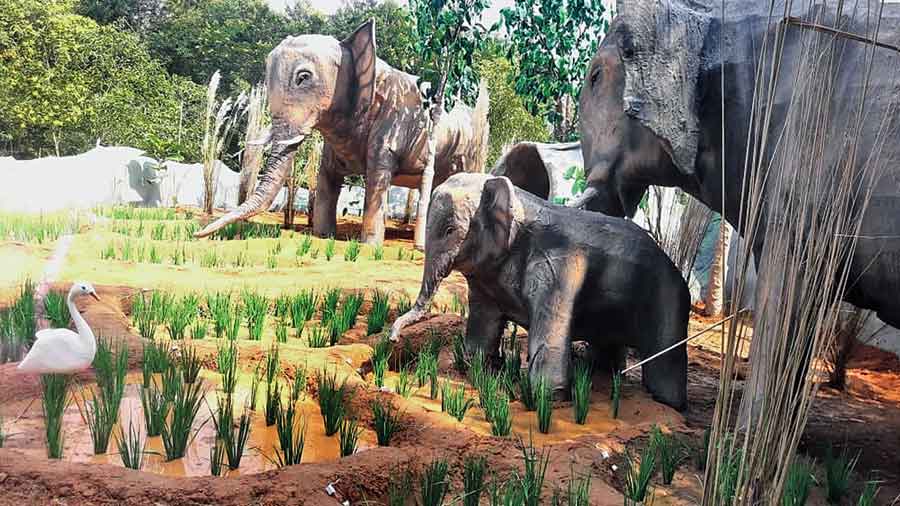 ---
Calcutta
|
Published 16.10.21, 12:24 AM
|
---
The death of a young tourist in an elephant attack this July prompted a Durga Puja committee in Jhargram to change its theme to one on awareness of the challenges facing wild animals, especially elephants, and people of Jungle Mahal.
The Nedabahara Sarbojanin Durga Puja Committee, around 5km from Jhargram town, had earlier thought of something traditional, but changed plans after Devesh Agrawal, 26, was killed by an elephant when he went too close to the animal in Jhargram's Keudishol forest on July 26. Devesh, a resident of Harish Mukherjee Road in Calcutta, had gone to visit the forest with two of his friends.
"Deaths in elephant attacks are commonplace in our area. The latest incident was in July, when the young tourist from Calcutta was killed.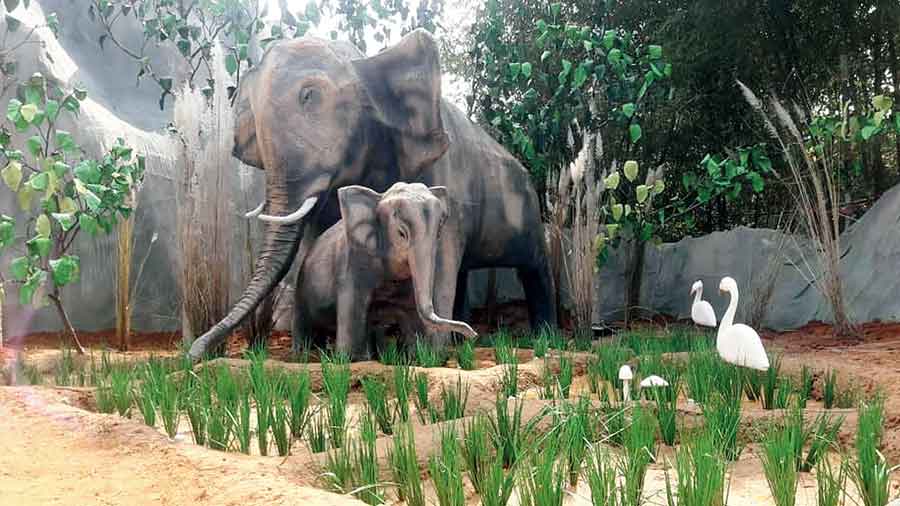 That incident prompted us to draw up the new plan for our puja pandal," said Rabindra Baske, treasurer of the puja committee.
Puja organisers said they contacted local artisan Santu Mahato and reworked the plans for the theme. The new theme became Nirupaay (helpless), as the organisers believe that both humans and elephants are helpless in the situation.
"It has been a longstanding problem for us… elephants come and enter our villages. We have to compromise, as they have as much of a right as we do to survive in these forests," said Baske.
Jute bags, paperboards, clay, clothes and gum have been used to decorate the pandal, with sculptures of two elephants and a calf eating paddy from a field while a group of farmers watch the damage.
"People living in this area often confront elephants, to drive them away… it is fatal for many. We know that this desperation (to confront elephants) is on account of the potential damage to crops. But it's best to let go, as one would during a natural disaster," said an organiser.
Several senior forest officials said the theme of the puja was significant for Jungle Mahal, where human-animal conflict is a major challenge for many in the villages.
"If there is a human-tiger conflict in the Sunderbans, the conflict in Jungle Mahal is between elephants and humans. So it is good if the local people bring awareness through the festival," said a senior state forest official.
In the four Jungle Mahal districts of Jhargram, West Midnapore, Purulia and Bankura, elephants from the Dalma forest range of Jharkhand enter those districts mainly for food.
Recently, the Bankura forest department had to cancel puja leaves for all their staff members after 80 elephants entered the district, raising the threat perception that normal human life in the zone would be hampered.