Job-scarcity warning on Shashi Tharoor lips
He said there were some serious structural challenges that need to be addressed urgently, 'employability' being one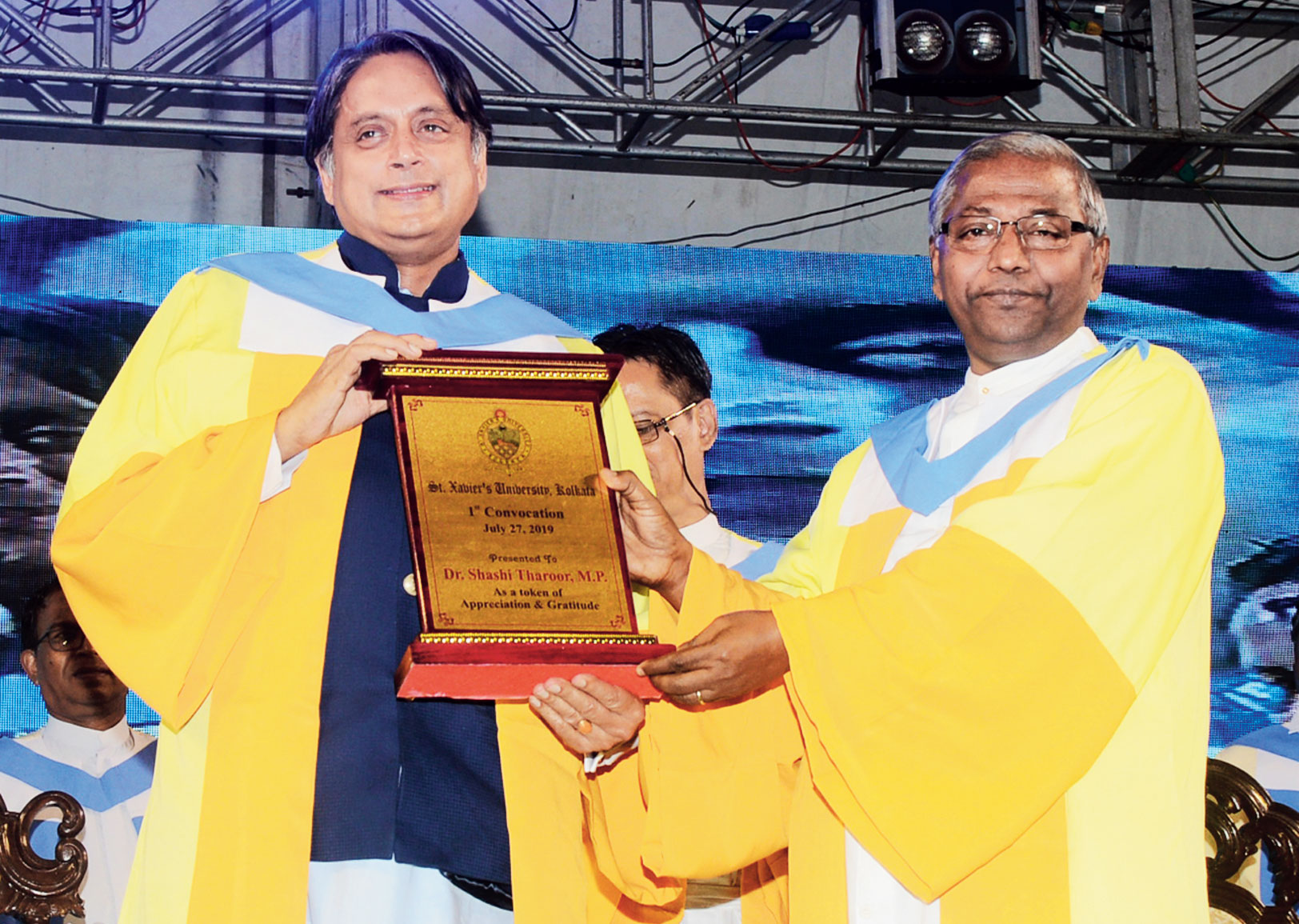 ---
Calcutta
|
Published 27.07.19, 07:34 PM
|
---
Thiruvananthapuram MP Shashi Tharoor did not indulge in much wordplay at St Xavier's University's first convocation to warn that jobs were scarce and degrees were abundant and if this mismatch continued many qualified graduates would end up frying pakodas.
"Some 60 per cent of our engineers for instance find themselves in jobs that do not require an engineering degree, and I am not even counting those engineers who get no jobs at all. I am sure this won't be a problem for the graduates I am addressing today at St Xavier's. But you must be aware of the broader national picture," Tharoor said delivering the convocation speech at the university on Saturday.
A student of St Xavier's Collegiate School from 1969 to 1971, Tharoor stressed the need to identify the actual demand for engineers, advocates, medical, legal and high technology service industries before increasing or decreasing "seats for these in our institutes" to close this skill gap.
"…You don't create graduates for the real world without knowing what the real world wants…Too many of our graduates are overqualified for the jobs available. For the talent we have, we don't seem to know what to do with it."
"We are releasing graduates into an ecosystem that does not know how to use them: they settle for a constable post as an alternative
to frying pakodas as some political leaders has advised them to do," he said to an audience that responded with applause.
Father Felix Raj, the vice-chancellor of St Xavier's University, presented a report where he spoke in detail about the activities of the university in the last one year. The university gave postgraduate degrees to 135 students at the convocation held on the New Town campus.
"This is a historical moment for us and the students who received the degrees on this occasion will be remembered for years to come. They are the fruits of this tree (university) and I thank the entire university community who have helped to build this institution… St Xavier's University, Calcutta, is just a two-year-old infant, but it has already taken great strides by contributing towards knowledge creation," said Father Felix Raj.
Tharoor referred to an advertisement by the Madhya Pradesh police department in 2016, where for 14,000 constable posts nine lakh candidates had applied.
"Among these were nearly 10,000 engineering graduates and a dozen PhD holders, plus 1,90,000 graduates and 15,000 postgraduates. The minimum qualification for the post was just a higher secondary," he said.
He said that almost half of the country's population was under 25 and approximately 65 per cent under 35. As a young and productive workforce, "Indian graduates are primed to take over the world, responding to not only India's but the international society's greatest challenges"., he said.
But he said there were some serious structural challenges that need to be addressed urgently, "employability" being one.
"Our education system must add employability to the catechism of Indian education policy thinking, to meet the forces of markets, the demands of research, the pursuit of knowledge and the imperative of building an equitable society. We are suffering from a systemic problem of skill mismatch between qualifications and jobs undertaken."
Tharoor also spoke about the current teaching method where students are encouraged to learn only from the textbook to "regurgitate" that in the examinations.
He pointed out that students prepared for "this year's examination", not knowing what came in the previous year because they were confident of that not being repeated.
"…So students are taught and trained not to think for themselves, not to think beyond the textbook… it's the wrong sort of an approach to prepare our students for university and college education because that's not the kind of mind you need in the 21st century."
Tharoor drew a distinction between a "well-filled mind" as against a "well-formed mind."
"We don't need a well-filled mind in the 21st century because we can find out anything you need to know with two clicks of the mouse on the internet. What you need is not a well-filled mind but a well-formed mind. And a well-formed mind is a mind that can receive unfamiliar facts but be trained to think independently to analyse those facts to get through the essence of them…. That's an educated mind," he said.
Tharoor said that "how to think" was far more important than "what to think" and the big successes in life were those who were able to think out of the box and to think beyond what was in the textbook.
"…The big examination called life has a habit of asking you questions for which you couldn't prepare answers from a textbook," he said.