Jet Airways closure plays on travellers' minds
Fliers seek refund guarantee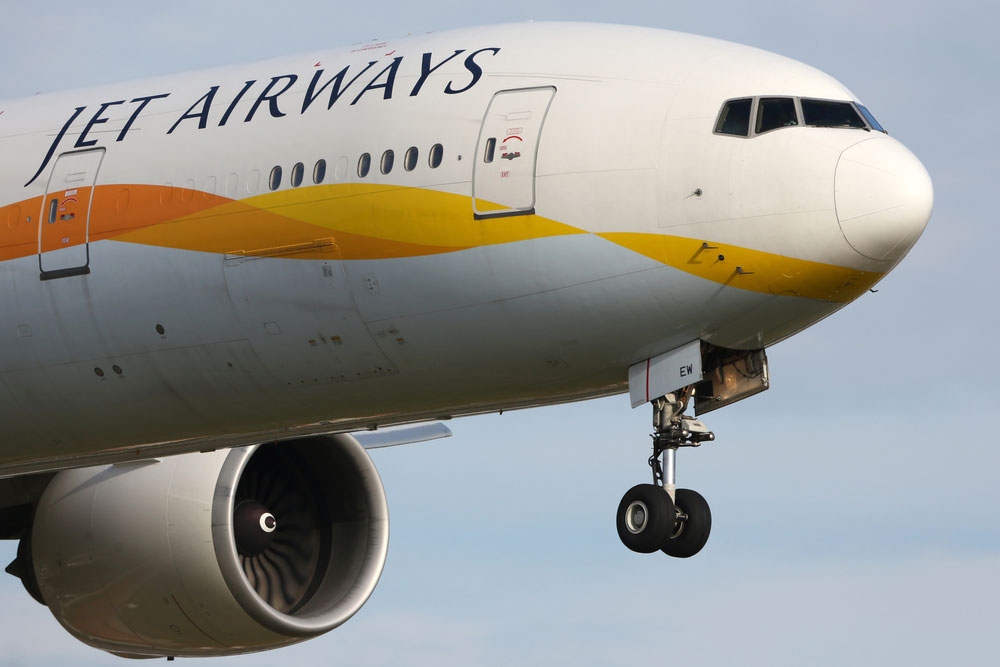 Iata sources said there were still about Rs 30 crore of refund which it had processed but had not been paid by the grounded airline
(Shutterstock)
---
Calcutta
|
Published 31.10.19, 09:03 PM
|
---
Travellers are seeking a guarantee of refund from travel agents in the event of their chosen airline folding up before the trip, leaving operators struggling to find a way to restore their clients' faith in them.
The suspension of operation by Jet Airways in April has triggered panic among travellers and recent reports of some airlines suffering losses have added to the fear, tour operators said.
An operator in Calcutta said one of his clients wanted to book more than 100 seats for guests who will attend his daughter's wedding in Thailand in February.
"The client wants a guarantee that the money will be refunded if the airline folds up before the wedding. Earlier, such questions would not arise. He is yet to decide on the bookings because I can't give him the guarantee," the tour operator said.
Some associations of travel agents are tapping insurance companies for a guarantee of refund against a premium.
"Our primary aim is to protect the interest of our clients. Many travel agents have refunded part of the booking amount for Jet tickets to a section of clients from their own pockets. But they cannot pay all clients. This has created a trust deficit between travellers and travel agents and we need to find a way to address the issue," said Anil Punjabi, chairman, east, Travel Agents Federation of India.
"We are even speaking to insurance companies who would give a guarantee of refund against a premium for a particular ticket."
The panic set in among travellers after hundreds of fliers failed to get refunds following the suspension of operations by Jet on April 17.
The same month, travel agents started processing refunds for cancelled Jet Airways tickets with the International Air Transport Association (Iata) but many are yet to get their money back.
Iata is the global trade association of airlines. The money for flight tickets booked against cash by travel agents is first deposited with Iata before it is transferred to the airline.
Iata sources said there were still about Rs 30 crore of refund which it had processed but had not been paid by the grounded airline.
"The problem is no one at Jet is authorised to make the payment. Also, it seems there is no money with the airline to repay. So, the process is lying pending for months," said an Iata source.
Calcutta-based businessman Sk Attabuddin had booked two return tickets to Mumbai in business class of Jet Airways in April at the cost of around Rs 50,000.
"We finally had to purchase tickets of another airline but I am yet to get my money back. My tour operator is telling me that whenever he gets the money back, he will pass it on to me," he said.
Anjani Dhanuka, director of Aircom Travels, a travel agency in Calcutta, said he had submitted to Iata a claim of Rs 20 lakh as due from Jet Airways. "I had filed it in August but am yet to get any money. I have paid a number of clients from my pocket," he said.
This has fuelled apprehensions among travellers, said tour operators.
A recent news item about Thai Airways International president Sumeth Damrongchaitham saying that the staff must cooperate with the airline's rehabilitation efforts because it faces possible closure has aggravated the fear. The airline, however, clarified that the president's words were misinterpreted.