Jaldapara flames devour 80 hectares
The Bengal forest department has launched a probe to find out the cause of the blaze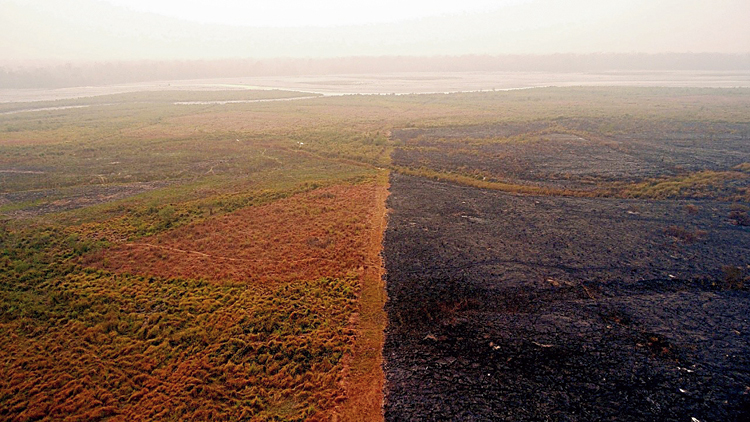 The burnt patches of the forest (in black).
Picture courtesy: Bengal forest department
---
Alipurduar
|
Published 03.03.20, 07:47 PM
|
---
Around 80 hectares, mostly grassland, were burnt in a fire that raged through three beats of the Jaldapara National Park in Alipurduar district on Monday night but foresters managed to stem the spread of the flames by Tuesday early morning.
The initial assessment of the Bengal forest department was that the blaze had killed no big animal in the 216sqkm park that is home to around 250 one-horn rhinos, 2,000 gaur, 1,500 sambar, 400 barking deer, an equal number of hog deer and 300-odd leopards.
The foresters have launched a probe to find out the cause of the blaze.
Sources said guards posted on a watchtower in the Kodalbusty area of the park had noticed two persons going out of the grassland around 5pm on Monday. The meadow is adjacent to the dried up bed of the Torsha river that flows through the Jaldapara park.
The guards gave the duo a chase but could not catch them. The watchtower, foresters said, has been raised on a temporary basis ahead of Holi, during which a section of adivasis enter the park for traditional hunting activities.
"Soon, a fire broke out at the grassland. We suspect the duo had started the fire. They do it to scare animals, particularly small species like rabbit, snakes and even deer, for easy prey," said a forester.
As the fire started spreading, forest patrol tried to douse the flames. However, there was a steady wind and the fire spread across the grassland.
"After 8.30pm, the guards deposited fresh twigs and tree branches near the spot of the fire to stop the spread. They also dug a trench so that trees can be saved from the blaze in the grassland. Around 2am today, the intensity of the flames came down," said a forester.
"Preliminary reports indicate the fire destroyed around 80 hectares, mostly grassland, in at least three forest beats — Malangi, Shiltorsha and North East Corner beat," he added.
Kumar Vimal, the divisional forest officer of Jaldapara wildlife division, said no major animal had been found injured or dead in the fire.
Another forester said the fire might have been started by cattle herders.
"As the grass is dry now, cattle don't have much to graze. So, herders set fire to the dry grass hoping that there would be fresh growth in the monsoon," he said.
In 2018, a fire had broken out in the Sishamara beat of the Jaldapara park. It had damaged around 50 hectares of grassland.
Fires were reported at two locations of the Buxa Tiger Reserve — Chuniajhora and the Marakhata beat — on Tuesday. In total, around three hectares of grassland have been destroyed, said sources.