Jaigaon residents travel to Bhutan to buy petroleum fuels at lower rates
In the Himalayan kingdom petrol and diesel cost Nu 76 and Nu 90 (Nu is of the same value as that of Indian rupee)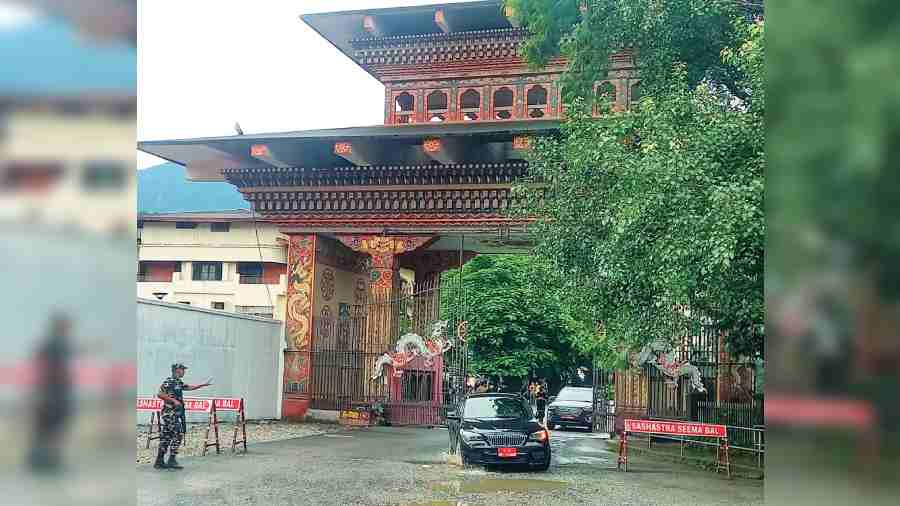 The Bhutan gate between Phuentsholing and Jaigaon
Telegraph Picture
---
Siliguri
|
Published 28.09.22, 12:45 AM
|
---
Residents of Jaigaon — the town in Alipurduar district that sits on the frontier with Bhutan — are now crossing the border to buy petroleum fuels which are cheap in the Himalayan kingdom.
Bhutan had reopened the four border points linking India on September 23 after a gap of two-and-a-half years. The border had been sealed because of Covid-19.
Petro fuels are supplied to Bhutan from India by the Indian Oil Corporation Ltd, Bharat Petroleum Corporation Limited and Hindustan Petroleum Corporation Limited.
"The fuels are sold at international prices. As Bhutan does not levy tax on the fuels sold in the country, the prices always remain less than our country," said R.S. Gupta, the secretary of the Jaigaon Merchants' Association.
The prices of petrol and diesel were Rs 107.3 and Rs 93.9 per litre, respectively, in Alipurduar, on Tuesday. In Bhutan, the petrol and diesel prices were Nu 76 and Nu 90 (Nu stands for ngultrum, the Bhutanese currency, which is of the same value as the Indian rupee ), respectively.
For years, residents of Jaigaon and the surrounding areas have been buying fuels from Bhutan. The border town, sources said, has around 500 autorickshaws, 200 trucks and 200-odd light commercial vehicles, apart from 1,500 private two and four-wheelers).
HC relief for Jitendra
Calcutta High Court on Tuesday stayed a notification issued by the Criminal Investigation Department on September 10 asking Jitendra Tiwari, BJP leader and former mayor of the Asansol Municipal Corporation, to appear for questioning on his alleged involvement in a coal smuggling case.
The stay was issued by Justice Rajashekhar Mantha.
The judge fixed the case for hearing in detail when the court would resume after the one month Puja vacation that would start on September 30.
Tapas Ghosh