Jahir in shock, truth takes time to sink in
All 5 from Bnegal are dead, with the injured Jahiruddin the lone survivor of Tuesday's militant attack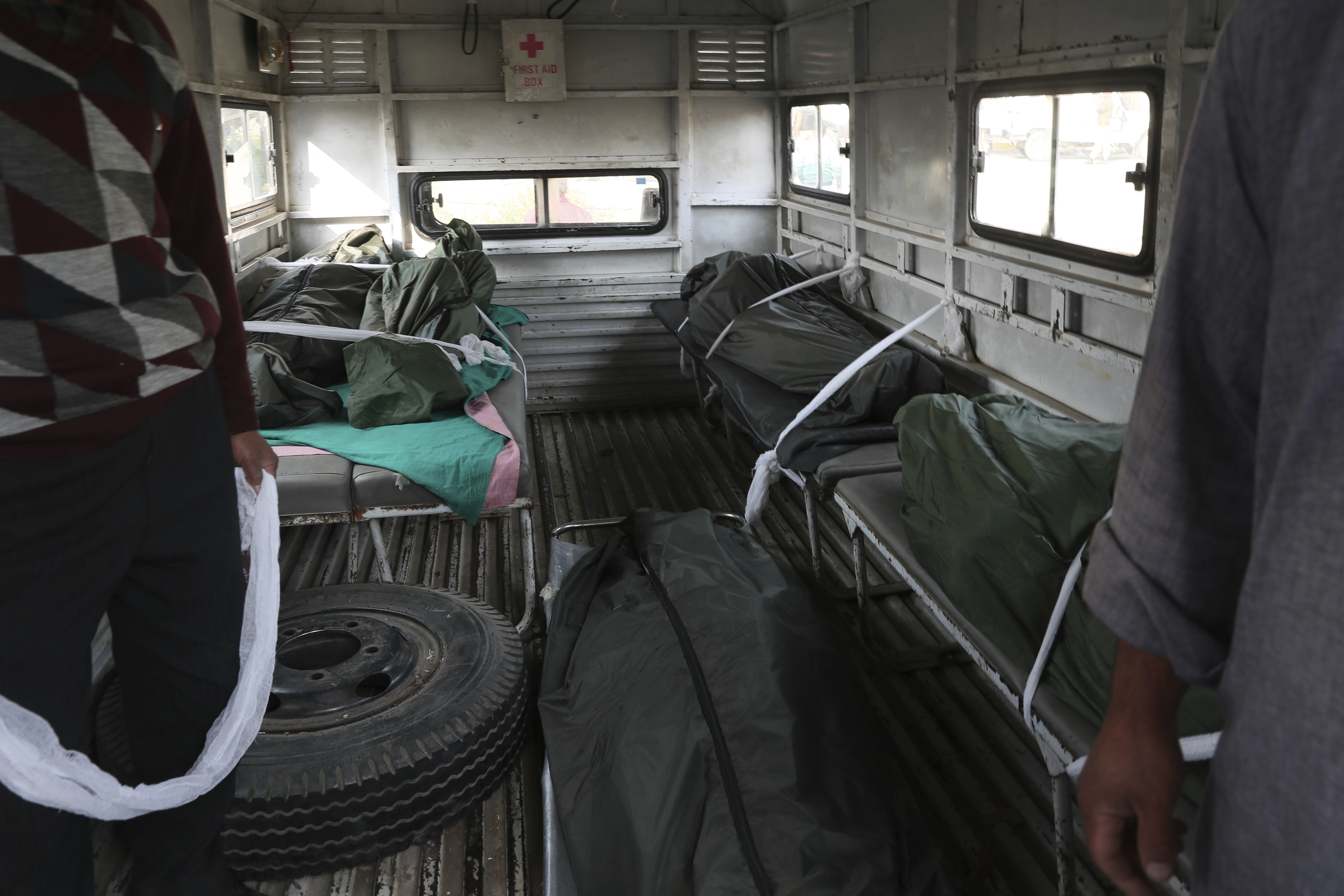 Bodies of Indian laborers who were shot dead by gunmen are seen inside an ambulance outside a hospital in Kulgam on October 30, 2019
AP
---
Srinagar
|
Published 31.10.19, 08:19 PM
|
---
Bengal labourer Jahiruddin Sarkar, groaning in his hospital bed after taking four bullets to the abdomen, leg and arm on Tuesday evening, keeps repeating the same question every time he wakes up.
"How are the other men?" the 25-year-old, writhing in pain, asked The Telegraph at Srinagar's SMHS Hospital on Thursday, his voice reduced to a croak.
He was referring to the five other migrant labourers from Bahalnagar village in Murshidabad who had been led away from their lodgings at Katroosa village in Kulgam, where they worked as apple pickers, and shot at by militants.
All five are dead, with the injured Jahiruddin the lone survivor of Tuesday's militant attack — one of a series on non-Kashmiris. A seventh member of the Bahalnagar group — Bashirul Sarkar, 35 — had gone out to get dinner for all of them and escaped the attack.
When one of those standing around Jahiruddin's bed sought to assure him that his co-workers were alive, a plainclothes policeman who had been attending to the patient since Tuesday said he must be told the truth.
"The five men who were with you are no more; you (alone) have survived. I told you this before too," the policeman said, appearing to leave Jahiruddin in shock.
The young man has apparently been told the truth about his associates several times but seems unwilling to accept it.
Jahiruddin, who got married only two months ago, said men from Bahalnagar village had for several years been coming to Kashmir to work but he had joined them only last year.
"None of us was ever harmed before," he said. "We had bought apples and packed our bags as we were to leave for home yesterday (Wednesday morning)."
A doctor said Jahiruddin's condition was improving, the reason he was shifted out of the ICU on Thursday.