Jadavpur University VC thanks Governor for his help, and says Rowling is his source of solace
'It is impossible to live without failing at something,' Suranjan Das says, quoting Harry Potter author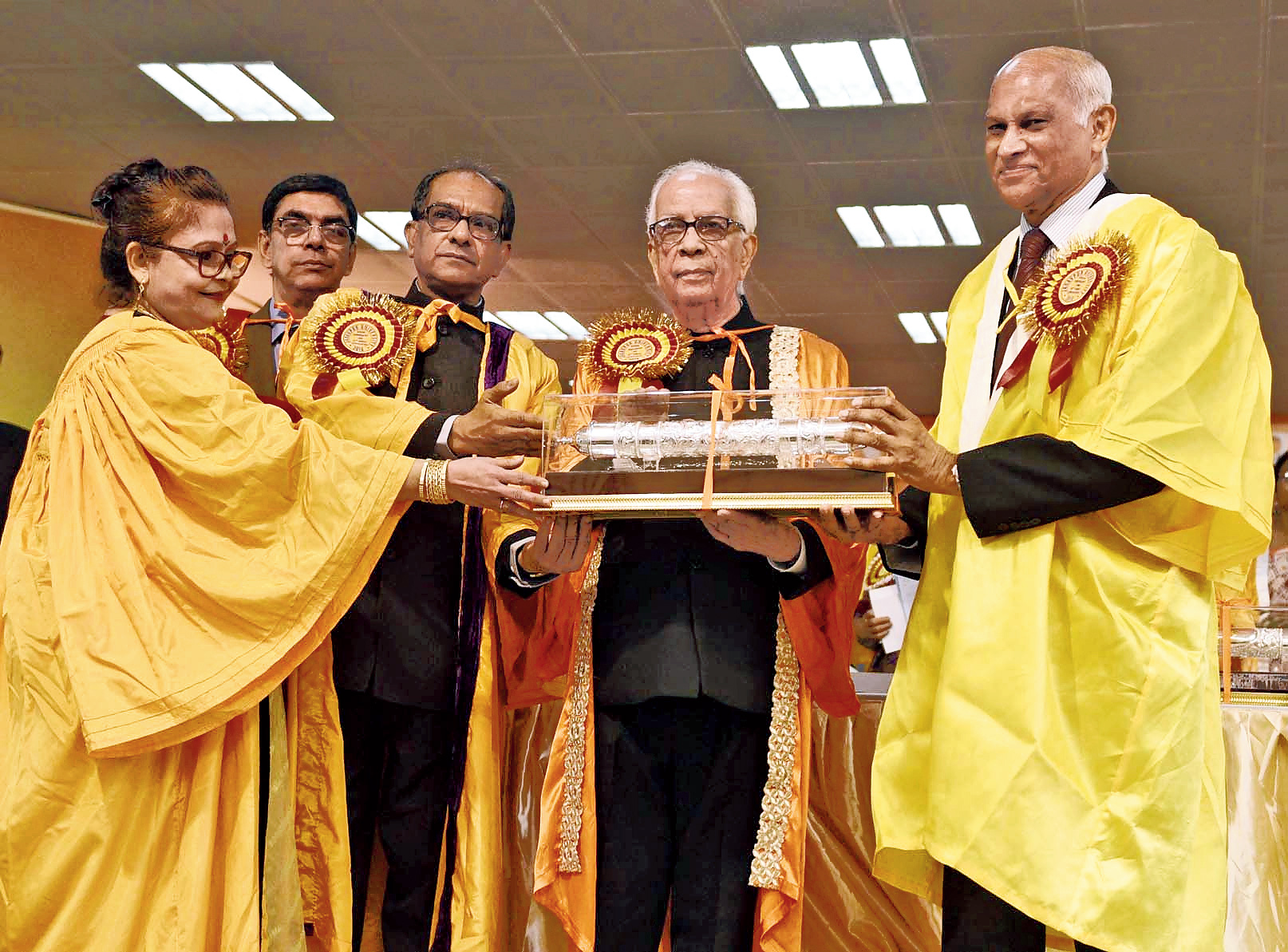 Registrar Sneha Manju Basu, controller of examinations Satyaki Bhattacharya, vice-chancellor Suranjan Das and governor Keshari Nath Tripathi with Mammen Chandy, the director of Tata Medical Center and recipient of an honorary DSc at the JU convocation.
Gautam Bose
---
Calcutta
|
Published 24.12.18, 08:21 PM
|
---
Suranjan Das, the vice-chancellor of Jadavpur University, on Monday used what was possibly his last convocation speech to publicly thank the governor for helping him navigate through "trying circumstances" and quoted the author J.K. Rowling as his source of "solace" whenever he failed.
"I put on record my honest debt to you for your constant help in discharging my duties since I assumed office under trying circumstances, and I hope to receive your guidance during the remaining months of my tenure," Das said, turning to governor and chancellor Keshari Nath Tripathi on the dais.
The retirement age for the vice-chancellor of a state university is 65 years. Das is six months away from turning 65.
Das became the vice-chancellor of JU in July 2015 after his predecessor, Abhijit Chakrabarti, was forced to quit in the wake of a four-and-a-half-month-long students' agitation over police being called to the campus to end a gherao. He has himself faced several spells of student unrest since, the last one in early July almost making him quit.
"I feel that although I did my best to serve the cause of the university, I might not have been always successful. Nor did I satisfy all sections of the university community," Das said at the convocation.
He said Rowling's words — the celebrated author of the Harry Potter novels had a long period of personal and professional struggles — would keep him motivated whenever despair threatened to take over.
"It is impossible to live without failing at something, unless you live so cautiously that you might as well not have lived at all — in which case you fail by default," Das said, quoting the British author.
Das spoke of dissent as a democratic weapon that should be used for the right reasons. "Of course universities should be sites for nourishing free thought and dissent. But surely dissent needs to be expressed in a democratic spirit, without vitiating a healthy culture of protest and violating the democratic rights of others," he said.
In July, vice-chancellor Das and some of his colleagues had been gheraoed for 31 hours by students demanding restoration of admission tests for arts subjects. As the stalemate continued, a group of students started a fast-unto-death under the portico of Aurobindo Bhavan. When the students started taking ill, the executive council, the highest decision-making body of the university, forced vice-chancellor Das to accept the demand.
Tripathi appealed to the students to be "disciplined" and urged the university authorities to remain "alive" to the happenings on the campus. "To the students, I pray: be disciplined, be large-hearted, be systematic….The university administration should also have a straightforward approach to maintaining the academic atmosphere in this university. They must be alive to what is happening on the campus during and even after teaching hours," he said.
Economist Kaushik Basu was conferred a DLitt (honoris causa) at the convocation. Dipankar Chatterji, a molecular biologist, and Mammen Chandy, the director of Tata Medical Center, were awarded a DSc (honoris causa).