J.P. Nadda ridicules Trinamul's 'daughter' slogan
He also attacked Mamata's appeal to Prime Minister Narendra Modi to provide free Covid-19 vaccinations to people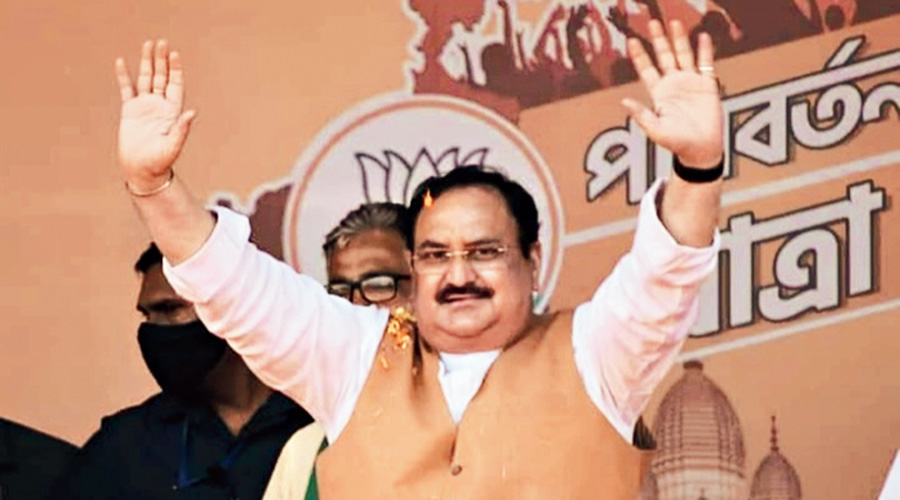 BJP national president J.P. Nadda at the public meeting in Barrackpore on Thursday.
Tapash Karmakar
---
Calcutta, Barrackpore
|
Published 26.02.21, 01:40 AM
|
---
BJP national president J.P. Nadda ridiculed Trinamul's new slogan of Mamata Banerjee as the "daughter (gharer meye)" on Thursday in Barrackpore.
At the Anandapuri grounds, Nadda questioned Trinamul for promoting Mamata as "daughter" when she apparently "failed" to ensure the security of women in the state. "We have no objection to your being portrayed as didi or daughter...But are you at all concerned about the security of girls in Bengal? Why did you fail to ensure their security? Why are cases of rapes and domestic violence and trafficking of women so high in Bengal?" he said.
He also attacked Mamata's appeal to Prime Minister Narendra Modi to provide free Covid-19 vaccinations to people. "Much before her appeal, Prime Minister Narendra Modi arranged vaccination for all. From March 1, people aged over 60 will get the vaccine, followed by people over 45 with comorbidities," Nadda said, adding that the people of Bengal were part of it.
Trinamul leaders tore into Nadda's attacks, asking BJP "to look at UP first before looking at the security of women in Bengal" and pointing out that Mamata's appeal to Modi for urgency in vaccination was because Bengal was heading for polls amid a pandemic.
However, the "decent" 30,000-plus footfall at Anandapuri grounds, Barrackpore, was a relief for the state party leadership that had been hauled up after Nadda had to abort a recent meeting in Jhargram owing to low turnout on February 9. In Jhargram to flag off one of the BJP's Parivartan Yatras and address a cultural event, Nadda left the local party office as only a handful had turned up for the cultural event, and later pulled up the state leadership over it, sources said.
Nadda also visited the ancestral homes of literary icons Bankim Chandra Chatterjee and Bibhutibhushan Bandyopadhyay, and lunched at a jute mill worker's home in line with his party's Bengal-connect strategy.
Later in the evening at a meet at Science City in Calcutta, Nadda took a dig at Mamata's e-scooter ride to protest against the fuel price hike. "She should move around in e-scooters as that is what she will have to do after the polls," he said.