Issues that matter
Pollution and education are on people's minds ahead of the Lok Sabha elections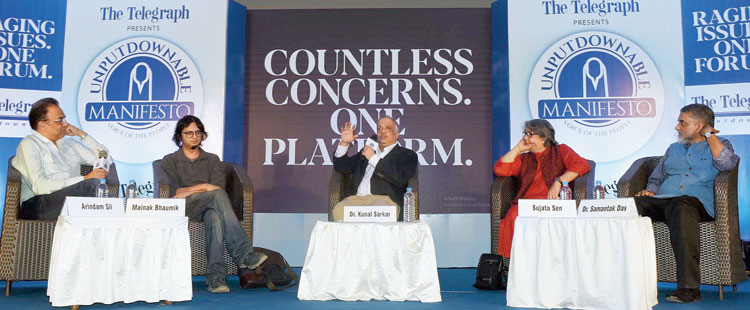 (From left) Mainak Bhaumik, Kunal Sarkar and Sujata Sen at a panel discussion at The Telegraph presents Unputdownable Manifesto, Voice of the People, at the Calcutta Club on Wednesday
Picture by Pradip Sanyal
---
Calcutta
|
Published 06.03.19, 10:13 PM
|
---
Pollution and education, not war. Calcutta has made it clear what people want the next government to focus on.
At The Telegraph presents Unputdownable Manifesto, Voice of the People, eight issues were uppermost on the people's minds this poll season.
Usually, it is the parties that come up with a set of promises before each election. But this time, The Telegraph reached out to people from all walks of life over the past few weeks to know their concerns. The people's manifesto was handed to leaders from four frontline parties at the Calcutta Club on Wednesday.
Representing the people on the dais were Sujata Sen of Future Hope, a charity for children; Samantak Das, professor of comparative literature at Jadavpur University; and filmmakers Arindam Sil and Mainak Bhaumik. Moderator Kunal Sarkar, cardiac surgeon and trustee of the Calcutta Debating Circle, urged the participants to keep the conversation grounded, especially in the wake of the dogfight at a "supersonic altitude of 30,000 feet".
The issues, according to the Unputdownable Manifesto
Corruption (46 per cent)
A whopping 46 per cent of the people surveyed felt the country would progress only if strong steps were taken to weed out corruption. A series of films shown before the panel discussion had several voices flagging the issue.
During the discussion, Sil said he was astounded at the enormous budget involved in the election campaign. "Bring the money back from Swiss banks. It will ensure a better India, any day," he said.
Pollution (38 per cent)
The Calcutta air is among the most toxic in the world. No wonder respondents flagged pollution as the second biggest problem.
"Nobody is saying Calcutta or Delhi is in a dangerous environment in terms of weather. It's alarming but it's not being discussed. What's being discussed is… how we should bomb another country...," said Mainak Bhaumik.
Unemployment (31 per cent)
A recent study says the unemployment rate in India is at its highest since 2016. Several speakers cited the demographic dividends India's population promises to deliver. But jobs have to be created for the huge young workforce. Sujata Sen put things in perspective. "I walk the slums and streets behind Quest mall. The stories are from there, stories of young people. That is what we have got to focus on — what aspirations can we fulfil of our young," she said. The audience applauded.
Women and child rights (29 per cent)
Many from those surveyed spoke of the need for food security for children. Bhaumik spoke of the #MeToo movement. "The whole #MeToo movement…. Somewhere down the line a lot of men who want to support equality are suddenly scared that if women start speaking, it would hurt their egos. Let's make the women (look like) attention-mongers," he said.
Education (27 per cent)
Samantak Das said: "In absolute terms, China has a population of 1.4 billion and China spent $490 billion on education in 2014. That went up to $675 billion in 2017. In contrast, India, with a population of 1.3 billion, spent just $10 billion on education in 2014 and that went up to $11.3 billion in 2017. So, essentially, we are spending about 1/50th of the money that China is spending on education."
Gender discrimination (21 per cent)
From being able to move around at night to doing a job of their choice, voices against gender discrimination abounded. Actress Ushashie Chakraborty summed up the mood. "I want absolute freedom for every woman.... I want every woman of this country should live their lives on their own terms," she said in a video.
Health care (19 per cent)
Kunal Sarkar pointed out that he and the minister of state for women and child development, Sashi Panja, belonged to the same field. "I think it is first time in 68 years… that health care has been brought into the political spectrum of discussion. We are noticing very effective health-care schemes at the central and state levels..... We'll continue to have political differences but let concurrent subjects like health and education not suffer."
Income inequality (17 per cent)
The cars of foreign makes and the glittering lights on the Parama flyover make the city look beautiful, Sujata Sen said. "But right under, on the Park Circus railway tracks, it takes Rs 2,000 a month to rent a plastic shelter. People struggle to arrange for that."