In industry zone as PSU 'saviour'
Trinamul has made the closed CPSUs in the industrial zone a plank to attack the Modi government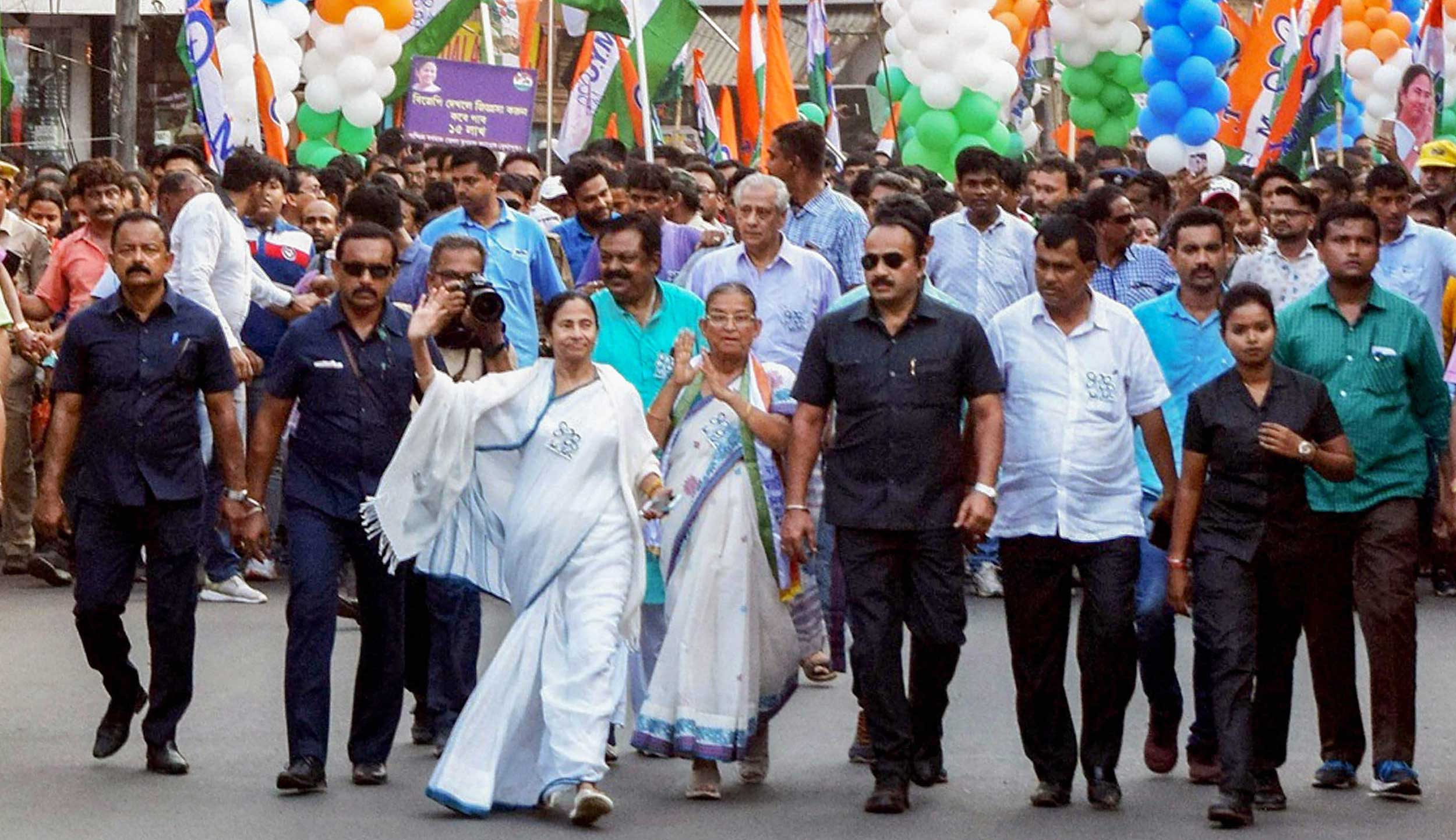 Mamata Banerjee during an election campaign roadshow for the Lok Sabha elections, in Durgapur, on Thursday.
(PTI Photo)
---
Durgapur
|
Published 25.04.19, 07:46 PM
|
---
Mamata Banerjee on Thursday highlighted her efforts to save central public sector units in Durgapur and Asansol — the twin towns that are home to several such companies.
She pointed out that as railway minister, she had taken over the sick Burn Standard Company, which has two wagon-manufacturing units in Bengal.
"I had taken over Burn Standard when I was railway minister. I always tried to save industries but now, one after another, factories are being closed by the Centre," she said at a rally in Durgapur, referring to the closures of Hindustan Cables Ltd and Burn Standard during the term of the Narendra Modi government.
Trinamul has made the closed central public sector units in the industrial zone a plank to attack the Modi government.
Addressing the rally on Thursday in the township of the closed Hindustan Fertiliser Corporation Ltd (HFCL) in Durgapur, Mamata recalled her "efforts" in Parliament demanding reopening of the plant.
"I had in the Lok Sabha demanded the reopening of HFCL. I am ready to take over the township if the Centre allows us. We will develop it," she said. HFCL was closed in 2002 and its employees given VRS. Many of the former employees still live in the township.
Mamata said her government had set up the Panagarh Industrial Park and the airport in Andal. "We have set up Panagarh Industrial Park. Big investments have been made there, generating employment.."
Officials said the Panagarh park housed a fertiliser plant of the Matix Group with a capacity of three million tonnes. A cement plant of Emami group, a LPG bottling plant of HPCL and a tiles manufacturing unit of H & R Johnson (India) have also come up.
Continuing with the theme of saving industrial units, Mamata said the state government had given crores for the survival of the loss-making Durgapur Projects Limited (DPL). "We spend between Rs 200 and Rs 300 crore per year on DPL. We have plans to modernise it. No one will lose their jobs at DPL," she said to cheers.
Mamata accused the Modi government of putting obstacles to ports at Sagar Islands and Tajpur. "The Tajpur port is lying idle for three years even after its MoU was signed. The Centre has 74 per cent share while we have only 26 per cent. But it is not being done. Similarly, the Sagar sea port and Deocha Pachami coalmine projects are also being delayed because of the Centre."
The chief minister also criticised Modi for holding up the proposal to change the state's name to Bangla.