In death too, no fanfare
Mrinal Sen was known for his modest lifestyle and contempt for the trappings of fame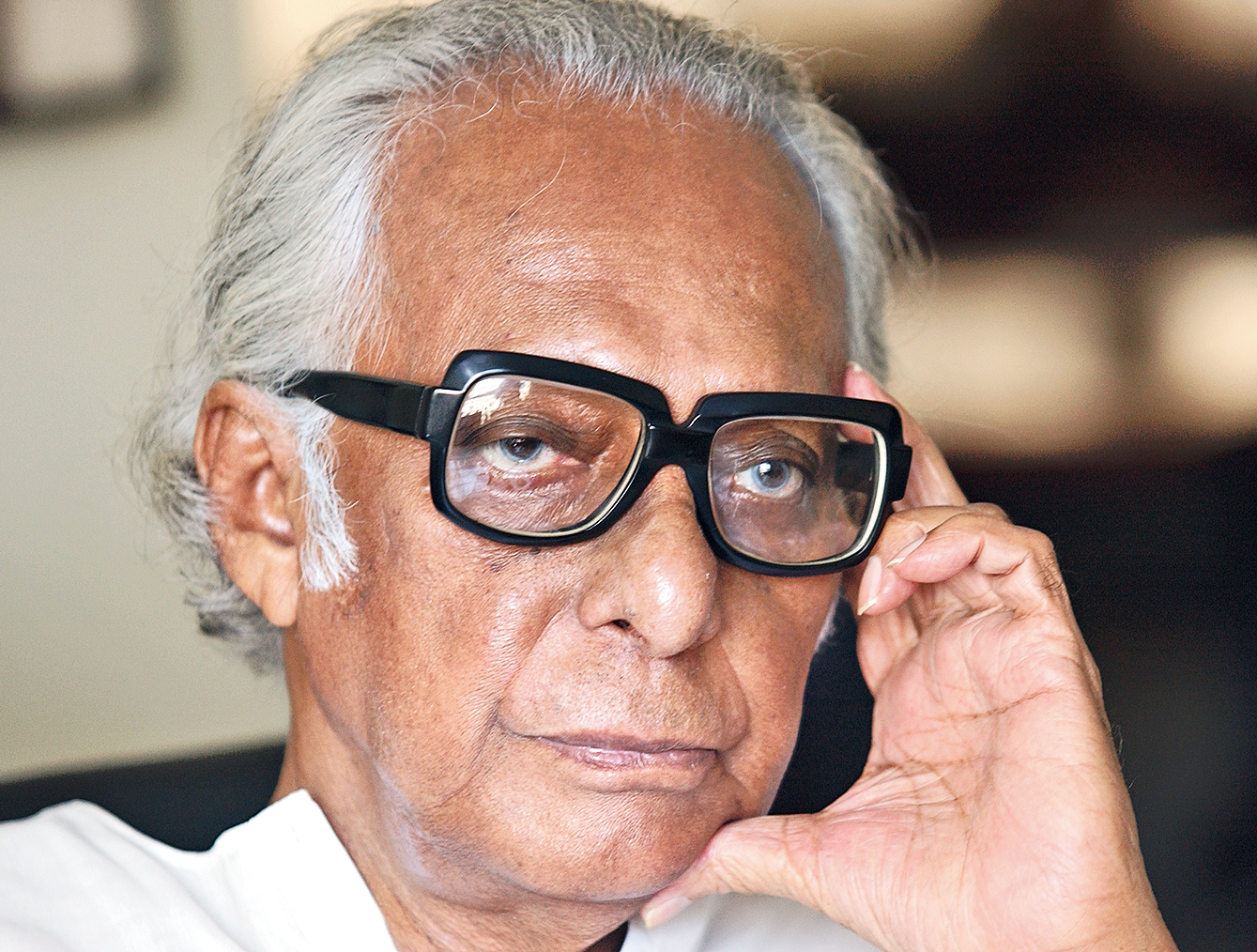 ---
|
Calcutta
|
Published 30.12.18, 09:46 PM
---
Mrinal Sen, the politically radical filmmaker whose knack for experimentation and unconventional treatment made him a pioneer of "new wave" cinema in India, died at his Bhowanipore home on Sunday morning. He was 95.
The director of Bhuvan Shome, Ek Din Achanak, Calcutta 71 and Khandhar, whose filmmaking career spanned from 1955 to 2002, had been unwell following a bout of fever, his family said.
Sen's death marks the passing of a golden generation of Bengali filmmakers that also included Satyajit Ray and Ritwik Ghatak — the trio were born within four-and-a-half years of one another.
Sen, whose wife Gita Sen had passed away in January 2017, will be cremated after the couple's only child Kunal Sen, who lives in Chicago, arrives in Calcutta on January 2, family physician Adhrishya Kumar said. Sen's body has been kept at the Peace World mortuary in Topsia.
The filmmaker, known for his modest lifestyle and contempt for the trappings of fame or the company of sycophants, wished to avoid being taken to Nandan after his death to be swamped with flowers and garlands by crowds and government representatives, Kumar said.
"So, after his death at 10.30 am, I spoke to Kunal. He told me to fulfil the last wishes of Bondhu," he said.
One example of Sen's disregard for orthodoxy even in everyday life was that he and his son addressed each other as "Bondhu" (Friend).
Around 12.30 pm, Indranil Sen, Bengal minister of state for information and cultural affairs, arrived at the house. "We are with his family. His last rites will be performed the way his family wants," he said.
"Saddened at the passing away of Mrinal Sen. A great loss to the film industry. My condolences to his family," chief minister Mamata Banerjee tweeted.
Actors Mamata Shankar and Anjan Dutt, regulars in Sen's films, too visited the house after the news broke.
"Mrinalda shaped my film career. I owe everything to him. He was uncompromising — he believed in what he said. He never bothered about the box office," Mamata Shankar said.
Sen's work is defined by "the exuberance of his cinematic approach, which was quite different from the gravity or sombreness" of his great contemporaries Ray and Ghatak, media scholar Someswar Bhowmik has written in his obituary of Sen for The Telegraph.
Moinak Biswas, a professor of film studies at Jadavpur University, said Sen's "uncompromising spirit of rebellion" stemmed from his association with the Indian People's Theatre Association, a flag-bearer of the "people's cultural movement in the country" and the fight against fascism.
"That legacy was mediated and honed by the New Wave movement in France and the genre of agitational movies that had become popular in Latin America in the 1960s," Biswas said.
Dutt, in an article for The Telegraph,  celebrated Sen's range of filmmaking: "from his black-and-white relationship dramas like Pratinidhi, to agit prop, new-age, radically non-grammatical Calcutta 71… to his introspective, self-analytical, minimalistic Antareen".

He described Sen as one of the "sentinels of our time" who "challenge(d) this system with low-budget box-office failures but whose work will be treasured by those handful who value posterity and the future of our intellectual environment".