Durga immersion in Hooghly passes green test
Around 4,500 idols had been immersed till Sunday night, leaving only a handful to be immersed over the next two days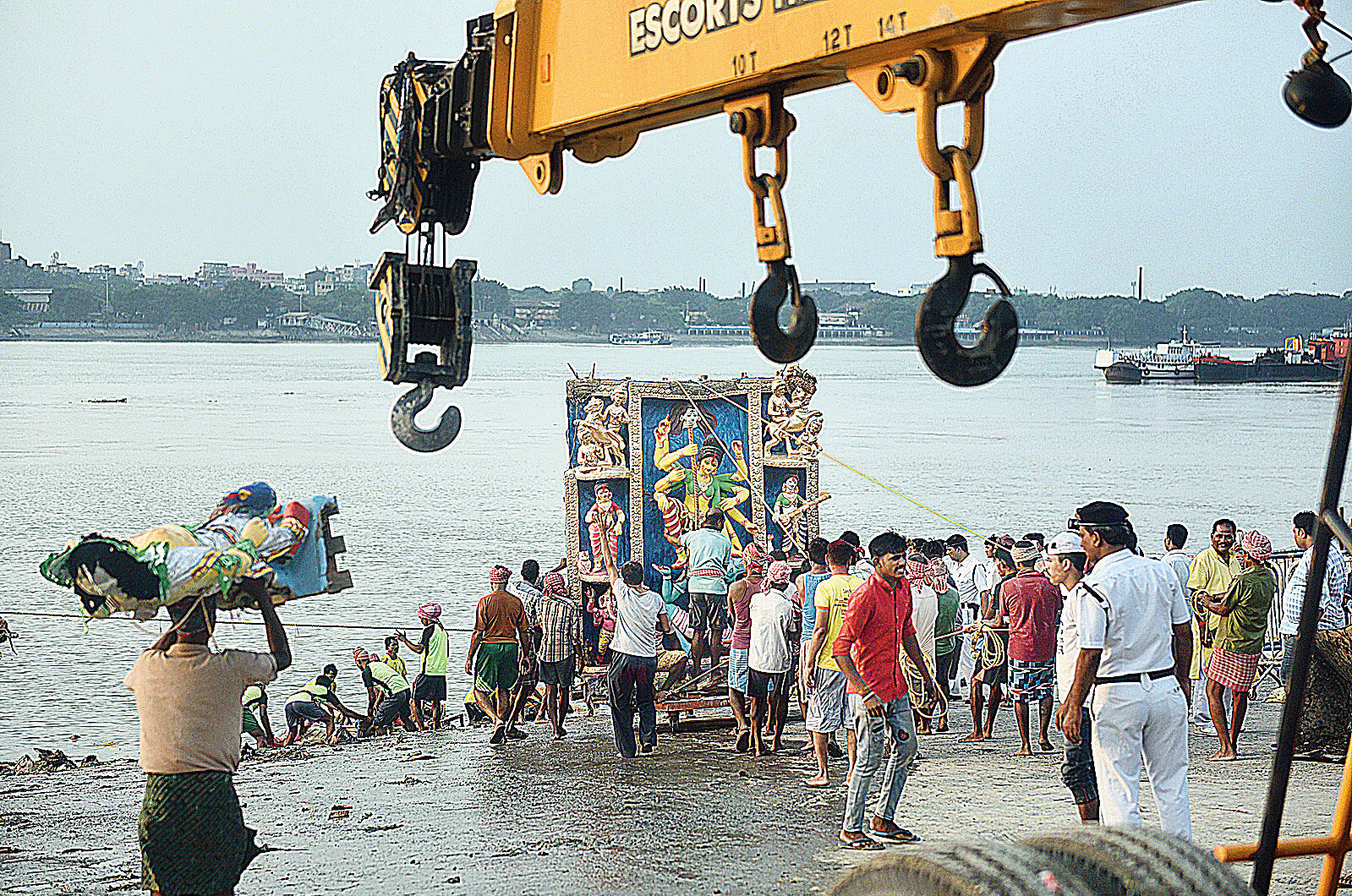 ---
|
Calcutta
|
Published 21.10.18, 08:38 PM
---
The immersion seems to have been well managed so far this year, going by the condition of some of the Hooghly ghats.
At least half of Calcutta's Durga idols have been immersed but the ghats have remained more or less clean, thanks to a fast response system put in place by multiple agencies.
Calcutta Municipal Corporation (CMC) officials said around 4,500 idols had been immersed till Sunday night, leaving only a handful to be immersed over the next two days. The ritual has to be wrapped up by Tuesday.
Over the years, environmental concerns have changed the way idols are immersed. Metro saw at Baje Kadamtala and Judge's ghats on Sunday evening that civic workers were not allowing the idols to float in the water for more than a couple of minutes.
The men immersing an idol were tying a rope to the wooden frame. Once the idol was in the water, a crane came up and lifted it with the rope.
The frame was removed to a spot, from where another crane lifted it and put it on a truck. "All the frames will be taken to Dhapa," a CMC official said.
Environment activist Subhas Datta said the way the immersion was being handled was a "great improvement" compared with what used to happen earlier, when the frames would float for one or two months.
The civic authorities had deployed 200 trucks to remove the frames from the ghats to the garbage dumping ground in Dhapa.
The Calcutta Port Trust and the CMC have sent five cranes to Baje Kadamtala Ghat and two to Nimtala Ghat.
"Bigger idols are immersed at Baje Kadamtala and Nimtala ghats. So, maximum arrangements have been made there. Both these ghats are very wide and have enough space for cranes to operate," a CMC official said.
Officials of multiple agencies said around 500 idols were immersed across Calcutta on Sunday. Till Saturday, around 4,000 had been immersed.
At least 75 Durga idols will be immersed on Tuesday after the Red Road parade, to be attended by chief minister Mamata Banerjee and others.
CMC officials are expecting that most of these 75 idols would be immersed at Baje Kadamtala and Nimtala ghats.
"Not too many idols will be immersed on Monday but there will be some pressure on Tuesday, the last day of immersion," an official said.
Immersion is under way at 18 ghats and 10 ponds across Calcutta. Fifteen of the 18 ghats are along the Hooghly, while three are along the Tolly's Nullah.
"Puja organisers in places such as Ranikuthi, Behala and Joka, which are far from the Hooghly or Tolly's Nullah, have been allowed to immerse their idols in ponds," the official said.