Illegal stalls razed on Visva-Bharati campus
Of the campus' 1,133 acres, six acres were occupied by illegal shopowners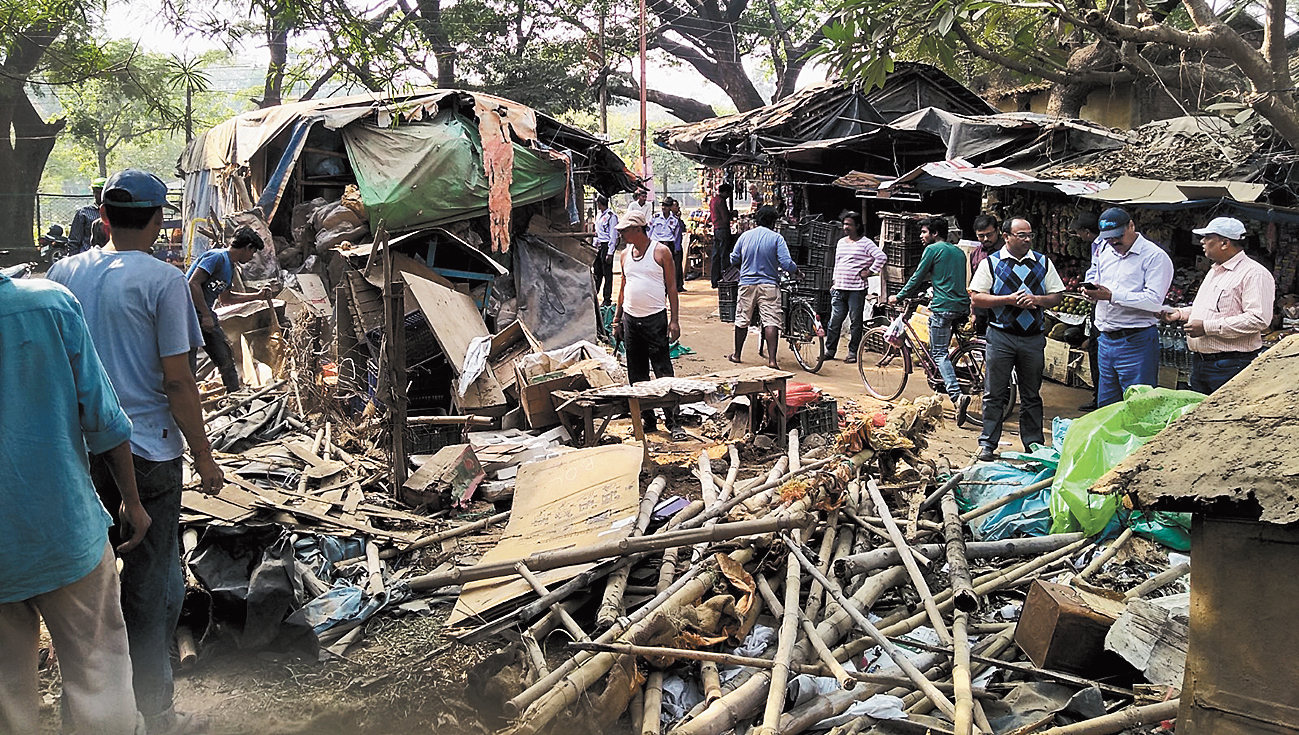 Illegal stalls being demolished on the Visva-Bharati campus on Sunday.
Picture by Indrajit Roy
---
Santiniketan(WestBengal)
|
Published 18.11.18, 07:45 PM
|
---
The Visva-Bharati authorities on Sunday removed half a dozen illegal stalls on the campus and said all other encroachers might be evicted with police help in future.
A team of varsity officials led by estate officer Ashok Mahato, professor in charge of security Ashok Kumar Goon and officiating chief security officer Supriya Gangopadhyay supervised the demolition of six makeshift shops near Santiniketan post-office.
The officials said flower plants would be planted in the vacated spots for beautification. The demolished stalls used to sell snacks, fruits and artefacts and were shut for sometime.
Sources said the estate office had conducted a survey where it was found that out of the campus' 1,133 acres, six acres were occupied by illegal shopowners.
"We have decided to remove all encroachers from Visva-Bharati campus. We will evict them and beatify those areas with flower plants," said Mahato.
Varsity officials said over 100 illegal stalls had mushroomed on the sprawling campus in the past 15 years.
The new vice-chancellor, Bidyut Chakraborty, had recently found a stall that encroached on the campus near Shantishree hostel. The VC talked to varsity officials and asked them to remove the shop and tell the owner to relocate elsewhere.
The varsity officials admitted that a large number of students were dependent on the food stalls.
"Our VC wants a clean campus. So, we have started removing stalls which are non-functional now. As the students are depending on food stalls and their owners are earning their bread and butter from them, we have a plan to shift them in an organised manner and give the campus a better look. In the future, we might relocate the stall owners to a particular place. However, such a decision is yet to be taken," an official said.
Varsity sources said VC Chakraborty had laid emphasis on cleanliness of the campus after he joined Visva-Bharati.
Mahato said: "We will beautify the land after vacating the encroachment for two reasons. First to give the university a better look. Second, to prevent a fresh encroachment."
The varsity officials said they had noticed some unauthorised brick and cement structure on the campus as well.
"We have been trying to remove encroachment for long. But every time, we had backtracked thinking demolishing illegal stalls might lead to a law and order problems. If we have to launch an eviction driver on a larger scale in future, we will need police help," said an official.
An officer of Santiniketan police station said if Visva-Bharati gave a written appeal, help would be provided to clear encroachers.