If it's icon-worship, it must be polls
Rivals celebrate Vivekananda's birth anniversary and blame each other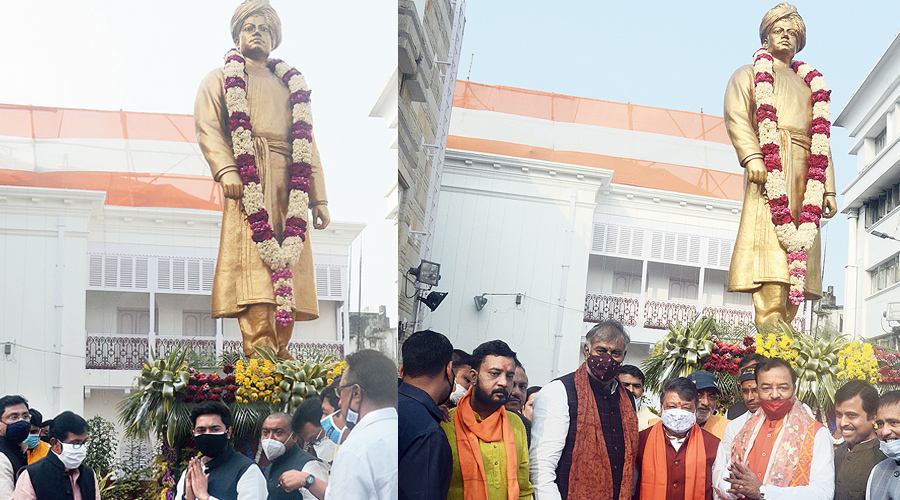 ---
|
Calcutta
|
Published 13.01.21, 02:10 AM
---
Zealous attempts were visible from both the Trinamul Congress and the BJP to observe the birth anniversary of Swami Vivekananda on Tuesday and the rival parties accused each other of political opportunism in seeking refuge in the legacy of one of Bengal's foremost icons.
The day began with tweets from Prime Minister Narendra Modi and Bengal chief minister Mamata Banerjee, lauding the 19th century monk instrumental in popularising Vedantic and Yogic philosophies in the Occident.
As the day progressed, it became increasingly clear that Trinamul's focus was on Vivekananda's inclusive, global humanism, while the BJP was more attentive towards his role in the Hindu revivalism at the peak of the British Raj.
While Trinamul's campaign was led largely by youth wing chief Abhishek Banerjee, 33, the BJP fielded its latest acquisition from Mamata's stable, Suvendu Adhikari, 50, both of who visited Vivevkananda's residence in north Calcutta.
Trinamul's de facto Number Two Abhishek derided the saffron camp over its attempts to appropriate Vivekananda, among other Bengal icons this poll season, while asserting that this soil would never endorse its politics of "hatred" and "division".
The BJP, said the Diamond Harbour MP, had no right to celebrate the icon's birthday, weaving in the bohiragawto (outsider) angle.
"Bengal, the birthplace of Swami Vivekananda, has no place for politics of hatred imported from Gujarat," said Abhishek, who led a Gol Park-Hazra rally in honour of the most renowned disciple of Ramakrishna Paramahamsa. Some of the participants were carrying national flags.
"They claim to be followers of Lord Ram, but they are not. They are followers of (Mahatma Gandhi's assassin) Nathuram (Godse)… followers of politics of division…. I would like to inform the BJP that Swamiji never, not once, spoke in favour of hatred or communalism, which form the ideological bedrock of your politics," added Mamata's nephew.
Abhishek went on to remind the saffron camp that all the major Bengal icons it had been trying to appropriate, in order to shed its "outsider" tag, such as Vivekananda, Rabindranath Tagore, Ishwarchandra Vidyasagar and Netaji Subhas Chandra Bose were firmly opposed to the idea of pitting one religion against another, especially in politics.
Abhishek also lambasted Modi for not correcting US President Donald Trump who mispronounced the name of Swami Vivekananda during the "Namaste Trump" tour last year.
"Tell us, what happened on February 24, 2020? He (Modi) brought Donald Trump to India…. He (Trump) couldn't even pronounce Swamiji's name correctly — called him "Vivekamundan" — right next to a man who is the self-proclaimed largest dharok (bearer) and bahok (carrier) of Hindus… who sat there, clapping," said Abhishek. "What can be more shameful for Bengalis? Did you find even one BJP leader protest?"
"If the Prime Minister was truly a follower of Swamiji, he would have snatched the mic from Trump and told him to first pronounce his name correctly…. Can any of them deny it? Not even a year ago. He (Modi) just sat there, next to him (Trump), clapping away."
Earlier in the day, Adhikari went to Vivekananda's residence with the BJP's Bengal minder Kailash Vijayvargiya, Union tourism minister Prahlad Singh Patel and Uttar Pradesh's deputy chief minister Keshav Prasad Maurya. The BJP's Bengal chief Dilip Ghosh participated in a Shyambazar-Simla rally along with Trinamul turncoats Mukul Roy and Saumitra Khan. Ostensibly, participants in their rally were seen brandishing saffron flags with "Om".
Asked if Bengal icons, including Vivekananda, were being politicised by the two camps in the run-up to the polls, Ghosh said: "Everything is politicised in Bengal. If somebody like Swamiji is now an issue in politics here, it is a good thing."
Even on Tuesday, Trinamul claimed insult to Vivekananda over an allegedly tone deaf campaign teaser from the BJP. In a video uploaded on BJP Bengal's Twitter handle Modi was described as "Ghorer Chele Naren", which loosely translates to "Naren, the son of our home".
"It seems that BJP has forgotten that the people of Bengal consider only one Naren (who is popularly known as Swami Vivekananda) to be the 'son of Bengal'," said Trinamul in a statement.
In her tweet, Mamata said: "Remembering the great leader Swami Vivekananda on his birth anniversary. I bow down to Swamiji's teachings. His message of peace & universal brotherhood is of utmost relevance today & inspires all of us to strive hard in safeguarding these ideals in our beloved nation."
Modi's post on the microblogging site read: "This Vivekananda Jayanti, there's a creative effort on the NaMo App that lets you share his thoughts and a personalised message. Let us spread Swami Vivekananda's dynamic thoughts and ideals far and wide!"