If in Bengal, have to speak Bengali: Mamata
'Home' safety pledge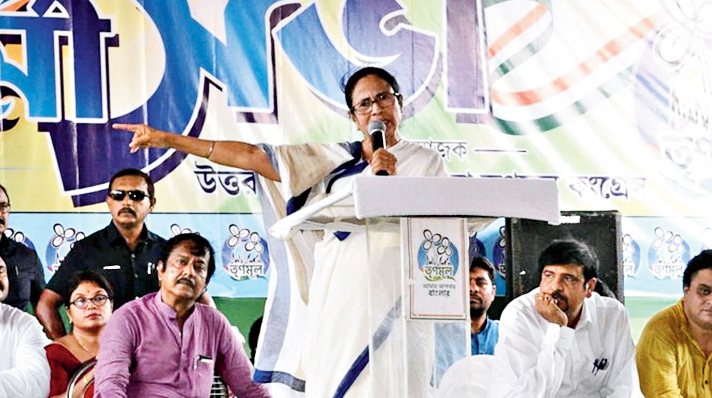 ---
Calcutta
|
Published 14.06.19, 07:52 PM
|
---
Mamata Banerjee said on Friday that those living in Bengal must learn to speak Bengali, intensifying her movement against the BJP which she accuses of trying to defame Bengal and its culture.
The chief minister vowed not to allow the BJP to "corner" Bengalis and the minorities by importing its "Gujarat model".
The Trinamul Congress chief, who was addressing a party workers' meeting at Kanchrapara in North 24-Parganas, said she would never allow Bengal to be turned into Gujarat. She, however, repeatedly asserted her love for the people of Gujarat and drew a distinction between Gujaratis like Mahatma Gandhi and "riot-mongers" like BJP chief Amit Shah.
"We have to make sure that we work for the advancement of the Bengali language. When we go to Delhi or Bihar or Uttar Pradesh, we speak in Hindi because that is the main language there. When we go to Punjab, we try and speak Punjabi. When we go to Tamil Nadu — although I don't know the language, only a few words — we try to speak the main language there…. Similarly, if you are in Bengal, you have to speak Bengali," Mamata said amid loud cheer.
"We will not allow people from outside to come and physically assault Bengalis," she added.
Kanchrapara is the backyard of Mukul Roy, her one-time aide who is now with the BJP, and his son Subhranshu, a Trinamul MLA who, too, has switched sides.
Mamata referred to the alleged attack on Bengalis in the Barrackpore Lok Sabha constituency, which Trinamul turncoat Arjun Singh won on a BJP ticket.
"In places like Naihati, Kankinara and Barrackpore, the houses of Bengalis are being ransacked…. Our party people never ransacked the houses of non-Bengalis. We are against such violence," she said.
"Because they (the BJP) have won a few seats now by programming EVMs and abusing money power, they cannot go around beating up Bengalis and the minorities, trying to corner them in the state…. The Gujarat model…. Police will take stern action," Mamata added.
The chief minister said she had nothing against non-Bengalis living in Bengal.
"It is the BJP that is trying to drive a wedge between Bengalis and non-Bengalis…. I will fight till the end to prevent Bengalis from being rendered homeless in their homeland," Mamata said.
'Bokhatey' boys
Mamata instructed the leadership to ensure the induction of unemployed, bokhatey (wayward) boys into the party, promising them employment.
Mamata apologised to party workers for not heeding advice against "traitors".
"Get us the bokhatey boys. They are the way they are because of unemployment. They can serve the party energetically, loyally," she said.
"We (the state government) hire so many people round the year…. We will ensure their livelihood," Mamata added.