Oh woe, our wares and worldly goods
First the virus choked demand and froze supply, then the super cyclone ripped away what was left. The double villainy has impacted countless small and medium enterprises.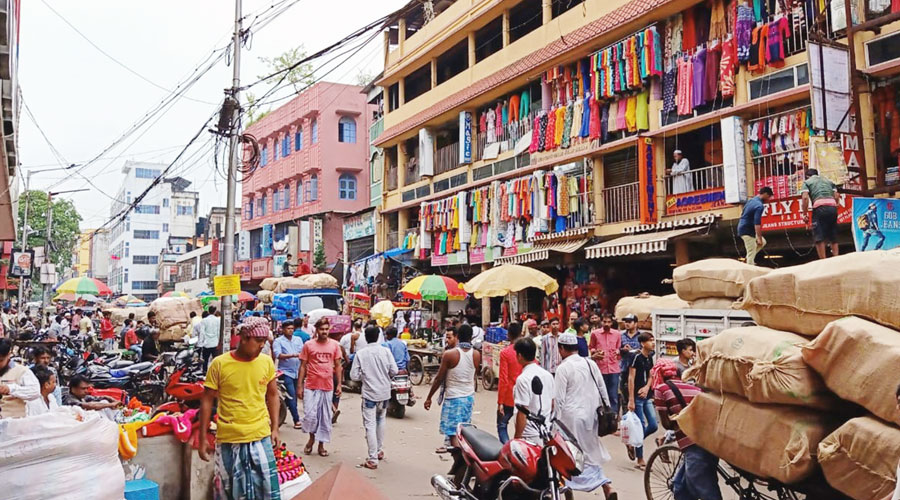 ---
|
Calcutta
|
Published 02.08.20, 12:50 AM
---
Attar traders of Zakaria Street
In this North Calcutta stretch, there are more than 30 shops that sell attar or indigenous perfumes. They also stock surma, a fine powder applied under the eyelids, and rose water. The oldest shop is almost two centuries old, the newest, a few decades.
The attar gali winds past Nakhoda Masjid, attracts the faithful and the tourist alike. The shops reopened on June 1, but there is next to no business. "People don't have money to spend now," says Aftab Ahmed of Raunaq Perfumery House, a retail outlet.
Ahmed's stock comes from Kanauj and Mumbai. But some of the shops sell attar imported from Arab countries. With travel restrictions in place, new stocks have not arrived after March. Some shops manufacture the attar they sell. Their perfumeries too, according to Ahmed, are just beginning to reopen.
He says, "All year we look forward to Ramzan and Eid bazaar, which is when we make more than 70 per cent of our profits. But this year, the main season of business — April to June — has been lost to the virus."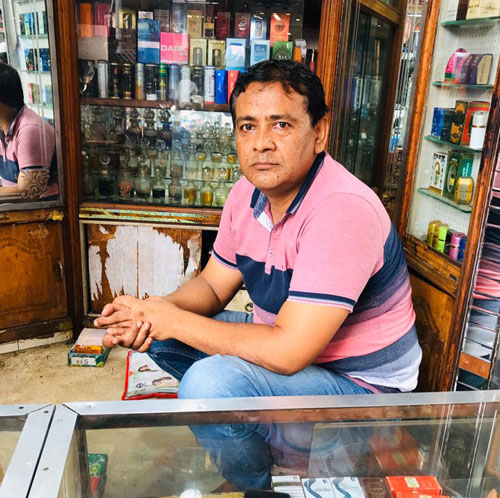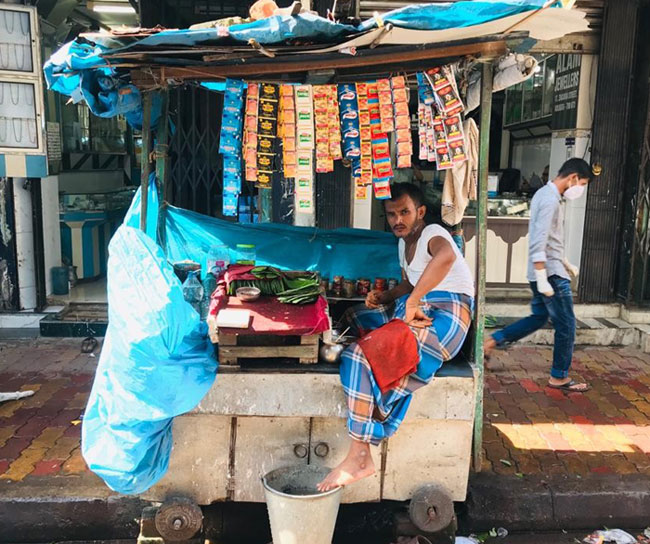 Tobacco traders of Burrabazar
Fifty shops between Rupchand Roy Street, Armenian Street and Amartalla make up for almost 90 per cent of the sale of tobacco and tobacco leaves in Calcutta. While the tobacco leaves come from Jharkhand, Chhattisgarh and parts of Bengal, the tobacco is sourced from Gujarat and Andhra Pradesh.
Says trader Chetan Ganatra, "The agents get us the leaves. We, the wholesalers, sell these to shop owners, some of who make bidi themselves and sell. Others supply leaves to bidi factory owners."
The tambaku patti has an annual turnover of around Rs 50 to 60 crore, but because of the lockdown, this year they are anticipating an erosion of profits by 45 per cent.
According to Ganatra, the product quality also stands compromised.
Mohammed Wasim, who owns the Royal Tobacco Shop, sells tobacco sourced from Samastipur in Bihar by the kilo. His supply chain has dried up. He says, "Before Covid-19, I would sell tobacco at Rs 600 a kilo. But now my rates vary. I have only had six customers in the last fortnight."
Chinese shoemakers of Bentinck Street
"There is no work. Everything has come to a standstill," says David Chen, owner of Sen Fo & Co. He sits in one of a dozen Chinese shoe shops in the area; in the 1970s there used to be around 250 of them in the city. Despite competition from domestic and foreign brands, these shops were doing decent business, and then Covid struck.
According to Chen, the footfall has gone down drastically, sales have dipped. Chen's primary cobbler left for his home in Bihar in May and since then all manufacturing has come to a halt. Chen is only selling what is in his inventory. He says, "Durga Puja is peak sale season, but I doubt the market will spring back by then."
Paan sellers 
It is difficult to say exactly how many paan shops there are in the city. Take the number of lanes and multiply by two, there are at the very least that many. Aale Rasool mans one such shop in central Calcutta's Mahatma Gandhi Road. He says, "Earlier, I would make a profit of Rs 500 to 700 per day." Those days, 30 per cent of his income would come from the sale of paan masala, gutka (a chewing tobacco concoction), zarda, Maghai or areca nuts, but now these are the only items he pretty much sells.
Every paanwallah typically stocks a variety of paan leaves from Bangla patta to meetha patta to Maghai sourced from the paan producing districts of Malda, Nadia, Midnapore and South 24-Parganas. "But it is difficult to get leaves now that local trains are not running," says Rasool. Shopowner Nandlal Gond adds, "Before corona, I would get meetha patta at Rs 150 to 250 a kilo. The prices soared further after Amphan struck in May and destroyed the betel leaf farms. I have even paid Rs 1,000 for a bundle of 1,000 leaves."
According to Jitender Shaw of Banarsi Paan Bhandar in Howrah, his daily profit before Covid-19 was Rs 900 to Rs 1,000, but now on a good day he makes a profit of barely Rs 200. He says, "I do not even know how to cope or when to expect regular sales."
Howrah flower market
This is the second largest wholesale flower market of Asia with at least 2,000 vendors setting up shop every day. In normal times, truckloads of flowers come from other states — Bihar, Uttar Pradesh and Madhya Pradesh. The local supply comes from Nadia and the suburbs of Calcutta by local trains.
While a sizeable volume is sold in the local and domestic markets, the rest of it is exported to European countries, the Middle East, the US and Australia.
Even the smallest wholesaler, who used to earn Rs 200 to 300 per day earlier, barely makes Rs 30 to 50 now.
After the lockdown was announced, supply was reduced to a trickle, but there was the local produce from Bagnan and Ranaghat — marigold, jasmine, chrysanthemum, tuberose, rose, gladiolus, orchids. Then Amphan came and destroyed these farms.
Bikram Kumar Thakur, who has a shop in Howrah Maidan, used to buy his stock of flowers from this market. His daily sales would be around Rs 20,000. "Marigold strands sold the most and red hibiscus too," he says.
"Bel, tulsi leaves and durba grass are required all the time. During the wedding season, tuberose is in high demand. And lately, we are seeing an increase in demand for orchids too."
These days, Thakur does not venture to the wholesale bazaar at all. Kumodini Devi, who trades only in durba grass — which is used during rituals and pujas — cannot afford any such thing. She says, "I might get the virus or I may not, but if I do not come to the market I will surely die of hunger."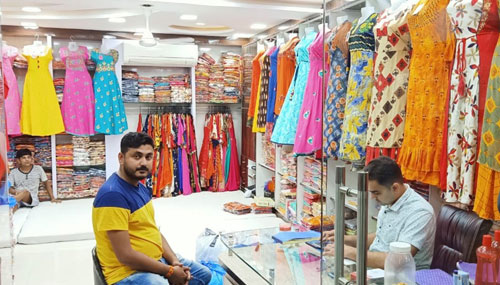 Garment factories of Metiabruz
Nearly one crore people are directly and indirectly employed in the 10,000 garment manufacturing units in this area in the southwestern part of the city. Cutters, tailors, people who stitch buttons and do the hem. These apart, there are those who iron, pack, load products and unload materials.
Nazrul Islam owns one such manufacturing unit, Tina Dresses Private Limited, which employs a 100 people and produces 1,000 dresses per day. He says, "The garments manufacturing industry of Metiabruz has a yearly turnover of Rs 20,000 crore. We supply mostly children's garments to all the other states."
These are also exported to Bangladesh, Sri Lanka, Afghanistan and Saudi Arabia. "But our sales dipped to zero during the lockdown and now, when the markets are opening up, sale has not been even 10 per cent of what we had earlier. We have started getting a few orders, but we will not be able to deliver them until the trains start running," he adds.
While most clothes can be stored easily for future sale, there is the matter of seasonal requirements and fashion trends. Says Islam, "We make clothes for big brands as well. They will not accept clothes that are out of fashion."